FBR REPORT: Burma Army Shoots Two Women, Burns Down Homes, and Forces More Than 130 People into Hiding
Nyaunglebin District, Karen State, Burma
17 October, 2007
 

 
This report details recent Burma Army attacks in Yaw Kee and Hti Blah villages in Nyaunglebin district in Northern Karen State. These latest attacks are part of a larger pattern of displacement in Karen Sate. In the last five months, more than 6,000 people have fled direct attacks, and hundreds more have fled forced labor, forced relocation, and lack of food in Northern Karen State, Eastern Burma.
 
 

Two women shot in Shweygyin Township

Mon Township: Village Attacked and Burned Down

Background on the ongoing attacks in Northern Karen State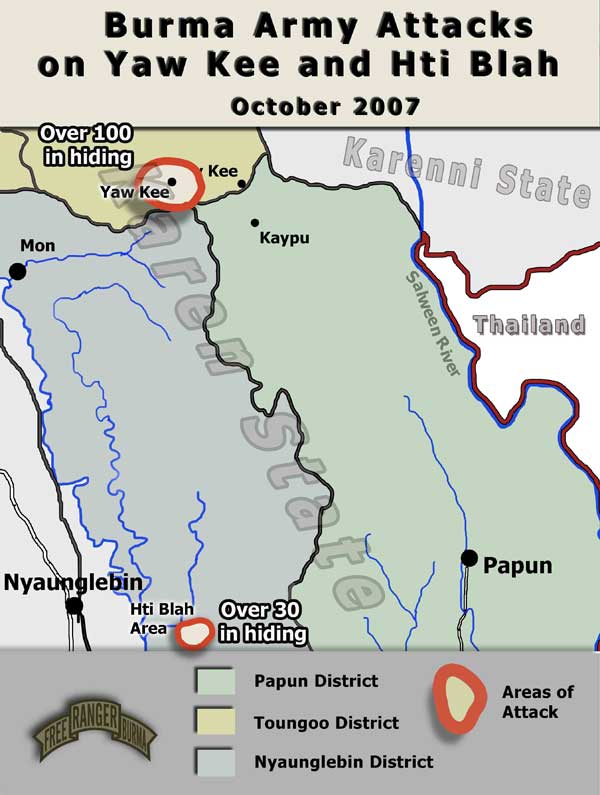 Yaw Kee Attacks
Shweygyin Township:
"The Burma Army shot into our farm hut… I had injured my knee when they shot me and I fell to the ground. They did not help me, but left me there and took all of my belongings."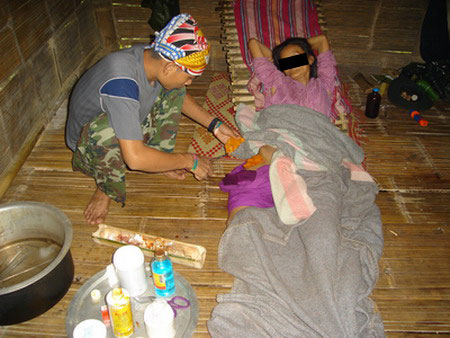 Photo: Naw Hser Gay receiving treatment for the gunshot wound to her hip. Oct 13
On 9 October, 2007, the Burma Army shot at a family in their farm hut, wounding two women, during a patrol into the Hti Blah village area of Shweygyin Township in southern Nyaunglebin District, Karen State, eastern Burma. Naw Hser Gay*, 45, and Naw Htee Hla,16, were in their farm hut with three other family members when approaching Burma Army soldiers began firing at them from close range. Three of the family members were able to escape unharmed; however two women were shot while trying to flee, and one was captured and photographed by the Burma Army soldiers after falling to the ground and injuring her knee.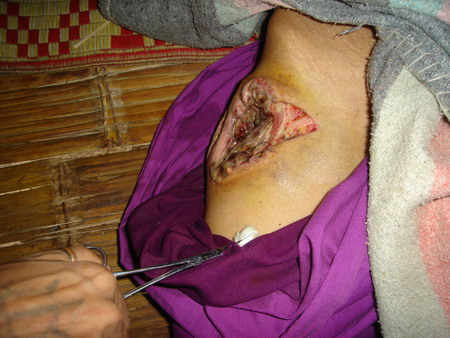 Photo: Gunshot wound on Naw Hser Gay's hip. Oct 13
According to Naw Hser Gay, a widow who is now 45, "The Burma Army shot into our farm hut. There were five of us in the hut. Two of us, my niece and I, were wounded and all of the others escaped except for me. The Burma Army took my bag, plates, cooking pots, clothes, and they ate my chickens. After they shot me they made me sit down and then they took my photo and of the area of our farm hut. The soldier with the camera spoke to me in Karen, and then he gave my bag back to me. Another soldier came and took it away again. I asked the soldiers to help me back into my hut because I could not walk after being shot in the hip and injuring my knee when I fell to the ground. They did not help me, but left me there and took all of my belongings. This happened at about 8 am. At about 3 pm Karen soldiers came by and brought me to the local clinic."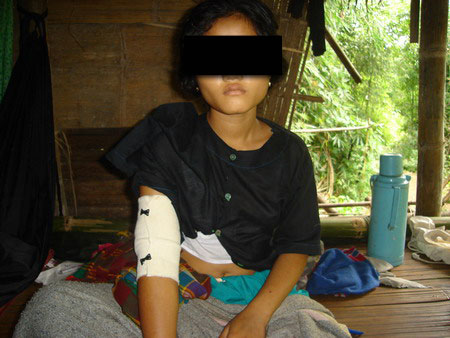 Photo: Naw Htee Hla, 16, shot in the arm by the Burma Army. Oct 14
Naw Htee Hla, 16, said, "The Burma Army shot and wounded my in my right arm while I was hiding under my farm hut. After I had been shot I got up and ran. It happened at about 8 o'clock in the morning."
Saw Eh Wah, 14, son of Naw Hser Gay, said, "Because the Burma Army came to attack my village, I can no longer go to school. My school was closed and now I have to go to another school to study. I will have to stay like this the whole year and not be able to go to my village's school."
The father of Naw Htee Hla, Saw Poh Doh, 40, said, "The Burma Army came and shot into our farm hut at about 8 am on the 9th of October. We all ran, but my cousin was caught. All five of us ran in different directions and we didn't see each other until we reached the hiding place. After the Burma Army shot at us they took all of my belongings and killed and ate my pig, took my rice, and destroyed whatever they did not take. Everyone is hiding, and the school is stopped and the students cannot see their teacher."
The attack was conducted by Burma Army LIB 217 under battalion commander Tha Htay Aung. The Burma Army has continually been patrolling the hills of western Nyaunglebin District since the beginning of 2006. Their policy of shooting villagers on sight, stealing property, destroying homes and food stores, and laying landmines is designed to terrorize the population and make life impossible for villagers.
* All names have been changed
Mon Township: Village Attacked and Burned Down
On 13 October, 2007, Burma Army troops attacked and mortared Yaw Kee village. They then entered the village, burning down 10 houses and one church. Nineteen families lived in Yaw Kee village, and a total of 120 people fled into the jungle. Villagers did not have time to collect rice from their storage places. The Burma Army looted the village and also placed many landmines in the village. Those in hiding do not dare return to the village to look for whatever belongings may be left for fear of landmines and because the Burma Army continues to patrol and mortar the area on a regular basis. Yaw Kee (lat/long. N 18 42 33 E 096 54 40) is in Mon Township, Nyaunglebin District, western Karen State, eastern Burma.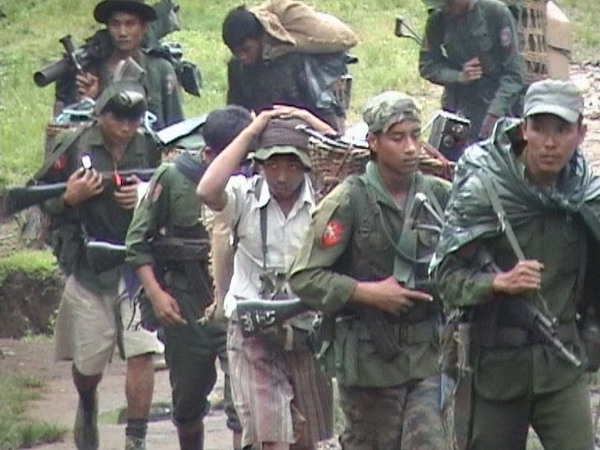 Photo: Burma Army soldiers moving in Mon Township. Sept 2007.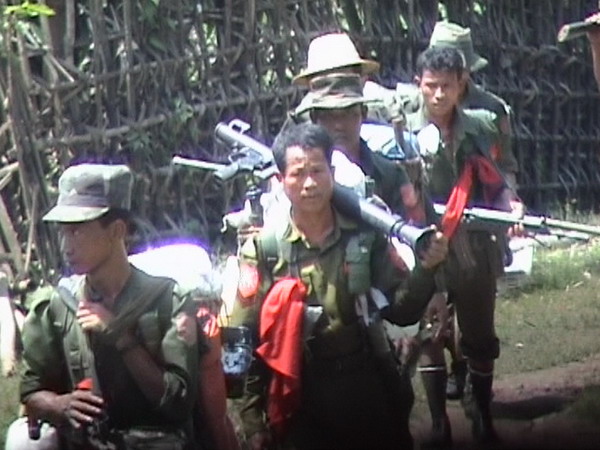 Photo: Burma Army soldiers on the move in Mon Township. Sept 2007.
After attacking the village, the Burma Army went back to their camp at Law Ka Koh. This camp is a small peripheral camp from Busakee Camp in southern Toungoo District.
On 6 October, Burma Army Operations Commander Khin Maung Oo ordered everyone from the villages of Kgo Pu, Hsaw Mi Lu, and Tha Bo to stay in their villages. Troops from LIB 351 then patrolled the surrounding area, laying landmines to restrict the movement of villagers between the plains and mountains.
On the same day Burma Army LIB 378 and 379 from Porosoe army camp mortared and machine-gunned a group of villagers on the way to collect rice for their families who are now in hiding.
Background:
This latest attack is a continuation of the Burma Army's violent campaign to force villagers into hiding or relocation sites in northern Karen State, Eastern Burma. In the last five months, more than 6,000 people have fled direct attacks, and hundreds more have fled forced labor, forced relocation, and lack of food.
The Burma Army's strategy includes continuous attacks and patrols, a shoot-on-sight policy, destruction of property, forced labor and the severe restriction of villager activity in areas under its control. The situation remains very difficult for most villagers in the mountains, many of whom have been hiding in the jungle for more than a year. Both villagers who wish to stay and those bringing humanitarian assistance are finding it more and more difficult to do so as a result of the expanding network of roads and army camps throughout northern Karen State. Villagers who live in the plains are finding it difficult to survive because of Burma Army extortion, restriction on movement, and numerous demands for forced labor.
These attacks and displacements are part of a larger pattern of displacement in the Karen State. In northern Karen State alone, more than 30,000 people have been displaced by attacks since February of 2006.