FBR REPORT: Villager Killed, Two Villagers Step on Landmines and Two Villages Destroyed, More than 1,000 Flee New Attacks
Northern Karen and Southern Karenni States, Eastern Burma
August 22, 2007
 

 
 

A villager was shot dead and two stepped on landmines (one in the Karenni State) as over 1,000 people have fled attacks.
Two villages have been burned down during the last ten days along the border of Toungoo and Papun Districts of northern Karen State, Eastern Burma.
Burma Army Light Infantry Division 88 has remained very active in this area of Karen State, attempting to make life impossible for local Karen villagers.
The Burma Army has also continued the rapid expansion of its road and military camp network which it uses to partition the areas it wishes to clear, squeezing the local population into increasingly smaller pockets and facilitating further attacks.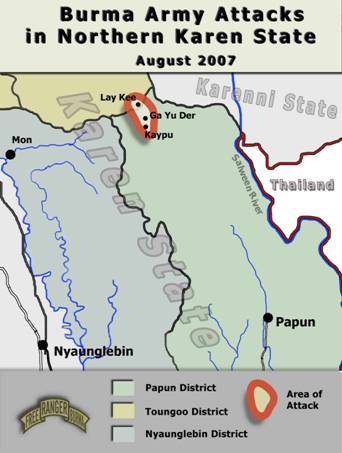 On 13 August Burma Army soldiers of IB 83 and IB 77, from Division 88 attacked the village of Ga Yu Der , burning down 14 homes and forcing more than 80 villagers to flee from this village alone. Troops attacked after crossing the Yunzalin river from their new camp at Kay Pu . More than 800 people fled this particular attack as villagers from three nearby villages also fled in fear of a possible attack.
After burning down Ga Yu Der, troops continued north, burning down several homes in Lay Po Der. Troops then attacked the village of Lay Kee (N 18 41 03 E 097 02 36), burning down many homes and forcing hundreds of people into hiding. The number of people who have fled attacks in the last 10 days is over 1,000.
Mon Township: Villager shot dead by Burma Army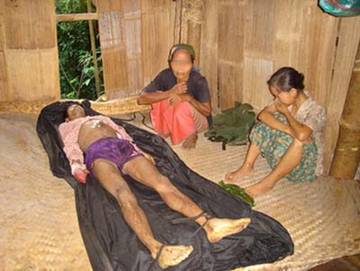 Photo: Saw Henry, shot dead on 27 July.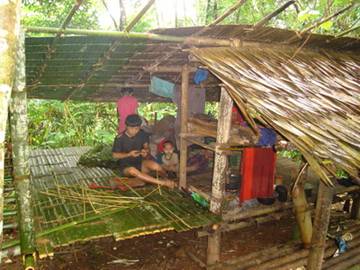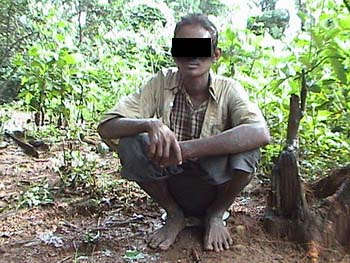 Photo: Burma Army porter, who escaped from one of their new camps in Mon Township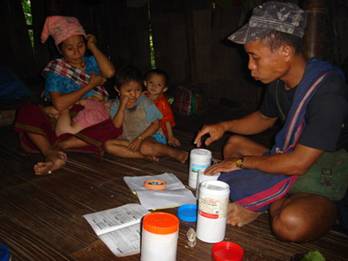 Photo: Medic providing care to IDPs in Mon Township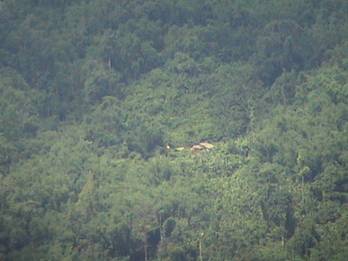 Photo: Wa Do Ko Burma Army camp; A new camp in the Saw Ka Der area of Mon Township.
Coordinates of Wa Do Ko camp and the four smaller camps set up around Wa Do Ko:
1. Wa Do Ko camp (Main camp) N 18 23 30 E 96 54 30
2. Maw Char Ki camp (small) N 18 23 05 E 96 55 00
3. Hti Ler Pu Soe camp (small) N 18 23 10 E 9654 05
4. Toe Taw soe camp (small) N 18 24 25 E 9654 05
5. Play soe ko camp (small) N 18 23 39 E 96 54 35
Details:
On 11 August, Saw Xxx Xx Xxx from Xxxxx Xxx Xx village in Saw Ka Der village tract was returning home after retrieving rice from his storehouse when he stepped on a Burma Army landmine, immediately losing one of his feet. The mine was laid by Burma Army LIB 379 during one of their attacks.
In early August 2007, the Burma Army destroyed their camp in the area of Saw Tin Der, which they call Thein Wah Law Day, and moved back to their camp at Maladaw. These troops then demanded 10 villagers to porter for them from Maladaw village as some troops then moved to Kwi De Kaw camp.
On 31 July, IB 60 battalion commander Saw Lin and Operation Commander Soe Thein gathered the village headmen form Kgo Pu and Hsaw Mi Lu village tracts, and demanded that each village tract send two new soldiers to join the Burma Army. When the village leaders told the Burma Army that they could not send the men, the Burma Army commanders demanded 50,000 Kyat in compensation.
Kyauk Kyi Township – Forced Relocation
People from a number of villages in the Karen foothills close to Kyauk Kyi (Ler Doh) town in western Karen State are finding life very difficult as a result of the Burma Army's relocation policy. Villagers in many areas have been forced to move multiple times, and once relocated, most have not been provided with sufficient resources to make a living.
Villagers from at least seven villages close to Kyauk Kyi were allowed to return to their old villages in early July after being forced to relocate to the plains area close to Kyauk Kyi earlier in 2007. Before returning however, each family had to agree to pay 7,000 kyat per month to the local Burma Army commander.
On 8 August, these same villages were again forced to return to the relocation site. Villagers have complained that because their movement is so restricted, and because they are often not allowed to work in their farms or gardens, they are unable to grow enough food or make enough money to feed their families. Villagers said, "If there is no work, then there is no money. If there is no money, there is no food."
Report from Karenni State, Eastern Burma. August 2007.
Villager maimed by landmine
On 21 August, a 25 year old man in western Karenni State stepped on a landmine that had been placed several weeks earlier by the Burma Army during a patrol. During their patrol, a Burma Army soldier stepped on one of the mines. Karenni resistance soldiers were aware that the Burma Army had placed two landmines during their patrol, one of which was stepped on by a Burma Army soldier, but did not know the location of the second mine until it was stepped on by this villager.
Burma Army soldiers kill pig and threatens owner
August 11, 2007: An inside source has reported that Nah Reh, a platoon commander of the cease-fire group known as the Karenni Nationalities Liberation Front (KNPLF), together with five Burmese troops based in Shadaw, killed a pig owned by a town resident Xx Xxx, and took it for themselves.
The gunmen told witnesses to the incident that anyone who claimed they owned the pig would be arrested, fined and thrown into detention. So far nobody has dared to claim ownership of the pig, which had a market value of about 200,000 kyat.
Villagers face fines for low castor oil production
August 14, 2007: local villagers have reported that a Burma Army commander from LIB no. 530 convened a meeting of village chiefs from Hteesakah , Loilin Lay and Tilon after visiting the castor oil plantation fields in the area and finding the yield lower than anticipated.
The commander provided 750,000 kyat for Loilin Lay village tract, 640,000 kyat for Hteesakah village tract and 550,000 kyat for Tilon village tract to accelerate growth of the castor oil plant. He demanded that each village tract must return three times the amount of cash provided by him within three months.
The villagers say there is no way that they will be able to raise this amount of money and this unreasonable order has placed them in a desperate situation.
Burma Army troops kill local buffalo
August 18, 2007: An anonymous villager from Narnahtaw of Loikaw has reported that Burma Army troops from LIB no. 261 killed a buffalo owned by a Narnahtaw local as the animal wandered into a State-owned castor oil field on August 9. After killing the buffalo the soldiers took the carcass to their military base.
On commencement of the Castor Oil projects in 2004, the head of the Central Control Office in Loikaw gave orders to all battalions under his command to kill any animal breaking into state-owned plantations.
"The Burmese commander's verbal order said the owners of any cow or buffalo that strays into a castor oil field must pay a fine in cash equal to the price of the animal, plus the cost of the ammunition used to kill it. Due to this order, no local has dared to claim they own the animal," added the local source.
The castor oil fields were formerly used for pasture for the local cattle and the troops have killed several animals that have encroached into these fields since 2004. It is easy for the animals to stray into the plantations as they are not securely fenced off. The local people are also now very short of grazing land for their cattle, adding to the difficulties of their life.

ENDS