FBR REPORT: Over 4,000 Newly Displaced;


Burma Army burns down a fifth village in Northern Papun District, Karen State, Eastern Burma
On 28 April, the Burma Army burned down 7 homes and 19 field houses in the village of Kay Pu (Lat/Long: N 18 36 50 E 097 03 00), in northern Papun District. The entire village of more than 400 people had already fled in late April after Burma Army LIBs 505 and 507 burned down 4 villages located close by (See Report: April 26, 2007). According to relief teams in the Kay Pu area, more than 4,000 people have now fled these attacks and are in hiding. The Burma Army has remained in the area, continuing to patrol and sweep for villagers. On 30 April, the Burma Army fired 12 mortars into Kay Pu Village and suspected hiding places nearby.
Road Construction: This most recent attack appears to be tied closely with the Burma Army's road construction plans Northern Karen State. These villages lie directly in the path of a new road the Burma Army is constructing which is intended to connect Toungoo District and Papun District. Today, on 3 May, a Burma Army bulldozer arrived in Kay Pu village moving from southeast to northwest. Another bulldozer arrived in the village of Si Day, moving northwest to southeast from the Burma Army's camp at Busakee. Kay Pu and Si Day are separated by a distance of only 7 miles.
Context: The five villages recently burned all fled during 2006 when the Burma Army conducted the largest offensive against civilians in northern Karen State since 1997. Many villagers in Papun District were able to return to their villages when Burma Army troops pulled back into their camps. Villagers are now preparing their fields for the planting season, and people are worried that continued Burma Army attacks will make it impossible to grow crops. These new 1-3 battalion-sized attacks have not yet developed into the same large-scale attacks launched last year, but are part of the Burma Army's ongoing effort to control, chase away or brutalize civilians in Northern Karen State.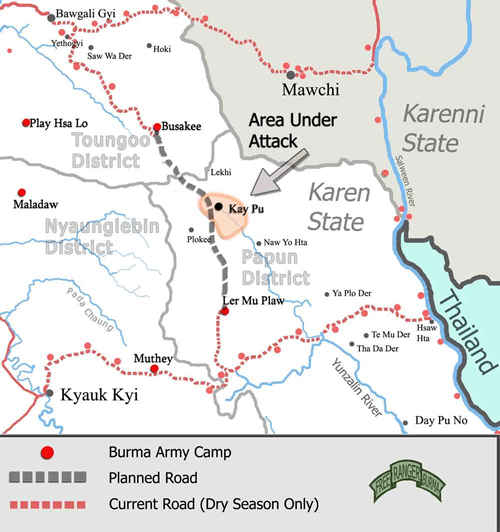 Map: Area under attack and Route of partially completed road
ENDS