FBR REPORT: Burma Army Launches New Attack, Killing Three People and Displacing 201 Villagers in Mon Township, Eastern Burma
Mon Township, Karen State, Burma
March 21, 2007
On 16 February 2007, Burma Army LIB 376 attacked Saw Tay Der (Awa-ein) village (approx. N 18 39' E096 45'). 201 people from Saw Tay Der, Ker Po Der, and Playkee villages were forced into hiding during this attack. No villagers were wounded during this attack however all of the villagers fled into hiding. The villagers need assistance in the form of food, medicine and clothing.
Burma Army attacks against civilians have continued throughout the early part of 2007 as the Burma Army attempts to expand its network of roads and camps in northern Karen State. While large-scale multi-battalion attacks have not taken place, the Burma Army is now attacking villagers and patrolling areas where it plans to construct new roads and improve pre-existing roads. The Burma Army uses these roads to supply its forward camps, to provide a springboard from which they launch attacks against civilians, and to exert greater control over the movement of civilians. It was from these roads and camps that the Burma Army launched large-scale attacks throughout 2006, displacing over 25,000 villagers (almost the entire populations of Mon Township, southern Toungoo District and northern Papun District), and murdering more than 76 civilians. More than 80 civilians have been killed since the beginning of 2006.
Three Villagers Killed: On 21 February, Burma Army troops from LIB 590 killed Saw Echo Win Naing from Paw Pi Der Village and Saw San Myint from Htee Htaw Loh. They were killed close to the Shwegyin River. On 24 February, troops from LIB 378 shot and killed Saw Mah Sha Htoo (22), a student, and wounded his brother Saw Hser Nay Say. They were returning home from buying rice.
Villagers running low on food: Because their stores from last year's crop have been completely depleted, many villagers now must try to purchase rice. Constant Burma Army patrols in search of displaced villagers have meant that some villagers are now asking the KNLA to try to purchase rice for them. On 19 February, KNLA troops who were returning from purchasing rice for villagers were ambushed by Burma Army troops under Div. 88. Two Burma Army soldiers were killed in the fighting and one was wounded. Three villagers' loads were lost during the skirmish, worth a total of 150,000 kyat.
The villagers from Saw Tay Der are very worried about the situation. It will soon be time for the villagers to have their farms ready to begin planting next year's crop. According to one villager, "Last year we were able to stay through the attacks because of rice we harvested the previous year, but if we are not able to farm this year we may have to move to an IDP camp. We do not want to move to an IDP camp."
Forced Labor and Extortion: On 28 February LIB 375, under MOC 9, forced the villages of Paw Pe Der, Aung Chan Tha and Myaung Oo to provide 12 bullock carts as well as villagers to move supplies for them.
On 1 March, Sergeant Kyaw Nyut Oo from Maladaw Camp forced 30 Maladaw villagers to carry loads from Maladaw village to Saw Tay Der, where they have set up a new camp after they attacked the village on the 16th.
On the same day, LIB 375 forced 60 villagers from Paw Pe Der, Aung Chan Tha and Myaung Oo villages as well as 100 villagers from Ye Bet to carry supplies from Paw Pe Der village to Paung Zeik (Kwee De Kaw) army camp.
On 1 March, Burma Army commander Tin Soe forced 40 Maladaw villagers to carry loads from Maladaw village to the new Burma army Camp at Saw Tay Der. Villagers are being forced to carry loads everyday to support the construction of this new camp. Supplies being carried include engines, chain-saws and other tools, as well as food. The Burma Army will begin the construction of a new road from Maladaw to Saw Tay Der. The construction of the road is largely being carried out by troops from LIB 377, while LIB 376 is in charge of security for the road construction and LIB 375 is in charge of acquiring forced labor to support the construction project.
Capture and Abuse: On 3 March, Burma Army LIB 590 captured Saw Xxx Xxxx (19) and tortured him at Thit Chat Zeik village. He had traveled to Xxxx Xxx village to buy chilies, and was captured on the way back to his village of Xxxx Xx Xx.
On 16 March the Burma Army LIB 351 captured Saw Xxxx Xxx Xxx, 19, and his father Saw Xxx Xx Xxxx, 55, both from Aung Soe Moe village. At the same time they captured Saw Xxxx Xxxx, 30, also from Aung Soe Moe. All three were taken to the Battalion Headquarters. It is not known why they were captured.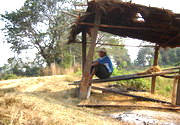 Photo 1: Photo of villager on security detail at Aung Lung Sein army camp. Burma Army LIB 599 Sergeant Win Naing is forcing the villagers at Aung Lung Sein village to take security, cut firewood, carry water and build fences around the camp everyday.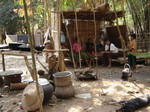 Photo 2: Aung Soe Moe villagers who were forced to relocate to Kyauk Kyi by Burma Army TOC commander Khin Maung Oo on 7 January 2007.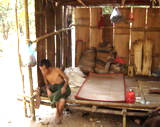 Photo 3: Aung Soe Moe villager who was forced to relocate. The Burma Army has not given them any land on which to build a house so they have been forced to build small huts near their friends' or relatives' houses.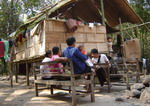 Photo 4: Aung Soe Moe villagers.
On 17 March, LIB 590 commander Aung Tun Oo ordered the villagers from Tai Pin, Myet Ye, Po Thaung Su, Nye Loud Teh, U Chit Kin, Thit Chat Zeik, and Kyaung Bya to stay in their villages. Villagers are worried that if they are not allowed to go to their fields, they will not be able to prepare them for the upcoming planting season. The Burma Army also laid many landmines along the eastern edges of these villages to try to block villager travel into the hills.
 

| | | | |
| --- | --- | --- | --- |
|   | Letter from Relief Team Leader sent from the field in Mon Township | |   |
On 8 February the FBR relief team from Mon Township went with the local KNU leadership to visit and help IDPs in northern Mon Township who have been displaced since April 2007. During our trip we met 20 villagers from Maladaw, 22 villagers from Yulo and 13 villagers from Kamulo. These villagers have all been staying in the forced relocation site close to the Burma Army camp at Tha Pyi Nyut.
People from these villages survive by gardening and farming. Some villagers plant betel nut, betel nut leaves, durians and mangoes, and all are rice farmers. The Burma Army sometimes allows them to return to their fields, but this is so infrequent that they have not been able to adequately attend to their fields. This has also made it easy for thieves to enter into their gardens and steal crops. At the relocation site there is no education and no health care.
The Burma Army has now increased the number of troops in the area of a new planned road from Maladaw to Busakee. The 120 soldiers from LIB 376 who launched this latest attack have remained in the area of the attack and 300 troops under Division 88 have also been moved to Po Ro Soe camp.
On 20 February we finished our trip. I was very happy to see our people with smiling faces even though they are in trouble. I give God the glory and also thank the people who helped me on this trip.
God bless you,
Relief Team leader, Mon Township
Background
Villagers from Maladaw, Yulo and Kamulo were forced from their villages multiple times during 2006, finally being driven from their homes for good when they were attacked in April by troops under Burma Army MOC 16. Prior to this attack, the Burma Army demanded that villagers move to a relocation camp in the area of Tha Pyi Nyut. Some villagers moved to this camp while others have either hidden in the jungle close to their village, moved to other temporary hide sites in areas with less Burma Army activity or have sought refuge at the Thai border.
 

| | | | |
| --- | --- | --- | --- |
| | Burma Army Shells IDPs, Burn Villagers' Rice, Conducts Forced Labor and Re-Supplies Camps. Toungoo District. | |   |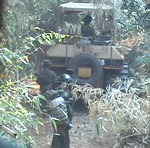 Photo 5: Burma Army bulldozer clearing the road from Bawgali Gyi to Busakee.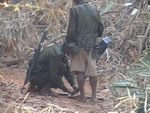 Photo 6: Burma Army soldiers laying landmines in the road.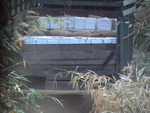 Photo 7: Civilian vehicle commandeered by the Burma Army to transport supplies.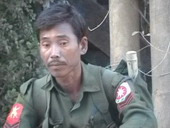 Photo 8: Local Burma Army commander Win Myint


Photo 9: Burma Army bulldozer clearing road.
On 21 February, the Burma Army forced villagers from Baw Soe Koh, Ler Baw, Glay Soe Kee, and Kaw Thay Der to clear parts of the car road from Bawgali Gyi (Kler La) to Busakee on their own motorcycles. Each village was forced to send one motorcycle.
On 26 February, The Burma Army commandeered villagers' trucks in order to move supplies along this road. The trucks were used to send supplies from Bee Mu Koh to Kaw Thay Der and from Bawgali Gyi to Naw Soe and then to Busakee. Villagers were also forced to continue clearing the road.
On 27 February the Burma Army fired one mortar into the area of Saw Wa Der village.
MOC operations commander Win Myint is now staying in Bawgali Gyi, and has given a new list of orders for villagers living in the area of Bawgali Gyi.
1. If villagers complain, they will be punished.

2. Villagers are expected to help carry food and other supplies.

3. Villagers are not permitted to leave their village between 6 pm and 6 am. If they do, they will be punished.

4. If villagers going to Toungoo take photographs of the Burma Army camp, they will be punished.

5. Villagers who wish to go to their gardens or fields must first ask for a permit

6. Any villager found in the village who is not on the village list will be punished.

7. Anyone who is found out to have a relative who is a Karen soldier will be punished
On 3 March, the Burma Army commandeered 5 civilian trucks for the movement of food from Bawgali Gyi (Kler La) to Naw Soe army camp. The next day, one of these villagers and another villager were again forced to allow the Burma Army to use their vehicles.
The owners of the trucks are:
1) Naw Xx Xx
2) Naw Xx Xxx
3) Naw Xxx Xxx
4) Xxx Xxx
5) Saw Xxx Xx
6) Xxx Xxx Xxx
On 5 March, two bulldozers, one gas truck, one military truck and one civilian truck arrived at Kaw Thay Der village.
Also on 5 March the Burma Army at Bawgali Gyi demanded 1 bamboo pole from each family living in the village. They then demanded 1000 kyat from each family in order to build a soccer field for the villagers.
The Burma Army made fake motorcycle licenses for each Bawgali Gyi villager with a motorcycle. They then demanded one gallon of gas from each of these villagers.
On 9 March, the Burma Army burned down Saw Xx Xx Xx's rice storehouse which he had hidden in the jungle. They then captured him and have still not released him. His storehouse contained 22 tins of rice.
Division 88 and MOC 5 have ordered every family in Bawgali Gyi to put a sign in front of their house with the name of their family. Villagers were to do this no later than 12 March.
On 14 March, Burma Army LIB 364, under Major Myo Tun, forced 40 villagers from Pai Kaw Der to carry rations from Bawgali Gyi to Maung Koe Der camp. LIB 364 is based at Maung Koe Der.
On the same day MOC 9, TOC 2 commander Tun Thein Kyi based at Play Hsa Lo camp forced 9 villagers from Play Has Lo, Yaw Lo and Paung Pa to carry supplies from Tay Plo Day camp to Play Hsa Lo army camp.
ENDS