FBR REPORT: A Thank You and an Update – Relief Continues as the Burma Army Attacks
Toungoo District, Karen State, Burma
14 January, 2007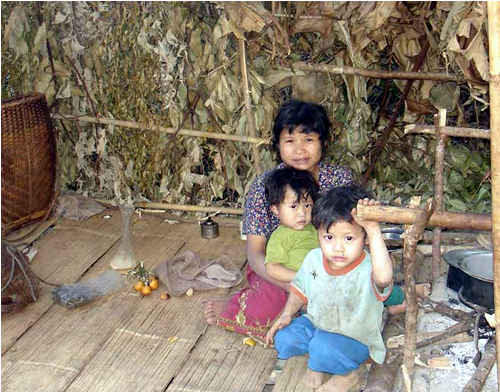 — Saw Wa Der mother hiding with her children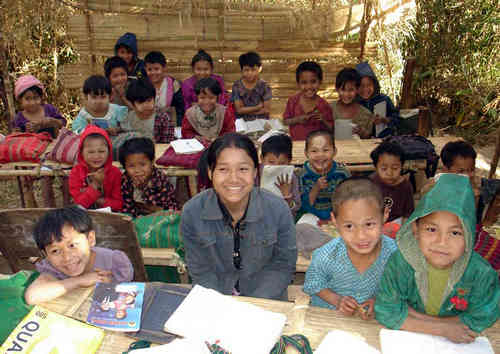 — Julia, with her students at their temporary school in the jungle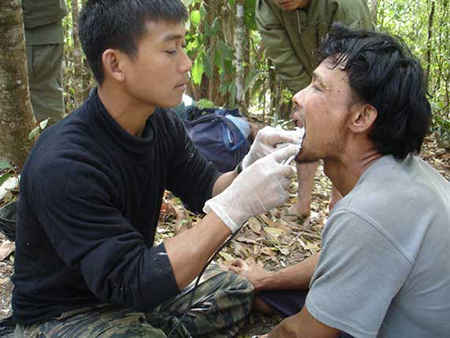 — A relief team medic providing dental care for a displaced villager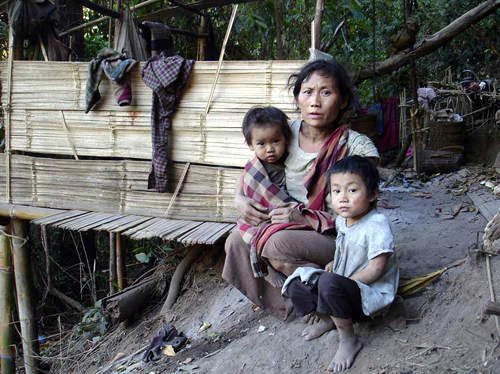 — A Karen woman hides with her children at their temporary shelter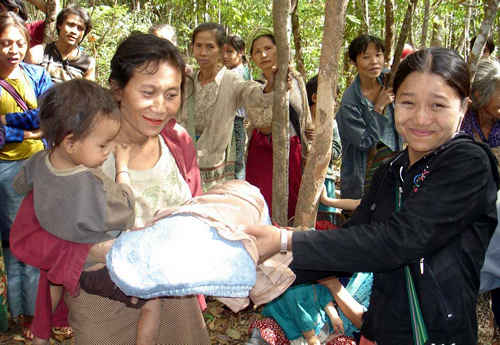 — The same woman receiving donated blankets and clothing
Thanks:
We want to thank all of you for caring for the people of Burma and for standing with them. Thanks especially to all of you who have helped to make relief to the internally displaced people possible. There are many groups providing assistance to the displaced people and we are grateful to be part of the same effort. There are now over 20 fulltime FBR relief teams helping people under attack. Each team treats over 1,000 people per month long mission and distributes relief supplies to those in need. In 2006 the teams were able to treat over 80,000 people and provided limited assistance to over 100,000. In the area of the Karen State where we are now, there are two fulltime relief teams and our headquarters group is with them. Yesterday, the teams treated over 200 patients who are part of one group hiding in the jungle. As we walked past the burned and destroyed homes of their abandoned village the day before, we could see the Burma Army camp on a hill above. It was from this camp and others in this area that the Burma Army launched attacks and shells into the village and surrounding fields. The Burma Army has sent 1-3 battalion sized elements on clearing operations in this area every month for the past twelve months. There used to be over 800 people in this valley but now only 300 are left. Due to the constant attacks by the Burma Army most have fled to the Thai border.
Burma Army tries to attack:
Medics provided medical and dental care to the IDPs, blankets and clothing and Good Life Club material for mothers and children as well as bibles were given to those who wanted them. There are mostly Christians in this area and there are many requests for bibles to replace the ones lost to Burma Army attacks. It was wonderful to see the smiles and hear the laughter of people who have been hiding in the jungle for months. The people told us that they have already had to run twice this year, so that is two times in 12 days. As we were completing the treatment, we received news that a Burma Army battalion was on the move and less than an hour away. The people had to quickly go back to their hide sites. We sent the medics with them to continue treatment while part of the team stayed with the resistance to keep watch on the Burma Army. In a few hours, fighting broke out about 600-700 meters away as the resistance clashed with the Burma Army. The resistance withdrew and the Burma Army fired mortars and machineguns behind them, but none of the resistance was hurt. We kept our position between the Burma Army and the IDPs. This is now the morning of the 14th and other than some shots from near where the Burma Army is camped, there is so far no activity. The medics are treating patients in the hide site, and the resistance and villagers are cheerful as usual.
When we asked, "Why do you stay when the Burma Army keeps attacking and forcing you to live with little food and constant danger?" One man replied, "This year has been very difficult, and without the help of God, our soldiers, and the help that you have brought, we would not be able to stay in our area. We thank you and all those who have sent help and encouragement."
And a woman said,"We will stay as long as we can. We will stay as long as God wants us to stay and even though it is very difficult for us, we want to live in our own place".
In the hide site there is also a open air school where 20 children are taught by a brave young Karen lady named Julia. The children sit on bamboo benches and learn. When I looked at the children and their teacher, I thought, "What amazing people, no wonder the Burma Army has such a difficult time trying to push them out". This hide site is between two Burma Army camps and people can barely survive, but they do survive and make the best of each day.
Background:
The people we are with now are from the area of Saw Wa Der in Tantabin Township, and they were on the run for almost the whole of 2006. The Burma Army has killed more than 7 villagers from Saw Wa Der since February, 2006. In 2006 Burma Army attacks displaced more than 7,000 people in Toungoo District alone, and more than 25,000 throughout northern Karen State. Over 3,000 people from Toungoo District have fled to the border since February, but the thousands who are still hiding from Burma Army attacks are in need to security, food, and medicine.
One woman said, "Thank you…Even though we are in a bad situation and are living in fear of the Burma Army, you came and gave us help. You treated us with medicine and encouraged us. Thank you very much."
God bless you,
A relief team leader
Toungoo District, Karen State.
ENDS