FBR REPORT: Update on Attacks in Nyaunglebin District, Western Karen State
Karen State, Burma
13 November, 2006
 

 

Report Summary:  The offensive in the northern Karen State districts – Toungoo, Nyaunglebin and Papun (Muthraw) – continues; the attacks against villages and the hiding sites of displaced persons are part of an ongoing offensive that has displaced over 20,000 people and shows no sign of relenting. This timeline of ongoing events is being relayed directly from a relief team in the field

 

boy forced to flee with 260 others from Mon Township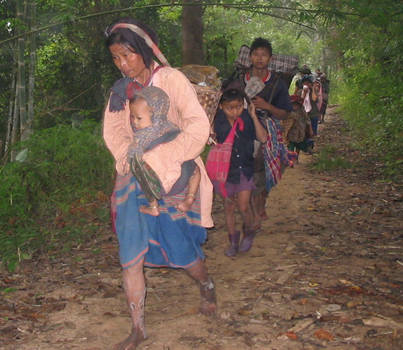 mother fleeing with family
Mon Township
The Burma Army is continuing to attack villagers in Mon Township, shooting at them, laying land mines and burning villagers' homes, food stores and belongings. The Burma Army has also built the following new camps:
1) Maw Lu Ko — One battalion
2) Htee Nay Hta — Two battalions (close to K'pa Ta)
3) Ka Mu Lo village
On 03 November 2006 the Burma Army attacked Nwa Lay Ko village. They laid many landmines, and then returned on the same day to Ko La Wah Lu army camp. KNLA soldiers attempted to clear the landmines, but did not find all of them. When villagers returned to their homes, some of them stepped on the landmines. The exact number of landmines laid by the Burma Army in the village is unknown, and villagers remain at risk of stepping on them.
On 4 November 2006 the IDPs make a special prayer (24 hrs prayer) (in karen Ta Tu Ka Pa Te Ni/Na) in a jungle The IDPs are sharing their food and helping each other during they stay in a jungle
On the same day, KNLA soldiers engage Burma Army Light Infantry Battalion (LIB) 522 at Lay Do Ko village.
On 5 November, 2006, Burma Army Light Infantry Division 77 arrived at Ka Ser Po, a mountain near Myaung Oo village. They built a camp and have stayed there.
On 6 November, 2006, 60 families left their village in Mon Township after fleeing Burma Army attacks. These 60 families, with a total of 260 people are now making their way to the Salween River where they hope to find safety and shelter in the IDP camps along the river. The KNU leaders in Mon Township tried to provide food, medicine and other relief supplies, but could not provide enough for all of them. They left their homes, belongings and all other property.
On 7 November 2006 the KNLA removed nine landmine in Nwa Hta village and three landmine in Thay Kay Lu village which had been planted by the Burma Army.
Earlier, On 1 November 2006 a gunfight occurred between KNLA soldiers and the Burma Army at Nya Per Day at 2:30 pm. At 5:30 pm on the same day, Burma Army LIB 567 attacked Thay Kay Lu village. The villagers lost all their belongings that they had carried to hide sites, because the Burma Army searched for them and burned everything they found.
Burma Army troops stepped up its offensive in Mon township, Nyaunglebin District on 10 October 2006, when troops from IBs 242, 240, 241, 68 and LIBs 323 and 567 moved into the area. These battalions combined to attack two different areas of Mon Township. These attacks began in full on 20 October. On that day, IB 242 left from Ko Pla Lay Ko camp and LIB 323 left from Htee Ler Baw Hta camp to attack an area including Ler Kla, Saw Ka Der, and Htee Ler Baw Hta village tracts.
LIB 567, and IBs 240, 241, and 68 left from Maladaw camp and attacked Kwee De Kaw, Kyauk Pyat , Thay Baw Der , Saw Tay Der , Keh Po Der and Yaw Kee village tracts. Villagers in both of these areas fled into hiding in the jungle, constantly moving from one place to another, and always remaining to flee Burma Army patrols. Some of the villagers decided to leave the area and fled to Lu Thaw township in Muthraw District. All the villagers left their farms, houses, gardens and the belongings they could not carry. What they could carry consisted mainly of some clothes food for a few days. During their attacks, the Burma Army also stayed at Play Ki, Ler Wah Lu, Maw Ko, Traw Ki and Lay Soe Ko villages.
Many villagers fled their homes and into the jungle on 10 October, as soon as they heard news that the Burma Army was entering the area. Lack of food, medicine, and shelter has made these villagers especially vulnerable to diseases and other sickness. Malaria, Diarrhea, and respiratory infections cause huge problems, and these people remain in great danger from both Burma Army attacks and health problems.
The Burma Army attacked and entered many villages in Mon Township. Troops stole and destroyed villagers' belongings. They also destroyed the villagers' food stores which they had hiding in the jungle .Many houses were burnt down and destroyed by the Burma Army .They also killed and ate the pigs, chickens, goats, and buffaloes that belonged to the villagers. They planted landmines in the villages, in the farms and on the trails leading to the villages. Three villagers stepped on landmines: Saw Say Nay Mu, 24, from Gei Belay Hta village in Kwee De Kaw village tract, and two other villagers from Play Ki village tract.
On 31 October 2006, the Burma Army captured Saw Way Sein and two of his brothers in law, torturing them and seriously wounding them.
The Burma Army has cut off all food and communication lines between the plains and the Karen people in the Mountains. This, combined with the current attacks and the construction of new Burma Army camps is part of an attempt to clear the area of ethnic Karen villagers, choke off all support for the Karen resistance, and gain total control of the area. .The Burma Army MOC (16) built a new camp nearby Ka Mu Lo village .
Hsaw Hti Township Burma Army attack on 24-25 October 2006
The troops from Moc 21 have launched an attack along the Wah Lo Klo river. One group attacked at Wa Pe Kwi area, south of Ler Wah, between Wah Lo Klo and the Shwey Gyin Chaung. Another group attacked Saw Ro Ko village, which is close to Wah Lo Klo village. These troops destroyed three paddy farms which belonged to Saw Shwe Hla, Saw Say way Hae, and Saw Di Mae.
ENDS