FBR REPORT: Man Burned Alive by Burma Army troops as they Burn his Village Down, 1 Nov. 2006
Karen State, Burma
Report Date:

7 November, 2006
 

 
 

Saw They Shur burned alive by Burma Army soldiers
Ongoing offensive forces 60 families to leave their homes and move to a displaced persons site inside Karen State
Families Fleeing in Toungoo District
Porter Killed by the Burma Army

 
(Warning: This message contains graphic images)
Saw They Shur was burned alive by Burma Army soldiers in his home at Play Hta Village, near Hoki, Toungoo District. He was 47 years old and married with 6 children. His wife and children are hiding with the other people who escaped the village after it was burned to the ground. He was sick and unable to run and was burned alive in his house at 5:30 p.m. on 1 November 2006.
Ongoing offensive forces 60 families to leave their homes and move to a displaced persons site inside Karen State
The offensive in the northern Karen State districts- Toungoo, Nyaunglebin and Papun (Muthraw)- continues, with daily reports of Burma Army perpetrated killing, looting or other destruction in villages and the hiding sites of displaced persons living in fear. This is part of an ongoing offensive that has displaced over 20,000 people and shows no sign of relenting.
60 families from Mone Township left their villages this week and will go to a displaced persons site inside Karen State. The families were running out of food with no way to get more. They have been running and hiding from the attacking Burma Army since 10 October and their supplies have run out. They can't return home because it is very dangerous for them because of landmines and continuing patrols by the Burma Army. The Burma Army has planted hundreds of landmines and 11 have been found hidden on the routes that the Karen people use. Three were found in Thay Kay Lu Village and 8 in the Nwa Hta area.
The very act of civilians defying Burma Army attempts to force them to move to relocation sites or comply with orders is one of the greatest acts of civil disobedience to the dictators brutal rule in Burma. In spite of the peoples' efforts to stay in or near their villages, the Burma Army's establishment of new camps have made it impossible for many people to return home. The disruption of their food production, burning of their homes and the persistent attacks by Burma Army units has made staying in their homeland untenable for the 60 families who are fleeing right now. Of the over 20,000 displaced, over 5,000 people have already left their homes for the Thai border. There will be many more families like these 60 new fleeing families if the Burma Army attacks against Karen civilians in this area continues. The people here need immediate protection and the freedom to return to their homes. Because of these attacks they also need food, medicine, shelter and help to rebuild their homes, schools and lives.
Families Fleeing in Toungoo District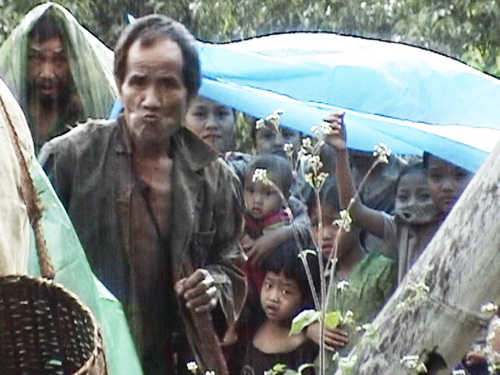 Toungoo District people on the run from Burma Army attacks.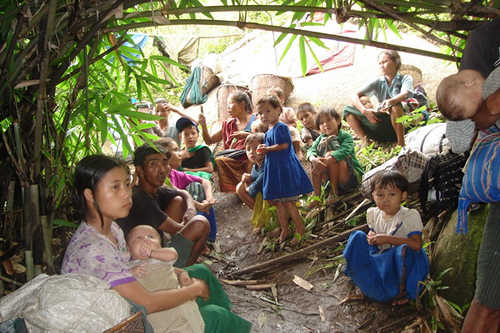 Karen families fleeing attacks.
These people have been forced to leave their homes and walk over two weeks to a temporary displaced persons site where they are now receiving assistance.

Porter Killed by the Burma Army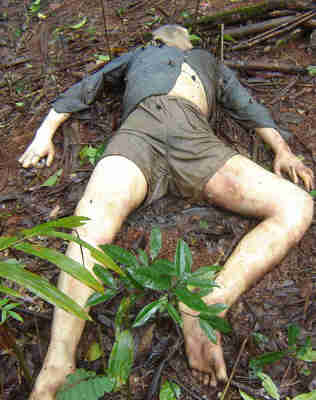 This man is one of 400 porters the Burma Army MOC 15 used in support of its ongoing offensive in the northern Karen States. Over 200 escaped and many were beaten tortured, killed or left for dead if they could not carry their loads.
ENDS