FBR REPORT:
Villagers forced by Burma Army soldiers to build up camps in support of their ongoing attack against the Karen people
Muthey, Nyaunglebin District, Western Karen State, Burma
13 October, 2006
These photos show people forced to work for the Burma Army at Muthey camp and were taken by a FBR relief team providing humanitarian assistance in this area.
Muthey Army camp is one of many camps in this area and is a launch point for attacks that are part of the ongoing offensive.
In the Muthey area, the Burma Army is also forcing people to leave their villages and relocate to the Muthey camp complex. This is in order to exert compete control over them as they attack the hiding places of displaced Karen people. In support of this operation, the Burma Army is building a new town in the Muthey area and has plans for logging and to build a dam. Starting on 9 September, the Burma Army under IB 242 (one of 10 battalions in MOC 16), forced villagers at Muthey to build their camp, make a fence around the camp and village and carry logs and bamboo for the soldiers. The troops are now forcing villagers in the plains areas to make fences around their villages and do not allow villagers to travel. The Burma Army has blocked trade and travel routes between the plains and mountains areas as they try to put a strangle hold on the Karen population in the mountains.
Burma Army attacks have displaced over 20,000 Karen people since February 2006 in northern and western Karen State. During this offensive, the Burma Army displaced over 12,000 people in Nyaunglebin District alone. There are 1,775 displaced people in Keh Der Village tract, where Muthey village and Burma Army camp is located. These pictures are from this area. Thank you and God bless you, the FBR Nyaunglebin District Team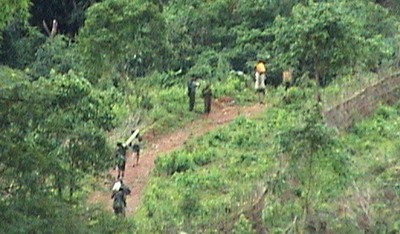 Burma Army forces villagers to carry loads. Sept 06.
Soldiers in center of photo control villages as they carry loads.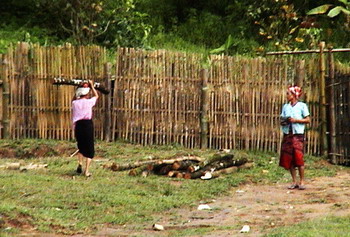 Two Karen women forced to labor for the Burma Army. Here
they bring logs to the front gate of Muthey Army camp.Sept 06.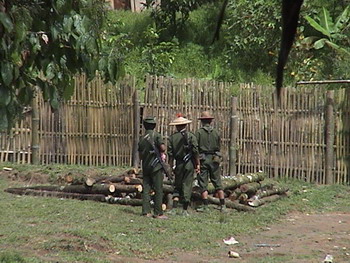 At the same site, three Burma Army soldiers inspect the forced labor. Sept 06.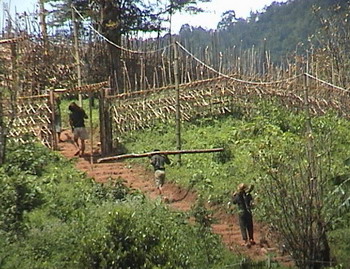 Burma Army soldiers then carry the logs inside Muthey camp. Sept 06.
ENDS