FBR REPORT: Feudalism, Narcotics and an Uncertain Future for Children


Shan FBR Mission to the Ho Mong Area of Shan State
Shan State, Burma
1 September, 2006
Report Summary:  This report covers a relief mission to the Ho Mong area of Southeastern Shan State, Burma. August 2006. (On this mission two Partners team members accompanied the FBR teams and helped with the Good Life Club children's program as well as providing training for team counselors.)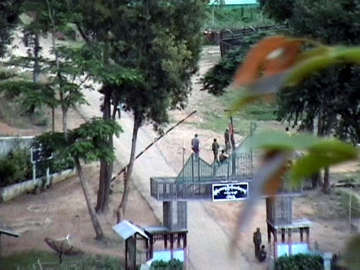 This gate is guarded by the Burma Army (note soldier in the foreground).
The sign above the gate says, 'Ho Mong Area Development Group'. Photo: 26 Aug. 2006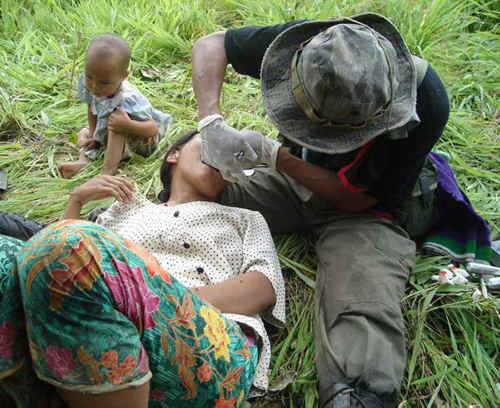 Dental Care given to Shan IDPs by FBR relief teams. Photo: 26 Aug. 2006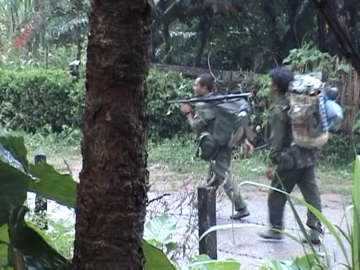 Burma Army patrol near Ho Mong. Photo: 26 Aug. 2006
The area of Ho Mong is just west of the Thai border and Mae Hong Son Province. It is in a valley just inside the Shan State, Burma, and is north of Mae Hong Son town, Mae Hong Son Province, Thailand. (Ho Mong: Lat/Long: N 19 45 30 E 097 59 00.)
The people of the Ho Mong area live under the oppression of both the Burma Army and their local proxy the Southern Shan State Army (SSS). The SSS are led by Maha Ja, a Wa warlord who controls 300-500 troops and who has been given partial authority over this area by the Burma Army. The SSS is also involved with the Burma Army in narcotics trafficking in the Ho Mong area.
The living situation for the people is feudal with the people able to make a bare living but under the domination of the Burma Army and SSS they have no real control over their lives. Please see excerpts of two cases of abuse, rape and murder that occurred in this area at the bottom of this report. These are from two reports we have sent out earlier. (*Note the Southern Shan State Army (SSS) is a proxy army under the control of the Burma Army while the Shan State Army (SSA) is a pro-democracy resistance organization.).
The people of Ho Mong seem to have accepted the feudal system they live under. They do not like it but they can survive and it is too dangerous to try to change it without help.
The valley is fertile and there is enough food. The Burma Army controls all commerce and forces people to grow Castor plants for oil. (This is a Burma wide program that is forced on the population.) The Burma Army and SSS tax all goods. For example, each truck is taxed B.1, 000 per year and each cow B.1, 200. The Burma Army and SSS control the roads. The main road from Ho Mong to the Thai border at Na Mong Long is useable all year. There are 5 major Burma Army camps and three SSS camps in this immediate area. Schooling is very poor with teachers charging 'extra fees' for children to attend school yet regularly not showing up to teach. As a result many children who are close enough walk across the border to attend schools.
Young people and girls at risk:
The scourge of narcotics is not only exported out of this area but the people here suffer as well. Many young people use amphetamines as they are readily available and because there is no real felt hope for a future.
Young women and girls are especially at risk and some are trafficked into Thailand to work in the sex industry. We met a young girl whose parents have both died of AIDS, with her mother dying only two months ago. She is a sad little girl with a uncertain future. (Note: the Shan FBR team is trying to help this particular child and will try to make it possible for her to go an orphanage at a Shan (SSA) base.
History:
The area of Ho Mong has seen many masters; in recent history most of them have been bad. In the Eighties the Drug lord Khun Sa of the Mong Tai Army (MTA) controlled one of the world's largest narcotics armies. In spite of an army supported by drugs, Khun Sa enjoyed some local support as he was seen as the most effective counter to the Burma Army in the Shan State. Many of the people who now live in Ho Mong fled oppression of the Burma Army elsewhere in the Shan State and moved here to live under the MTA's protection. In 1996 Khun Sa accepted amnesty from the dictators of Burma and moved to Rangoon. The MTA collapsed and the soldiers who wanted to continue the fight for freedom reformed the Shan United Revolutionary Army (SURA), which then became the Shan State Army (SSA) under Col. Yod Suk.
The SSA are under the political organization of the Restoration Council of the Shan State (RCSS) and are fighting for liberty, the restoration of democracy and a free Shan State. The SSA have from their inception announced a campaign against narcotic production, trafficking and use in the Shan State.
The Ho Mong area is still a trafficking and production area for amphetamines and heroin. According to villagers narcotics are controlled by the Burma Army and their proxies the SSS.
The narcotics are transported by road close to the Thai border and then carried in backpacks for one to three days to transfer points inside Thailand. The average column of drug traffickers numbers 30 men each (sometimes up to 60 men) each laden with a rucksack full of amphetamines. Walking from the load point in the Ho Mong area to the transfer point in Thailand takes an average of 5 days. For example, the jungle walk on secondary trails from the Ho Mong area to Nam Mo Long near the Thai border takes 1-2 days, then the border is crossed (usually at night) and the walk to Pai, Thailand takes three days. Each drug porter gets B.30,000. Each load is checked and if any drugs are missing the porter must pay for the loss immediately or is killed.
This year however, due to Thai narcotic suppression efforts, the movement of narcotics from this area has been slowed. Many drug columns have been ambushed by Thai law enforcement and military forces causing high casualties among those carrying the drugs and well as resulting in major losses of narcotics. The Burma Army and their proxies are reportedly now trying to find more secure methods of trafficking narcotics into Thailand.
In the Ho Mong area, the chief narcotics chief is called "Long Pan" (real name not known).
He is based out of Nam Sang to the north but travels regularly to the Ho Mong area to oversee narcotics operations there. He is escorted by Burma Army troops.
According to one local source, "Long Pan never walks anywhere. He always drives and there is one Burma Army truck in front of his truck and one Burma Army truck behind his truck. Long Pan travels in a white 4-door 4wheel drive truck that has a covered back.
He still comes here to do his drug work even though it is now more difficult. Also now there have not been any businessmen from Thailand coming to this area this year- maybe because of the crackdown".
* From interview below; " The Shan resistance now is the Shan State Army (SSA). They are good because they do not do drugs. And in the areas they control they do not allow it to be grown. So in those areas there are now less users and less production. Also they are good because they are really fighting for freedom".
During the brief time in this area we treated 421 patients in the first two days (561 total patients including other areas; 516 medical and 45 dental-extractions and fillings)
The main problems encountered were respiratory infections, urinary tract infections, dysentery, skin diseases and peptic ulcers. Of interest was the low prevalence of Malaria compared to most IDP areas in Karen and Karenni State, where malaria is usually one of the most common diseases diagnosed. Here in this part of Shan State there were 80 patients out of 516 total who were diagnosed with malaria.
In general the people seemed healthy and are in better shape health-wise than the IDPS we meet in other areas. A person can eat enough and survive in the Ho Mong area as long as the dictators' armies are obeyed.
The team also distributed good life packs and the FBR good life club counselors helped with the children. The Good Life Club program has been expanded with the help of a Partners GLC team that worked on this mission in a joint effort to reach out especially to children at risk.
Interview:
25 August 2006 Ho Mong area, Shan State, Burma:
The team interviewed many of the people here and below is one representative interview with a local Shan man. (Name and age changed for the person's protection)
Sai Hoo, age 66, farmer, Shan ethnic.
"I used to live in Mong Kai, Shan State- north of here. I had a big wood house and many buffalo. I was a well off farmer. In 1989 everything began to go bad. The Burma dictators forced me to move to Mong Ngai, giving me 5 days notice. They said they wanted no one to stay at Mong Kai because they thought we would support the Shan resistance forces.
I was sick and could not move in time so they came forced me to leave and burned down my house. My relatives were at Mong Ngai so I took my wife and we went there.
Later on the Shan resistance (MTA) came near Mong Ngai and the Burma Army accused us of supporting them and forced us to move again in 3 days. My wife had just given birth and was very ill so I had to carry my wife and our new child to the new place. When I returned to get our belongings from our home, the Burma Army had burned down my house and 16 others in our village. After that some villagers who still had belongings in homes that were not burned, wanted to go and get them. They decided to send three women, En Say, Aye Kya and Aye No to the remaining houses, thinking that even if the Burma Army was still there they would not harm three village women. Instead the three women were each raped and killed by the troops. 5 days later a cripple from our village also tried to go back and find his things but he too was killed.
Our family then decided we could not stay near the Burma Army so we fled to Ho Mong, which was at that time under control of one of the Shan resistance groups- the Mong Tai Army (MTA). We have lived here for 16 years now. Later the MTA collapsed and the leader Khun Sa joined the Burma government. He was a drug man and not good but we could live here as long as his troops were here. Now the Burma Army controls all this (including drugs) and we are under oppression.
We are not happy here but we can survive.
The Shan resistance now is the Shan State Army (SSA). They are good because they do not do drugs. And in the areas they control they do not allow it to be grown. So in those areas there are now less users and less production. Also they are good because they are really fighting for freedom."
Below are two stories of rape and murder that occurred in the Ho Mong area. They were sent in earlier FBR reports. (Name of rape victim has been changed.)
*1) Five-year-old Shan girl, Nang Sap, taken by the Burma Army, missing for 7 years and reported dead. Mother grieving.
This story was originally sent out by a Shan FBR team who helped the mother and father of this girl escape the Ho Mong area of Southern Shan State. We had also helped one of the children with an operation to re-route his intestines in 2002. We knew of the story of the missing 5-year-old girl then and reported on it, but just this week we met the mother again. When we talked to her she suddenly broke down in uncontrollable tears and crying. At one point she collapsed and went into shock. The loss of her daughter is a wound in her soul and we felt sorrow as we tried to comfort her. So we decided to tell her story hoping that it might so some good.
We are with an IDP community and have two Partners relief team members with us and trying to help these people is a joint effort.
Date of interview: 10 August 2006
Name of interviewee: The mother of the kidnapped girl, Nang Khi
Name of lost daughter: Nang Sap, 5 years old, from Nam Khat village, Ho Mong area, Southern Shan State, Burma.
Date that Nang Sap was kidnapped by Burma Army: 5 October 1999.
"We are very poor. One day, we left our home to carry some rice and left two of our children at home. We were at the nearby village of Mai Lan when we were told that one of our children was lost. When we were coming back home, the head of the village asked fifty villagers to search for our daughter along the river just in case she drowned. But, they could not find her. The search for our little girl kept on going for seven days but they did not find her. Then the headman said that if I want to have a funeral ceremony for my daughter since they are not found. I was then told that our child might not be drowned.
We were told that the SPDC troops of the Burma Army, who used to come to the temple and our home, did not come here any more. This was because they had kidnapped our daughter. Since then, I could not eat and drink any more for nine days. Some villagers came to me and encouraged me that I had to live.
At that time in 1999, some SSA soldiers arrived in our village and one of the officers found out about my situation and advised me to go and stay in a safe place. We are here with the help of the SSA who are looking after us. I have mental problems because of my lost child.
In the year of 2000, while we were already here. I was questioned about my mental state- I cried all the time. People thought I was mad. Some people in the village answered those who questioned my sanity and told them that I had lost my child.
My situation is getting better here. The SSA is helping me and gives medical care. In 2000 I was shocked when a woman form Ho Mong village asked me about my lost child. That women also asked me what the color of the dress was that my daughter was wearing when she disappeared. That women showed me a picture, asking me, "Is that your child?" I was shocked when I saw the picture because it was a picture of my daughter. I asked the women where she got that picture. The woman answered that she saw my lost child in the weaving center in Ho Mong. The woman went on to say at that time the Burma Army was kidnapping children in order to sacrifice them alive in the foundation of a new Pagoda they were building. This was something that happened in other areas of Shan State.
The woman said that she saw my child being carried by a Burma Army soldier in a backpack. At that time my child was half awake and was sobbing. According to the woman, my child was given an injection of some kind by the soldiers. She thought it was anesthesia. The woman kept saying that she saw some SPDC soldiers gave my child more injections. The woman said that she ran away when the child began screaming. She went to tell the villagers and the villagers came to see that child. Some recognized her and said, "Oh! Is that the child of Nang Khi of Nam Khat village? " She said that the SPDC soldiers injected one more anesthesia to my child and then put her in a bag pack and carried her to some unknown place.
The woman said that one night at midnight she had once found three children who were thrown into a big hole under the foundation on which the new pagoda was to be built. The woman said that my child was one of the three children who were buried killed alive there. They woman told me that she could not remember the date of the death of the children. I told the woman that if she could bring my child back to me, I would give her as much money as much as she asked for. She said she could do nothing but in a strange way she tried to encourage me by saying, 'Don't be depressed, your child is lucky since she has a chance now to live in the pagoda forever'.
The mother was obviously distressed in recalling this and said, "What can I say, I am very sad."
While some of the details remain unconfirmed the facts remain: on a mountain in Shan State is a mother who is grieving and barely able to hold on and whose daughter has been missing for 7 years.
God bless you,
A relief team leader
FBR
*2) Rape of 9-year-old Shan girl by the Burma Army.( Name of girl, mother and brother changed).
This young Shan girl was raped by a soldier of the Burma Army. She was 9 years old at the time and is still traumatized by the violent rape. Her family fled to this site after the rape. The rape occurred in Ho Mong, South Eastern Shan State. Ho Mong is the old base of the drug lord, Khun Sa, and is now occupied by the Burma Army as well as a proxy force- the Southern Shan State Army (SSS) who are commanded by Maha Ja, a Wa ethnic who is allied with the Burma Army. Ho Mong is close to the Thai border and is North West of Mae Hong Son. This is an area populated by ethnic Shan and is under the complete domination of the Burma Army and the SSS. (*Note the Shan State Army (SSA) is a pro-democracy resistance organization, while the Southern Shan State Army (SSS) is a proxy army under the control of the Burma Army.)
We had received a report from the Shan FBR team who had helped this girl and her family escape last year. She is 10 years old now, and to meet her face to face and see the mental pain she is still in, is terrible.
We felt compassion for her, and disgust and anger for the Burma Army soldier who raped her. How could anyone rape a little girl like her?
We talked with her briefly and prayed with and for her. Later we interviewed her mother.
Her story is below.
Name of interviewee: Pa Ma, mother of 10 year old girl who was raped last year when she was 9 years old.
Name of girl who was raped: Nang See, 10 year old now, 9 years old at time of rape.
Place of birth (and the place she was raped): Ho Mong, South Eastern Shan State, Burma.
Brothers and sisters: 2 brothers and 1 sister.
Date of rape by the Burma Army: 10/2004 (exact date in October not clear.)
The rape of 9 year old Shan girl, Nang See as told to the team by her mother in IDP site.
"Her father and I went to farm the fields. She stayed at home with her brothers and sister. When we came back home, she was covering herself with a blanket and her sarong was soaked with blood. I looked at her closely and then I saw her vagina was torn and damaged. She was afraid and dared not to say anything. I tried to ask her but she gave no answer. Finally, her younger brother "Khun Ka, 5 years old" told me what happened.
First, he saw five soldiers of the Burma Army come down into the village. Two of the soldiers went to another area and the other three came and stood in front of our house. And then, one of the soldiers came into our house and gave our daughter, (Nang See, then 9 years old), a cucumber. And then, he forced her to lie down on the floor in front of the household shrine. She began to shout but the soldier covered her mouth with a sarong.
She struggled allot but the soldier was very strong, and so she was raped. The soldier quickly left from out of our house after he raped her.
The mother then told the team;
"When I know she was raped by the Burma Army, I went and told the head of the village, named U Lay or Nee Yord Khin. He suggested that I carry her to the Southern Shan State (SSS- Army) hospital. So we then we carried her to the SSS hospital. Some of the SSS authorities gave me 1000 Baht ($25) and the commander of the SSS, General Maha Ja gave us 30,000 Kyat. (900 baht or $24). We stayed at the SSS hospital for 7 or 8 days. And then, we came back home.
We found out that the Burma Army soldier who raped our daughter was from battalion 132 (LIB). This battalion is from Mong Mai and was based in Htun Lot camp.
There was no punishment for him.
We felt very bad and with the help of a Shan FBR (SSA-FBR) team we were able to go to a safe IDP place. We arrived in February 2005. But, her vagina was not yet healed when we came."
This story is tragic and is only one of the many evil results of the dictator's rule over Burma. What can we do? For the young Shan girl, Nang See, we can help her medically and we hope emotionally. We will do our best and are grateful to the Shan FBR team who helped her arrive here. We are grateful too for your prayers and for your love and how you help stand with these people.
God bless you,
A relief team leader
FBR
ENDS