FBR REPORT: Burned Villages, Forced Relocations and Burma Army Camp
Karen State, Burma
22 May, 2006
.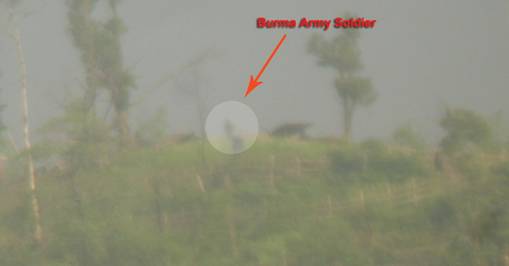 Burma Army Soldier at Play Hsa Lo, May 20, 2006.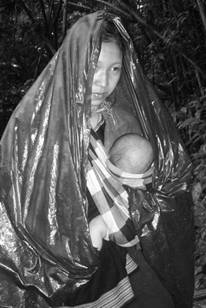 Mother returns to forced relocation site at Play Hsa Lo.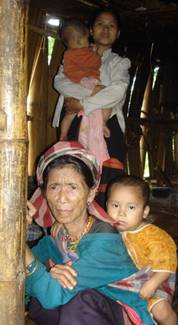 Displaced family from Play Hsa Lo, May 20, 2006.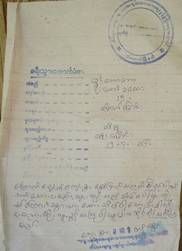 Relocation regulations by Burma Army.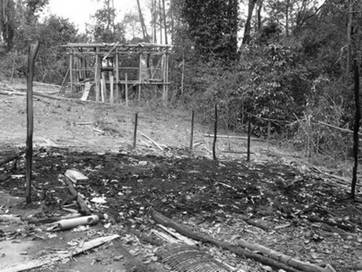 Village of Kway Kee, burned by Burma Army, April 27, 2006.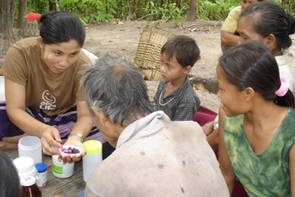 Relief team nurse treats Toungoo IDPs, May 22, 2006.

19-year-old Saw Maw Poh Say, shot by Burma Army.                                       
These photographs were taken by a relief team in Toungoo District from 20-22
May 2006. The photographs of the Burma Army camp were taken in an ongoing
attempt to put a light on the activities of the Burma Army as the teams
provide medical care and relief to the displaced people. It is from this
camp and other camps in the Karen State that the Burma Army has been
attacking civilians during their four-month offensive. This offensive has
displaced over 16,000 people in Toungoo, Nyaunglebin and Muthraw districts
of the Karen State.
The Burma Army launched a series of attacks from this camp, Play Hsa Lo
Camp. From here they have attacked the surrounding area, burning villages,
killing civilians and displacing over 3,000 people. Some villages have been
forced to relocate down into the plains and some have been forced to move
close to the camp in a village named Tay Pu. These people are allowed to go
to their villages and fields for 5 days at a time but only after securing
permission from the Burma Army and carrying with them a
permission slip. The camp was established during the beginning of this
offensive starting in late February. The purpose of the camp is to expand
control over the local population and to serve as a base for attacks deeper
into Karen State.
The camp is located on a mountain southwest of Toungoo at  N 18 45  00   E
096  44  30 and is seven miles east of Shazibo Camp in the plains.  
MOC 16 is based out of this camp and has three battalions located here now.  
The other three battalions are located at Maladaw camp (vicinity N 18 37 30   
E 096  44 00 ) to the south.  The burned village of Kway Kee (pictured)  
is located at  N 18 47 49   E 096 45 38. The villagers of  Kway Kee were
attacked and their village burned on 28 April. They were then forced to go
to the relocation site at Tay Pu.
Yae Lo Village (picture of relocation orders), that can only be accessed
with a 5 day pass, is located at: N 18 46 47  E 096 44 51.
To see these villagers hurrying back to Tay Pu to beat the curfew after
their 5 days are up is unsettling. The looks of fear and desperation on
their faces made us sad and angry. They are being treated like animals.
Tay Pu village and forced relocation site is located on the same mountain as
the Play Hsa Lo camp at  N 18  45  30     E 096 45 00.
Since March, villagers from 6 villages have been forced to move here by the
Burma Army. When the Burma Army threatened to burn down this village because they
suspected the people of  being sympathetic to the resistance, the headman of
the village said, "Why don't you burn down Rangoon first, there are many
more people there who do not like the Burma Army"?
At this time the situation has stabilized as all the Military Operations
Command (MOC) commanders have been recalled to the capitol of Pyinmana for
meetings. It is not clear what the meeting is about or its duration but all
major operations in Papun, Nyaunglebin and Toungoo District have now
stopped. However, the Burma Army continues to patrol the roads that connect
their camps and have fired machine guns and mortars at suspected IDP hiding
places, killing two civilians and wounding the villager pictured during these
past two weeks.
ENDS