FBR REPORT: Sign and Landmine Placed to Terrorize Displaced Villagers. 7 May 06
Karen State, Burma
8 May, 2006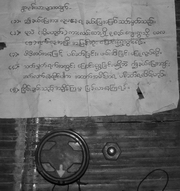 picture of message and the landmine found hidden below it
This message, with a land mine hidden below it, was posted on a tree in an area where the Burma Army had chased villagers into the jungle. Vicinity Naw Law Thae Pwa village, Mon township, Nyaunglebin District, Western Karen State, Burma. The sign, in Burmese, was placed by soldiers of Military Operations Command #16. LIB 370 We have the sign and landmine now and the translation is below:
"For the hiding villagers"
1. No one is allowed to live in this area.
2. People must move to Muthey (Burma Army Camp) or beside the car road at the relocation site as soon as possible by 5 May.
3. Our troops do not want to shoot and capture.
4. By this date (5 May) anyone who stays in this area will be shot. This is a command from above.
5. You can come back when this area has peace.
This sign was typed on a piece of paper that was posted to a tree. A land mine was placed on the avenue of approach that people would take to read the sign, and placed 15 yards before the sign. The land mine is a copy of the U.S. made M14 anti-personnel mine. The country of manufacture is unknown but has been supplied to the Burma Army in large quantities. These new mines are found in the areas that the Burma Army is attacking and are small enough (2″ by 2″) for a soldier to carry many of them at the same time. In one village tract here, the local medic has conducted 5 amputations due to mines this year.
God bless you,
FBR Relief team
ENDS