FBR REPORT:

Report from Nya Moo Kee Village. Mon Township, Nyaunglebin District, Western Karen State
Karen State, Burma
17 April, 2006
 

| | |
| --- | --- |
|   | In This Report: |
|   | Two villagers captured, church and homes burned and destroyed by Burma Army troops in Mon Township, Nyaunglebin District, Western Karen State, Burma. |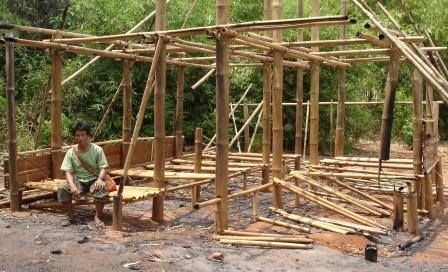 Villager sits in front of burned church.  Nya Moo Kee. April 17, 2006.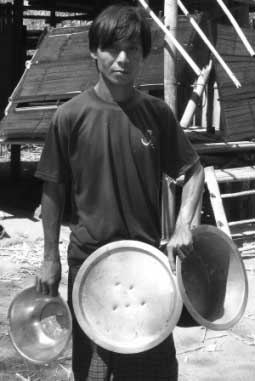 Villager with pots and pans destroyed by Burma Army. April 16, 2006.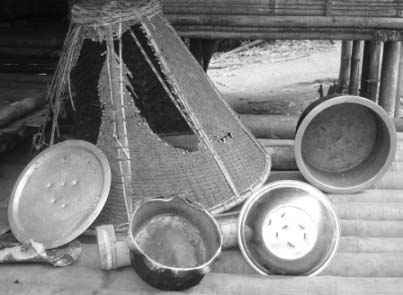 Villagers' belongings systematically destroyed by Burma Army. Nya Moo Kee. April 16, 2006.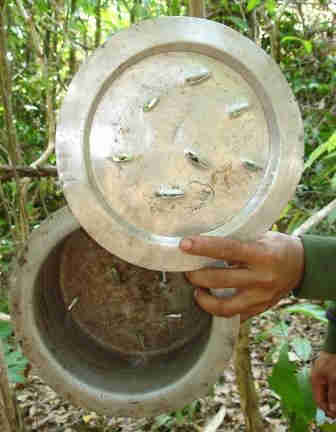 Pots destroyed by Burma Army. April 16, 2006.

Summary:
The Burma Army has attacked Karen civilians in Western Karen State, Burma. These attacks have now displaced over 4,000 villagers (IDPs) in Mon Township (for a total of 4,500 displaced in Nyaunglebin District). Villagers have fled into the jungle with very little food and clothing. The Burma Army has burned homes, rice barns and continues its patrols to stop villagers from returning to their homes and fields.  An FBR relief team received reports of attacks and entered the area to provide relief in mid-April.  After treating over 200 IDP patients in a hide site  on 14 April, the relief team continued to Nya Moo Kee, one of the villages that was attacked and burned in March, and is still completely abandoned by its residents.
Details: The team arrived at the abandoned village on 16 April and learned that on 19 March,  the Burma Army began their attack in this area by capturing two villagers from Nya Moo Kee Village, Mon Township, Nyaunglebin District.  The two men are Maung Than Lwin age 30 years old and Aung Win Thun age 25 years old.  Maung Than Lwin has a wife Naw Win Shwe age 36 years old and three children ages 11, 3 and 1 years old.  As of the date of this report, these two men are still missing and feared killed. On 23 March the Burma Army then attacked the village itself.


23 March 2006
The Burma Army (LIB 522 and LIB 567) formed a column under the command of Thet Wey and attacked the village of Nya Moo Kee (15 families). The village church and the house next to it were burned while other village homes were systematically ransacked and destroyed. All of the pots and pans left behind by the villagers were damaged by soldiers shooting and knifing holes in them. Soldiers slaughtered and ate all of the chickens in the village and four of its pigs.  A dog was also shot and thrown onto the roof of a house. Two rice storage barns hidden in the jungle by the villagers were also found and destroyed. A total of 156 baskets of milled rice were lost.
24 March 2006
The Burma Army (LIB 522 and LIB 567) departed Nya Moo Kee and split in half. One half provided security while the other half attacked Maw Lee Loo Village (4 families).  All of the homes were burned and the troops ate all of the chickens there. Two rice storage barns were also burned which had an estimated total of over 400 baskets of paddy rice.
Note:  The systematic destruction of villager property is part of the SPDC's plan to break the will of the people to stay in their homeland.  Villagers rely on pots and pans for the cooking of rice and food, for the boiling of water, and for many other daily needs. There are no markets nearby to buy these utensils.  These items are not only difficult to obtain, they are very expensive to buy for these subsistence farmers. By destroying these items, the Burma Army is not only displacing these people from their homes, but is also making it more and more difficult to restart their lives should they choose to return.
(Note the destruction of cooking and food storage materials as a tactic, is a long standing practice by the Burma Army and first reported by the Karen Human Rights Group-KHRG).
ENDS