FBR REPORT: Report From the Field — Toungoo IDPs at the Salween River
Karen State, Burma
3 April, 2006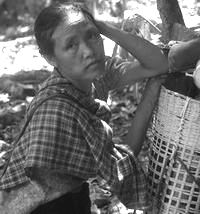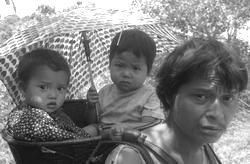 These pictures are of a group of over 200 villagers making their way to the Salween river after fleeing Burma Army attacks in their native Toungoo District of Karen State. The photos were taken by a relief team that is on its way to the area of these attacks in order to provide aid to the thousands of villagers who are still in hiding there. Entire villages have been forced to flee, and people, regardless of their age or health, have been forced to walk many kilometers over mountains and across Burma Army controlled roads just to reach this point. Their hope is to reach refugee camps, but their future now is still uncertain. They will join the 400 plus IDPs that have already made it to the Salween, and are now waiting in the heat in makeshift huts along its banks. The relief team tried to give some comfort to the fleeing villagers, and then moved on toward the area where thousands of their fellow Karen are still in hiding. These IDPs are now at risk of further Burma Army attacks.
Background: 5,000 Karen people in hiding from Burma Army attack.
In addition to the people described above, who have already fled to the Salween, there are now over 5,000 people displaced in Toungoo and Nyaunglebin Districts due to ongoing attacks by Burma Army troops of the 66th and 99th Divisions. These attacks have intensified and now there are over 2,000 people in hiding in Toungoo District alone. These are mostly from 16 villages in the Southern part of Toungoo District, (Tantabin Township, mostly west of the Kler la/Baw Ga Lee Gyi to Busakee road). In Nyaunglebin District there are over 3,000 people now in hiding; in Mon, Kyauk Kyi and Shwey Gyn townships. The Burma Army is attacking in 1-4 battalion sized force and chasing people into the jungle. Homes are then looted, sometimes burned and then landmines are left behind to terrorize the population. Their purpose is to cut off the people from their lively hood, cut all support for the pro-democracy Karen resistance, and gain control over the population.
The Burma Army wants the people to be completely under their domination and acquiesce to their demands or move to relocation sites. When people refuse to leave their land, they are attacked. The use of landmines has also increased, as the Burma Army try's to block all trade and travel from the mountains (where most the Karen they cannot control live), to the plains. It is the feeling of the Karen leaders here, that as the hot season progresses the attacks will increase.
The greatest need the people here have now is security, food, medicine and support to continue their children's education-even when they are on the run. Thank you for your help and care.
God bless you,
A Relief Team Leader
ENDS