FBR REPORT: New Attacks in Western Karen State, Burma
Karen State, Burma
21 March, 2006
A NEW ATTACK HAS NOW COMMENCED IN WESTERN KAREN STATE. FORCING OVER 400 PEOPLE TO FLEE THE LER WA AREA OF KYAUKKYI, NYAUNGLEBIN DISTRICT. NOW OVER 3,400 PEOPLE ARE DISPLACED AND IN HIDING.
Yesterday, on 20 March, the Burma Army attacked the hiding places of displaced people in the Ler Wah area causing over 400 people to flee and increasing the number of newly displaced people to over 3,400 when added to the newly displaced 3,000 people in the north. All of these attacks are occurring in a North-South line stretching from Toungoo to Shwe Gyin, roughly at the junction of the plains and mountains. They seem to be aimed at cutting off all support for the resistance as well as stopping all rice, medicine and other needed material from reaching the displaced people who are living in these areas. This appears to be a coordinated effort involving 1-4 battalion sized attacks in each area of activity. These battalions are being sent from the two divisions (66 and 99), of the Burma Army who are operating here. It is not yet a major offensive but the area of attacks have increased weekly for the past four weeks and the numbers of displaced have grown from 400 newly displaced in February to now about 3,400 newly displaced as of March 21.
Note: This is being relayed from a relief team in the field and covers information of ongoing Burma Army attacks in theses areas. There are now two Burma Army Divisions operating in these areas, an increase of one division over the usual amount of troops in this area. As a result of these two Divisions' attacks, there now a total of over 3,400 new Internally Displaced Persons (IDPs) in these areas.
1) Toungoo District, Northern Karen State: Ongoing patrols and the killing of three civilians. On the 7th of March a Burma Army patrol killed three villagers in the Keu Daw Keu area. The troops were from Division 66 who are continuing sweeps against villagers and IDPs in this area. There are about 1,000 new IDPs a result of these operations and of this 1,000, the over 640 IDPs who earlier fled to Muthraw District (to the South) are still unable to move to a more secure area.
2) Nyaunglebin District, Western Karen State:
a. In Mon, Kyauk Kyi (Ler Doh) and Shwe Gyin townships, the Burma Army is continuing its operations against the civilian population, leaving over 2,600 people displaced. These people are still in hiding as the Burma Army has reinforced the area by adding one division (Division 99) to the existing division (Division 66 ). Division 66 is operating to the North and Division 99 to the south.
b. On 20 March the Burma Army commenced attacks on Ler Wa, Kauk Kyi township displacing over 400 people who are now in hiding further east up in the mountains.
c. During the week of 13-18 March, the Burma Army launched attacks from Shwe Gyin into the eastern hills of Hsaw Hti township displaceing an unknown number of people. We are still waiting for reports of these attacks.
d. On the 9th of March Burma Army troops attacked the villager of the Klaw Kee and Haw Law Kee burning a total of 19 houses and two rice barn and killing one villager, Saw Maw Thay Kya, age 28.
map of area in this report: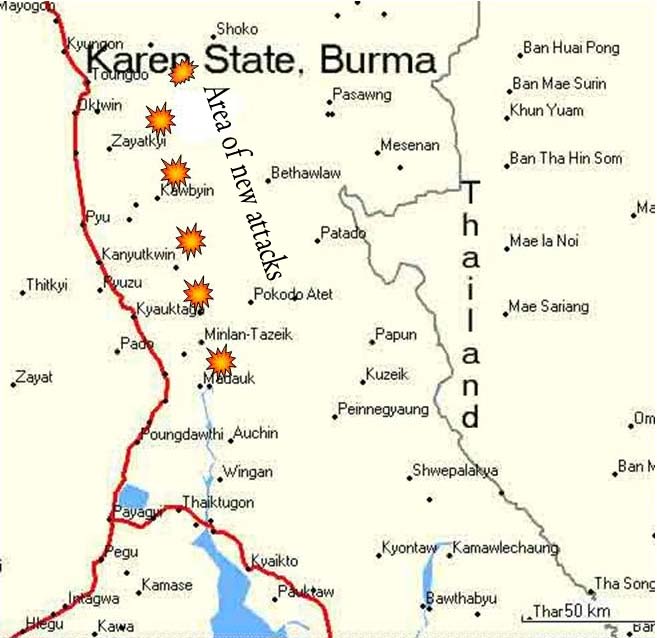 ---