FBR REPORT: Burma Army Launches New Attacks in Western and Northern Karen States
Karen State, Burma
14 March, 2006
 

 
 

The Burma Army are now attacking civilians in Western and Northern Karen State, Burma. Over 3,000 people are now in hiding and 640 of these who are trying to escape have been blocked by the Burma Army.

Western Karen State: Nyaunglebin District: Total persons displaced: 2,293
Northern Karen State Toungoo District: Total over 700 newly displaced people.
Total people newly displaced in Northern and Western Karen State during this past week of 5-12 March: at least 2,993 people in hiding now, with the number being closer to an estimated 3,000 to 3,100 people newly displaced.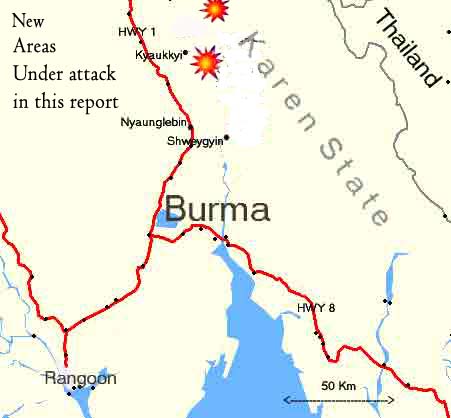 On March 9, 2006, The Burma army continued its attacks against civilians in Northern and Western Karen State, Burma. Three Burma Army battalions attacked two villages from Saw Ka Der village tract of Mon Township, Western Karen State.
The soldiers, from LIB 366, LIB 368, and LIB 364, under Military Operations Command 10 (MOC 10), Division 66, entered Klaw Kee village on March 9, 2006 and burned it down. During the attack Burma Army soldiers shot and killed one 38 year old Karen man, Saw Maw Sae Kya. The soldiers also burned down one paddy barn belonging to Saw Ra Moo, which contained 48 sacks of paddy rice, and another paddy barn which held 38 sacks of rice.
The soldiers then continued to the village of Maw La Kee, where they burned down another 7 houses. A total of 1,140 people from Mon Township have now fled and are currently hiding in the jungle. These people cannot return home due to constant Burma Army patrols in this area.
At the same time, further south in Ler Doh Township, the Burma Army carried out a similar attack. Soldiers from LIB 362 and LIB 363 entered Kwey Der village tract and forced 1,153 villagers into hiding. It is not yet known how many homes have been burned down because all of the villagers are still in hiding in the jungle and cannot return for fear of Burma Army patrols.
The Burma Army has increased its attacks against civilians in Toungoo District , Northern Karen State during these past two weeks. There are now over 700 people newly displaced and 640 other people who fled last month (February 2006), who have now been blocked by the Burma Army and can not escape to Thailand. These 640 people are now being cared for by a relief team and are not in imminent danger; however, they need food and a way to get past the Burma Army.
————————————————————————————————-
From an earlier report that has just been processed from the field.
Burma Army attacks, the laying of landmines and forced portering: 27 February 2006.
The Burma Army is now conducting small scale attacks against the civilian population of the Northern Karen State (Nyaunglebin and Toungoo Districts), laying landmines and forcing over 200 people to carry loads for the construction of the road leading into Southern Karenni State.
In Toungoo District porters more than 200 porters (some unconfirmed reports state 700 porters) are being used by the Burma Army to support their attacks against the civilian population there. The Burma Army is also conducting an extensive landmine laying campaign against the people living in the mountains east and northeast of Toungoo. The Burma Army is making small scale 1-2 battalion sized sweeps to force the civilian population to move to areas under direct Burma Army control.( Over 1,000 people have fled to refugee camps in Thailand from these areas in the past three months.)
The Burma Army is now laying landmines in a north-south line along the Day Lo river in the vicinity of Thandaung, north of Toungoo. It is reported that over 2000 anti-personnel mines will be laid to stop all civilian moment from the mountains to the plains this area. This is in order to deny the civilian population (and thus by extension the resistance), trade and the purchase of food stuffs and other needed commodities.
Three porters who had been tortured by the Burma Army and who told of the murder of fellow porters had escaped the Burma Army into Southern Karenni State:
Three men who were forced by Division 66 of the Burma Army to carry ammunition escaped to a Karenni village in Southern Karenni State on 20 February 2006. Soe Naing, age 20, from the Rangoon area, Zaw Di, age, 24, from Henzada and La Sa (age unknown) had been forced to porter loads for the Burma Army since November 2005. They were forced to support road construction operations between Toungoo, Karen State and Mawchi, Karenni State. They were beaten and reported that many porters had been killed by the Burma Army on the way. They also reported that over 200 other people (and said that this number could be up to 700 people), had been forced to porter at the same time in support of the Burma Army road construction operations in Toungoo District and Southern Karenni State as well as attacks in Toungoo District.

Two Burma army battalions advancing on Karen villages in Mon township, Nyaunglebin District, Western Karen State. Burma Army battalions LIB 599 and LIB 264, are moving towards the following villages of Mon township; Klee Law Klo, Ler Kwa Khea, Plaw Lay Ko, The Tha Plaw and No Ker Ko.
This operation follows an earlier operation on 6 February 2006, by LIB 599 in Ti Day Mu Ta, where three civilians were shot. See picture.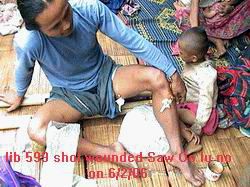 Burmese villager shot by LIB 599 on Feb 6, 2006
Analysis: These attacks reflect the ongoing effort of the Burma Army to break the will of the people and control them. The murder of porters and the laying of landmines to terrorize and block food to a civilian population are two of the tactics used in the strategy of the Burma Army to dominate, assimilate and exploit the ethnic people of Burma. The attacks are currently small in scale and there is not enough evidence yet to conclude that there will be large scale operations. For example the large amount of porters reported could be for support of road construction and support of camps rather than attacks. It is not clear if the attacks ongoing now will grow into a larger offensive but already people are fleeing these operations.
The laying of landmines to block access to the plains is part of a long term plan of attempting to starve out the people and the resistance. As this area is relatively close to the new Burma capitol of Pyinmana, it also seems likely that increased operations to clear this area are eminent, possibly this year or next. Already the Burma Army has reported to have planed the forced relocation of over 50 villages near Pyinmana.
What is clear is that the Burma Army is slowly attempting to expand its control, that people are under great danger and there is already a shortage of food for the people of this area.
Over 1,000 people have fled from these areas to refugee camps in Thailand since December 2005. Now there are over 3,000 new IDPs, many of whom may attempt to reach the safety of refugee camps in Thailand. The 1,000 refugees now in Thailand cited shortage of food as the main reason they had to flee, while the 3,000 newly created IDPs are on the run because of direct Burma Army attacks.
ENDS