FBR Karen Relief Team Report – January 2006
Karen State, Burma
15 January, 2006
Report Summary:  
An FBR trained relief team conducted relief operations and research from January 16th 2006 within Gaw Ngaw Law Bae – an area of Karen State currently controlled by the Democratic Karen Buddhist Army (DKBA). The experience of displacement and exploitation of Karen villagers by DKBA soldiers are comparable to that exercised by SPDC troops. The team visited internally displaced persons (IDPs) and they treated patients, spoke with them and prayed for them.
.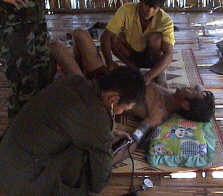 | | | | |
| --- | --- | --- | --- |
|   | Villagers' victims of extortion by DKBA and threats from the SPDC | |   |
The DKBA forced villagers to work for their camp. In Taw Eu Htar village alone, they forced 50 people to come and work for their camp. Xxx xxxx, and Saw xx xxx were the leaders of that work group. An old man gave his testimony as follows, "We have a very hard time now the DKBA have forced us to move to another area; sometimes they also torture us. If we don't want to move, they will charge 500baht and one goat."
The SPDC forced villagers to carry food for them many times. The SPDC had operations based out of Klu K'Lee and Taw Eu Htar villages. IB 283 and column 707 were led by Tin Tun. The column commander at Klu K'Lee is Myo Min Soe. At Taw Eu Htar, the column commander is Myo Min. In Klu K'Lee Village, IB 707 led by Tin Tun and his troops forced Naw xxx xxx, 68 years old, to give them 10,000 kyat and 700baht on January 6th, 2006.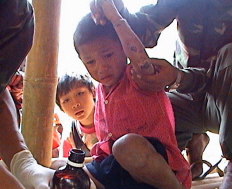 K103 medics treat a patient Treating a burned child
 

| | | | |
| --- | --- | --- | --- |
|   | Interviews confirm DKBA abuse of villagers | |   |
The FBR team conducted interviews with displaced villagers. Two of the interviews are summarized below. Sensitive details have been changed to protect their identity.
1. –Taw Eu Htar village
–Date of incident: January 24th, 2006, 7am
–Saw Xxx xxxx xxx
–26 years old
–Household: 4
On January 24th, at 7am, the DKBA ordered me to go to their camp. When I arrived there, they tied him me up. They told me that I hadn't followed orders. The leader in charge of these troops was Commander (4) Saw Mu Say of company 907.
2. –Saw xxxx xxx
–35 years old
— Date of incident: 12/12/2005
DKBA company commander (4) ordered me and seven friends to go and work for the soldiers. They captured me and one soldier named Saw Heh Du (of Company 5) hit me three times.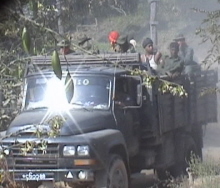 SPDC troop movement to the border
 

| | | | |
| --- | --- | --- | --- |
|   | Health and Education suffer: | |   |
The team reported that the IDPs in this area have many health problems due to their poor conditions, but there are very few medics and not enough medicine.
At two schools that the team visited, SPDC soldiers stay at the school building, making it very difficult for the students and teachers to concentrate. The school has no opportunity to make improvements. This time, were not able to give any special gifts for the children. However, they were able to give out Bibles and hymnals.
The team leader concluded, "The SPDC is making the living standard of the villagers decrease, and will continue to make things more difficult for them."
ENDS