FBR REPORT: 75 year old man steps on landmine after Burma Army attack
Karen State, Burma
12 January, 2006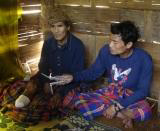 75 year old landmine victim, with medic who amputated with a Leatherman tool
This 75 year old man, Saw Htoo Lah, lost his leg to a Burma Army landmine after an attack on his village by the Burma Army. Villagers carried him to the local clinic, where the chief medic pictured here, Saw Hsar Gaw, performed an amputation with only a Leatherman. (This was the medic's 7th successful amputation with the same Leatherman.)
Saw Htoo Lah, from Hee Daw Kaw village, stepped on the Burma Army landmine on November 30, 2005. On that day, 2 days after the Burma Army attacked and burned down most of his village, Saw Htoo Lah returned to the village to see if there were any belongings in his home that he could collect before returning to his hiding place. He did not know that the Burma Army had planted a land mine on the trail that enters the village. He stepped on the landmine and immediately lost his foot and the lower portion of his leg. Fortunately, some other villagers had decided to come back to the village at the same time to search for their belongings. They heard the explosion and followed his cries for help, where they found him rapidly losing blood. They were able to carry him to a clinic where he was stabilized and received an emergency amputation. The medic has no proper amputation instruments and so used a Leatherman multi-tool.. He is now gaining strength at the clinic. He said he was very sad about what happened to him, and that, "…his eyes had become dark, his sight black." We spent some time talking with him and prayed for him. He became more animated and smiled. He told us that if the other villagers not been there to help him, he would have died.
The clinic:
The clinic is the only medical facility in this area and is under constant threat of the Burma Army which is nearby. The clinic is staffed by seven medics (five men and two women).
This clinic is in need of more medicine and medical supplies, especially amputation instruments. The chief medic, Saw Hsar Gaw, asked for more Leathermans as well as a complete amputation set. (Amputation set: bone saws, giggly saw, straight saw, bone rasp, bone file, and amputation knife).
The medics here are well trained and with high morale. They are dedicated to serving their people and give help and hope daily. They inspired us and we were very moved by their love.
Thank you and God bless you.
FBR
---