FBR REPORT: FBR Leadership, Ethnic Unity and Relief Team Training

24 October to 23 December 2005
Karen State, Burma
24 December, 2005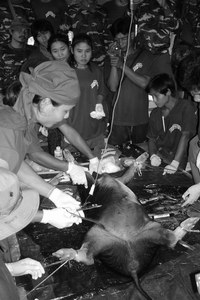 A combined training on ethnic unity, leadership and relief took place in the Karen State of Burma from 24 October to 23 December, 2005. The seminar and training integrated practical relief, reporting , ethnic unity, leadership, capacity building and advocacy.
14 multi-ethnic teams- Karen, Karenni, and Kachin and representatives from other ethnic groups completed the training and are now being sent on relief missions. The training focused on training ethnic teams to bring help, hope and love to the people of Burma, especially to the Internally Displaced Persons (IDPs). Over 60 men and women comprising 4-5 person teams participated in the seminar, trainings and follow on relief missions. The purpose of the Unity seminar and leadership training was to further understanding and unity among young ethnic leaders, to raise issues of concern and to develop leadership among the participants The training was organized by the National Democratic Front (NDF) and facilitated by the Free Burma Rangers (FBR). The teams will operate as full time relief teams in their areas.
The teams received training in leadership, conflict resolution, governmental systems, ethnic issues, public health, first aid, advanced medical and basic dental care, human rights interviewing and documentation, reporting, counseling, video and still camera, map and compass, land navigation, sketching, swimming, lifesaving, rappelling, rope bridge building, river crossing techniques, security, mule and horse packing, solar power, communications, planning, operation orders, history of ethnic nationalities of Burma and the National Democratic Front, physical training and two field training exercises. The women trainees and women trainers also conducted a women's workshop to produce useful tools for teams to teach nutrition, sanitation, food preparation and personal hygiene while in IDP sites and villagers.
The ethnic unity seminar covered topics of ethnic history, democracy, federalism, unity and reconciliation and cooperation and coordination with the Burman pro-democracy groups. It served to raise issues of importance to the ethnic peoples of Burma Leadership and help them to deal with these issues in a constructive manner. Training focusing on the model of 'servant leadership' and with a goal of strengthening civil society was provided for the participants.
The training culminated in field training exercises to test the teams in every area of their training. These exercises were conducted using an IDP scenario with multiple stations to which the students had to navigate and complete the assigned tasks. This was conducted under pressure, over difficult terrain with multiple river crossings and no food or sleep. Every team successfully completed all tasks.
Upon graduation each team was equipped with enough medicine and medical supplies to treat 2,000 IDPs, video cameras, still cameras, food for emergency relief, educational supplies (including bibles and hymnals where requested), "Good Life Club" packs for children, clothing for IDPs , toys, and sporting equipment. Each team will conduct relief missions to IDPs in their respective ethnic areas all over Burma for 1-2 months. Upon completion of their missions each team will send a completed report and relevant relief, human rights, medical or other information will be passed on to the appropriate organizations. The teams will be evaluated, retrained in needed areas, re-supplied and then sent on to the next relief mission.
We would like to thank all those who contributed to the success of this training, especially the KNU, KNPP, KNO, CIDKP, KORD, KHRG, PRD and NDF.
May God bless you,
The Free Burma Rangers
ENDS