FBR REPORT: Update on IDP Situation — Nyaunglebin District
Karen State, Burma
23 November, 2005
 

| | | | |
| --- | --- | --- | --- |
|   | Pictures of destroyed village in Nyaunglebin | |   |
These pictures were taken of a village recently destroyed by the Burma Army in Nyaunglebin District, Western Karen State.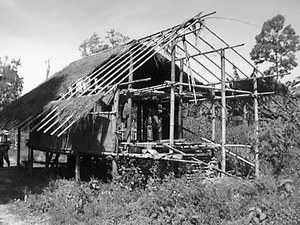 Home destroyed by the Burma Army during their attacks from September to November 2005.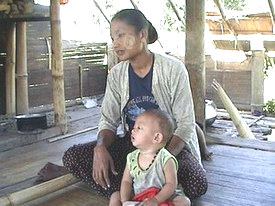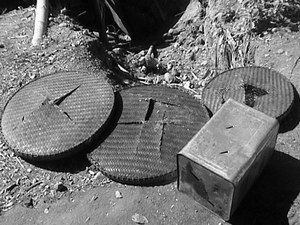 Baskets for winnowing and sifting harvested rice destroyed by the Burma Army.
The Burma Army systematically destroys all villagers means of food production and storage as shown by the picture above where winnowing baskets and food containers have been stabbed with knives or bayonets by the attacking Burma Army.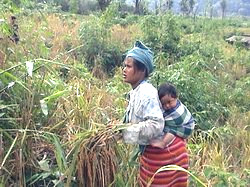 Due to the attacks and occupation of this area by the Burma Army, people have not been able to take care of their farms. IDPs like this lady and her child work to recover rice from fields overgrown with weeds and damaged by vermin.
 

| | | | |
| --- | --- | --- | --- |
|   | 400 villagers forced to flee — village destroyed | |   |
400 IDPs from this village and nearby IDP villages were forced to flee and hide for one and a half months, from 21 September to 3 November 2005. They have now been able to return to their homes, but for the IDPs from Kwee Lah Village, there are no homes to return to. These were destroyed by the Burma Army occupying force. The Burma Army also left behind 15 land mines, which the KNLA (Karen resistance) are now trying to clear. Schools serving these IDPs have been closed for the past month and a half and have not yet reopened. Along with the destruction of homes, the Burma Army stole the thatch and walls from the homes to make their own shelters (which they destroyed before leaving). The Burma Army also stole the villagers property and materials such as cooking pots, many of which they took with them when they left. The cooking pots, water containers, sleeping mats and rice sifting baskets that they left behind, they destroyed by breaking them or punching holes through them.
The four Burma Army battalions involved in these attacks were IB 4, IB 76, IB 42 and LIB 12. Please see the report referenced below (sent earlier this month) for the context of these attacks and the more detailed report.
---
CONTEXT: Previous Report
FBR Relief Mission Report 25 August – 30 August 2005