FBR Relief Mission Report
25 August – 30 August 2005
Karen State, Burma
16 November, 2005
 

| | | | |
| --- | --- | --- | --- |
|   | Two Karen villagers killed by Burma Army land mines | |   |
Two Karen young men were killed after stepping on landmines following a Burma Army operation in their area.
On 31 August 2005 at 1:00 p.m., a Mau Pu villager named Saw Per Kaw, age 24, stepped on one of the Burma Army land mines and lost his left foot. Saw Per Kaw died on 4 September 2005 at 2:00 p.m.
On the same day, 31 August 2005, at 4:00p.m., Saw Thaw Kaw Htoo, age 28, stepped on another Burma Army land mine, lost both of his feet and died immediately. He left behind his wife, who is seven months pregnant.
Burma Army LIB 590 and IB 60 had previously launched an operation against villages of displaced Karen in the Hti Hkgo, Ler Klah and Mau Pu areas of Nyaunglebin District , Western Karen State.
'This is a tragic loss, directly caused by the Burma Army assault which had already resulted in the displacement of villagers, the destruction of property and the laying of landmines which killed these two men.' A Free Burma Rangers spokesman said.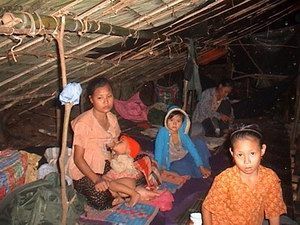 Kwe Lah villagers in their hiding hut. Nyaunglebin District.
 

| | | | |
| --- | --- | --- | --- |
|   | Relief Mission responds to severe outbreak of diseases | |   |
Introduction
An FBR trained team produced the following report based on field research into the situation facing IDPs living in KarenState. Five team members went on the relief mission to help the people of this area, including a team leader, medic, township office staff, Karen Youth Organization (KYO) member, and Karen Women Organization (KWO) member.
The location and dates of their mission are as follows:
Area: in WesternKarenState, Nyaunglebin District and MoneTownship
Date: 25 August 2005 – 30 August 2005
Health Report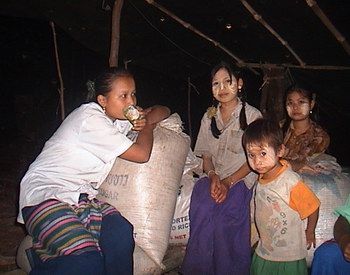 IDP children in hiding site. Nyaunglebin District
Along with the attacks of the Burma Army the people were also suffering from a severe outbreak of Diarrhea, Dysentery, and other diseases. The FBR team discussed the problems with our leaders and gave medicine to the Mone FBR team to help the people in these village tracts.
The team treated 490 people in the three village tracts, including Saw Tin Der, Ken Po Der, and Thet Baw Der and K'Waw Ko Villages. The team visited some schools and most of the school children got diarrhea and other sicknesses. The team treated school children and villagers. Some villagers in these areas died from malaria. The team did not have enough medicine to treat everyone, but they did their best to encourage, teach preventative health and pray with the villagers.
Survival Strategies
In this area as in other areas under Burma Army oppression, the IDPs and villagers do an amazing job of surviving and resisting attempts of complete control by the Burma Army. The people work together to escape the Burma Army and care for each other, sharing food and shelter.
 

| | | | |
| --- | --- | --- | --- |
|   | Burma Army displace villagers and occupy land | |   |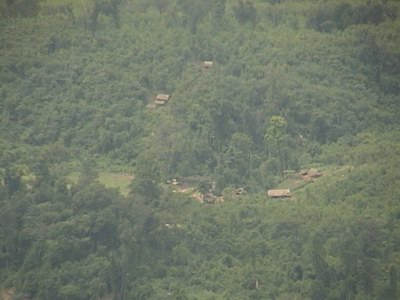 Burma Army occupation of KNLA #9 Battalion, Nyaunglebin District 
An FBR team leader also sent information about the attacks by the Burma Army in the central area of Nyaunglebin District. The Burma Army attacked and occupied the Headquarters camp of  Karen National Liberation Army (KNLA)  #9 Battalion. This camp was in LerWahTownship and helped to protect Internally Displaced Persons (IDPs) living in this area. The Burma Army attack displaced over 400 people and resulted in the Burma Army occupying the headquarters and surrounding area.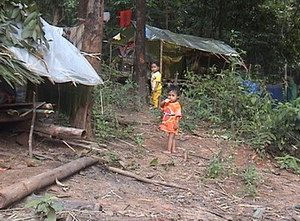 IDP children play in hiding site. Nyaunglebin District.
The unit controlling this attack is Burma Army Tactical Operation Command (TOC) 332 led by Myo Win is under the control of Burma Army Division 33. (There are two commanders Major General Tin Htun Aung and Lt Col Shwe Nyo.)
Burma Army LIB 42 and TOC 332 were the troops directly involved in the occupation. On October 19th those troops left LerWahTownship and returned to Ler Doh town.
In Ler Wah Burma Army LIB 12 remained – one battalion which separated into two columns.
Burma Army IB 73 arrived at Ler Doh town. There is no information about their plan but they will go to meet BA LIB 12.
Karen military leaders asked villagers to return and collect the paddy for the IDPs from a farm opposite BA LIB 12's position.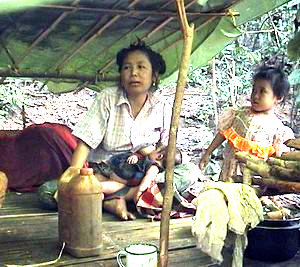 IDP woman in hiding site; sick after recently giving birth. Nyaunglebin District.
The Karen National Liberation Army (KNLA) troops cut LIB 12 off from food (by closing transport routes).  They hoped this would force the Burma Army troops to leave. 
Some villagers stayed nearby, but did not go too close to BA LIB 12.
A relief team leader in that area will try to see the Burma Army camp and send a report. There are 8 Burma Army columns in that area.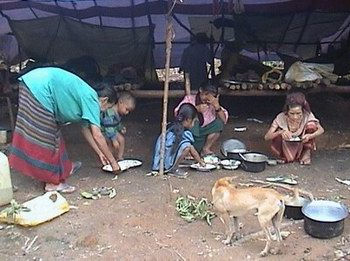 On Oct 28, Burma Army IB 48 and IB 76 –  led by Zaw Thu – were sent to reinforce BA LIB 12. KNLA activity disrupted this from taking place. These Burma Army troops clashed with KNLA security near Baw Gaw Taw on 5 November 2005. There were three Burma Army soldiers wounded and two killed.
A former commander of BA TOC 332 is reported as having died.  The TOC 332 commander in charge now is Ta Nuang Oo.
It is unclear at this time when the Burma Army will attack again. The people of this area are still displaced and need cooking pots, shelter and food.
 

 
Notes to Editor
 
 
 

1. FBR provided some medical care for the displaced people in LerWahTownship and will be sending one set of cooking pots for each of the displaced families. FBR is grateful to all who enable this work to continue.