FBR REPORT: New SPDC Offensive Drives Out Hundreds of IDPs
Karen State, Burma
19 October, 2005
INTRODUCTION
These reports have been relayed directly from a team now in the field in Ler Doh Township, Nyaunglebin District, Karen State on the 8th October, 2005. They include information on Burma Army patrols, attacks and Gold mining operations in Nyaunglybin Distirct, Karen State, Burma as recently as September 2005.
Below is a map of patrols and attacks by the Burma Army. Also found below are photos of a relatively new gold mining operation (established in late 2002).
MAP OF BURMA ARMY ADVANCES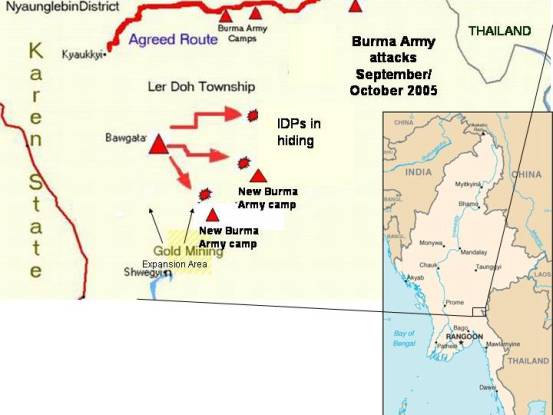 | | | | |
| --- | --- | --- | --- |
|   | NEW SPDC OFFENSIVE DRIVES OUT HUNDREDS OF IDPs | |   |
The Burma Army have occupied two IDP village sites as well as the Karen National Liberation Army's 9th Battalion headquarters in Ler Wah, Ler Doh (Kyauk Kyi) Township, Nyaunglebin District, Western Karen State.
The attacks, which took place in September 2005, drove out hundreds of IDPs. Burma Army troops LIB 12 and Battalion #42, and one column from Tactical Operations Command (TOC) 322 were responsible for the assault.
The units have set up patrol bases in this area to secure their position. (Burma Army IB 4 has rotated out from patrolling this area and returned to their base).
"These attacks not only violate the terms of the unofficial cease-fire between the SPDC and the KNU but are further human rights violations of the already displaced Karen. Similar activities by the Burma Army are being conducted in other parts of Nyaunglebin District as well as Toungoo District, Northern Karen State," a Free Burma Ranger spokesman said.
In Mone Township (North of Ler Doh Township), the SPDC has set up a new group, called the 'Peace Group', This is a civilian militia group, and they have established a chairman, a secretary and a joint secretary. The SPDC told the Peace Group that they will arm them and once armed, they will change their name to the 'Special Militia'. This peace group/Special militia are currently building a new camp at Thpyinyut in the Mone area.
 

| | | | |
| --- | --- | --- | --- |
|   | SPDC SOLDIERS ORDERED: DESTROY EVERYTHING | |   |
Recent Burma Army attacks which have targeted IDP populations no where near their outposts or roads have clearly violated an unofficial agreement between the SPDC and the Karen National Liberation Army (KNLA).
The Burma Army Southern Command gave the following orders to the troops in this area, "Don't obey the ceasefire, it is not your duty. You must do your regular duty.", and "You must destroy everything in this area."
Unofficial cease fire talks between the Burma Army and KNLA had resulted in an agreement that the Burma Army would not attack KNLA or Karen civilian locations. In return, the KNLA agreed not to attack Burma Army positions and in Ler Doh Township to allow safe travel for the Burma Army along the Kyaukkyi Road that runs East into Karen State servicing Burma Army outposts. The KNLA have allowed the Burma Army freedom of travel on this road to re-supply their outposts. The Burma Army agreed to travel only by this road when in the eastern Ler Doh Township. (see map below).
However, in violation of these agreements, the Burma Army has conducted regular patrols and attacks in the Ler Doh area, most recently in April and May 2005.
At this time the Burma Army has two battalions stationed at Bawgawta, South of Kyaukkyi. LIB 351 base security and LIB 111 (detached from Division 11) that is patrolling and attacking IDPs. At Peinzaloke LIB 264 conducts patrolling operations in the plains. Along the Kyaukkyi – Hsaw Hta Road are numerous Burma Army outposts, including the tactical operations headquarters at Ler Wah Jo.
Units are now rotated on an irregular basis of between three weeks to two months. It is reported that these irregular and rapid rotations were put in place by the Burma Army to make it more difficult for soldiers to desert and to cut down on corruption of local troops.
From Shweygyn North along the Shweygyn River, the Burma Army applies very strict control over the populous. For example, no flashlights or batteries may be used by anyone along the Shweygyn River. Also, no medicine or large quantities of foodstuffs may be transported. There is a nightly curfew of 9pm where no one can leave the towns or villages. The SPDC is attempting to stop all support to the KNLA and to keep tight control over the civilian population. Along the Shweygyn, roads can only be used during daylight hours. In the event of any wounded Burma Army soldiers from clashes with the KNLA, all lights in every village and town in the area must be extinguished so that the Burma Army can transport their wounded without anyone seeing the injured troops.
'The stranglehold that the Burma Army has in this area, as severe as it is, has not stopped the IDPs continuing to cultivate farms in hidden areas, to start schools and to continue to survive in their homeland.' A Free Burma Ranger spokesman said.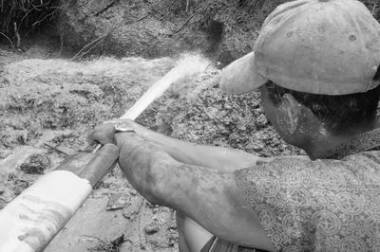 This picture was taken on 11 May 2005 by an FBR relief team in the Ler Doh area. It shows a gold mine under the control of the Burma Army. This particular mine is located north of the town of Shwygyn and west of the Shwygyn river, vicinity N 18 08 46.6 E 096 55 26.2. The Burma Army receives payment from the gold mine operators (details below).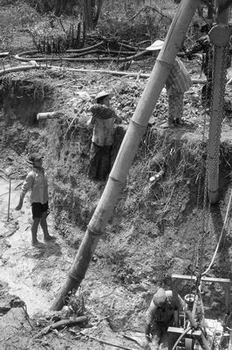 Burma Army offensives in this area have enabled them to expand mining operations into lands traditionally held by the Karen people.
REPORT
Gold mining on the Shweygyn River has increased since 2003, when Burma Army offensives gave the SPDC more control of the Shweygyn River area, North of Shweygyn town.
Private companies operating under license of the SPDC have now placed 20-30 hydraulic gold mining machines on the Shweygyn River, North of the town of Shweygyn. Each mining operation recovers an average of 1.5 kilograms of gold per month. Each operation must pay 500,000 kyat per month per machine. Payment is made to the Burma Army representative, Thura Maung Nyi of the Southern Command. Southern Command Headquarters is based in Toungoo, to the North.
The Burma Army is currently exploring mining operations in the Kushaw area east of Shweygyn along the Nyaunglebin District and Papun District borders of Karen State. Karen people in these areas believe that one of the motivations behind continuing Burma Army operations is to secure and expand gold mining in these areas.
'Not only does the Burma Army profit from these mines and rob the Karen people of their own resources, the mines also cause significant environmental damage'. A Free Burma Ranger spokesman said.
In May 2005, LIB 111 had been patrolling the area Southeast of Bawgawta camp, threatening the IDP population who live in these hills. Throughout the month of April the Burma Army conducted numerous patrols in the Eastern Ler Doh area, twice resulting in attacks on the civilian population.
Recent Attacks include:
*On 2 April 2005 Burma Army Battalion LIB 111 attacked villagers in the vicinity of Mu Kee Village, Gkeh Der Village Tract, Ler Doh Township. At 7pm on 2 April, the battalion opened fire on a group of villagers on their way to collect food. The villagers fled, but one man, Saw Day Day, was shot by the troops and was wounded. The wounded man's condition is unknown at this time.
*On 4 April 2005, villagers from Ler Kla Village Tract fled fighting in their area. BA troops from Ka La Wah Lu camp attacked KNLA troops in this area. Total new Ler Kla IDPs at this time are over 100.
*BA troops from Mu Theh (Ka Baw Jo) camp troops attacked KNLA security forces in the vicinity of Hsaw Ka Der.
*On 22 April 2005, the Burma Army extended their operations, attacking villagers at Kwee Lah Village Tract, Ler Doh Township. The villagers fled are now still in hiding. The operation is ongoing as of this date, 4 May 2005.
*Late April: Over 100 villagers fled from Kwee Lah Village Tract area and are still in hiding. On 20 April, Burma Army (BA) Light Infantry Battalion (LIB) 111 troops from Ga Baw Tu Camp clashed with Karen National Liberation Army (KNLA) troops three times. One fight was near Kwee Lah Village Tract. This area is a free fire zone.
ENDS