FBR REPORT: IDPs in Southern Karen State
9-18 May 2005
Karen State, Burma
16 October, 2005
 

 
 

Burma Army break cease-fire in Karen State
Cease-fire has led to improved IDP conditions
Medical and Educational supplies still needed
211 villagers given medical assistance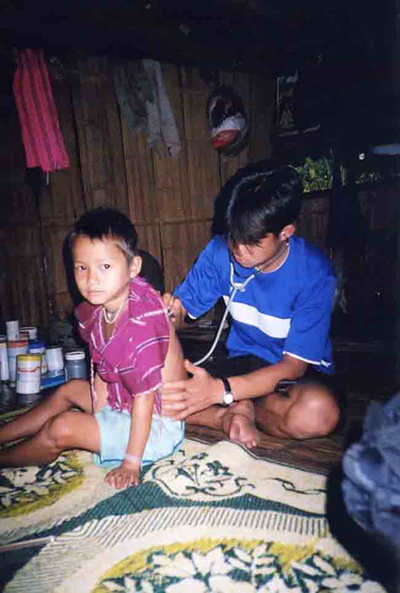 Karen Boy receives treatment from the FBR team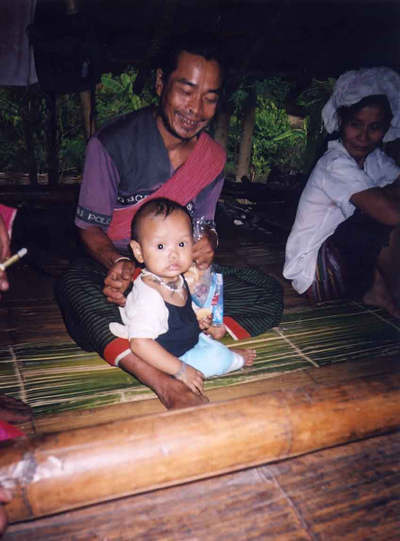 IDP Children are the first to suffer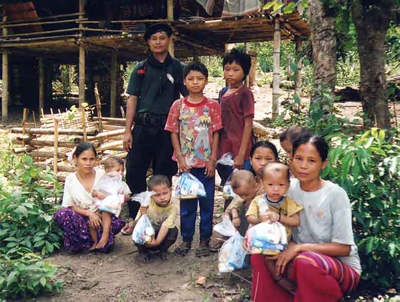 Displaced families reached by relief teams

CONTENTS

1)      Critical Information
2)      Executive Summary
3)      Human Rights Abuses
4)      Relief Distribution
5)      SPDC/ DKBA Activities
1. CRITICAL INFORMATION
Dates;              9-18 May 2005

Region:          Kaukrit Township, Dooplaya District, Southern Karen State, Burma

Prepared:  FBR Karen Relief Team. The relief team included a team leader, security, pastor and medic, went to Dooplaya District.
The relief team spent ten days inside Karen State, meeting with Karen villagers who have been displaced from their homes under attack from the Burma Army. The team reported on the current situation of Internally Displaced Persons (IDPs), where people are suffering and face many difficulties. They take refuge in the forest and mountainous valleys and are very far from villages. It is difficult for people to get medication. Children have no opportunity to attend school. The living standard of the IDPs is very poor. They are enduring a shortage of food, poor shelters and very limited health care.
However, the report bears out the positive impact of the cease-fire which has led to improvement in conditions for IDPs in some areas.
3. HUMAN RIGHTS ABUSES
At present, because of the cease-fire agreement between the Karen National Union (KNU) and the military government (State Peace and Development Council or SPDC), the team found the villagers' living situations had improved.
However, some villagers are still facing human rights abuses by Burma Army troops. Those who are facing various forms of oppression by the Burma Army troops do not dare to return to or stay in their villages. They continue to live in the forest as IDPs. It remains very difficult for these people to receive a proper education and health care if they continue to live in this condition. Health conditions have deteriorated whenever the Burma Army has conducted a military  operation.

Health and education in the mission area were the main issues. The living standards of the people as well as their education and health status are still very undeveloped. The relief team responded to the needs in three ways:

a)     Spiritual: Gifts were given to children and Hymnals and Bibles were distributed to churches and pastors.

b)     Health: The team treated 211 patients, with malaria being common. 37 patients were treated for malaria and 31 for parasites.

c)      Education: the relief team educated the people about health, sanitation and hygiene. This is crucial to combat preventable diseases.
5. SPDC/DKBA ACTIVITIES
Despite cease-fire agreements between the KNU and SPDC, the team found that in Dooplaya District, Burma Army troops continued their offensives in KNU areas. During the trip, the relief team had to avoid two offensive units of Burma Army troops. The troops continually try to disrupt the provision of assistance and medical treatment.

At present, the Democratic Karen Buddhist Army (DKBA) had no special offensives in the area at the time of the mission. However, we learned that they can launch offensives at any time when ordered by the Burma Army.
 
ENDS
1. The team would like to request their leaders, friends and donors to continue supporting these oppressed people.

2. The following were included in the original team report and are on record but not included here: Daily diary, Appendices, Expenses, video Log/photo log and Medical treatment accounts