Annual Report 2022
6 June 2023
Dear Friends,
If God is for us, who can be against us?
— Romans 8:31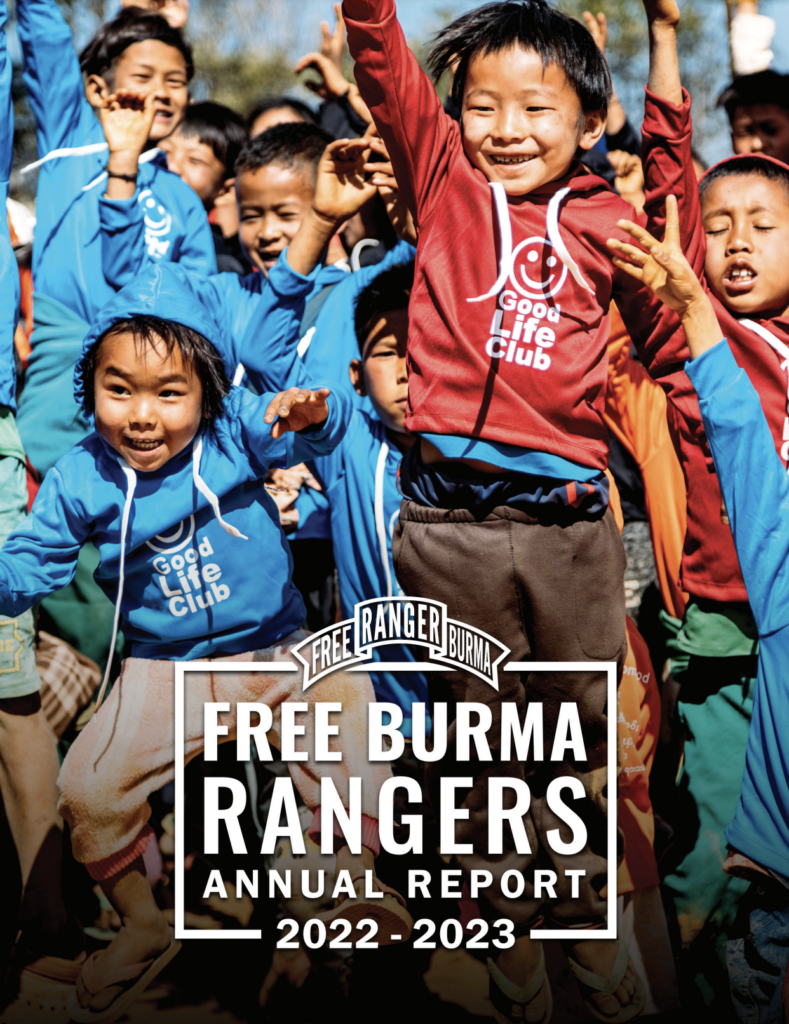 This verse means a lot to us in Burma, Iraq, Syria, and Tajikistan because in each of these areas we face powerful evil. In Burma, the military is coming with a speed and a force we've never seen before. They're using jet fighters, attack helicopters, heavy mortars, and artillery, targeting primarily villagers as they flee. They're executing children and bombing churches; over two million people have been displaced in the past two years since the coup. We have lost 21 of our own Rangers since the coup, for a total of 57 men and women volunteers lost since FBR started.
In spite of the evil we see happening in Burma, we also see good. With the help of many generous people, we have been able to feed and care for hundreds of thousands of those in need in their hiding places. In our ministry of helping people with humanitarian assistance, we also have the opportunity to share about Jesus. We start and end every program with prayer and encourage people to follow Jesus. We baptized 11 of our new Rangers this last training and over 300 ethnic Wa were baptized this year.
In Syria and Iraq, ISIS is resurgent and attacks continue. Turkish forces and their jihadist proxies bomb, shell, and attack the Yezidi, Arab, and Christian peoples of Northeast Syria. In spite of this, we have been able to help build a church that was destroyed by ISIS, build a new hospital to supplement one that was damaged by Turkish forces, and continue to provide food, medicine and relief supplies to thousands. Most importantly, we have been able to pray with people and to encourage them by telling them how much God loves them. In Iraq, our teams work closely with the Kurdish government to build playgrounds and help rehabilitate those wounded in war. In Tajikistan, we work with our local Tajik Christian partners to help Afghans who fled the country and over 40 have been baptized.
In each of these places we feel very small, but we are reminded that if God is for us, who can be against us? God's love sustains us, his grace forgives us, his power helps us to forgive others and not give up. Dear reader, thank you for looking at this report, and thank all of you who help us help others. Most importantly, we want to share our gratitude to God and how he loves us, forgives us, overcomes the power of Satan, helps us forgive others, gives us purpose and meaning, helps us to help others, and, when our time comes, takes us to heaven.
Please pray with us for:
Unity in Burma. There is a new unity that cuts across religious,
social, spiritual, racial, and economic lines and is united against
the regime. That's good, but the second step of unity is being for
each other and for a new democratic Burma where every ethnic
group is respected and has rights.
The people of northeast Syria, to have the same unity with each
other and that we could have continued access to be able to help.
The people of Iraq and Kurdistan, for love and understanding
for each other and also for freedom in every way.
The people of Afghanistan and Tajikistan, for freedom in both
countries, and that our Tajik partners could continue to help
Afghans who have fled.
The resources to continue to help people in the areas we serve.
The hearts of the dictators, and all those who oppress others,
would change.
Finally, we thank God with you that God is for all of us, and
that no one who is against us can overcome his love and his
purposes.
If God is for us, who can be against us?
— Romans 8:31
Thanks and God bless you,
Dave, family and FBR