Burma Army Onslaught Drives 100,000 People into Hiding in Karenni State
5 July 2021
Karenni State, Eastern Burma
In the past month, the Burma Army has increased its air and ground attacks in Karenni State, displacing over 100,000 people. Initial displacement reports by township show: 19,050 displaced in Loikaw Township, 73,335 in Demoso Township, and 10,863 in Hpruso Township, for a total of 103,248 IDPs. These numbers fluctuate daily and our Karenni Free Burma Ranger teams are now on mission in Karenni State to report on the situation. Below is their first week of reports.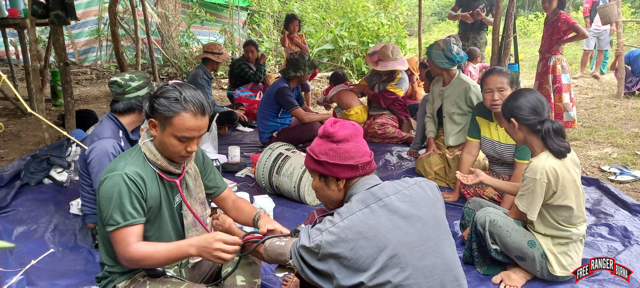 Karenni Rangers provide medical care for IDPs in their hidesite.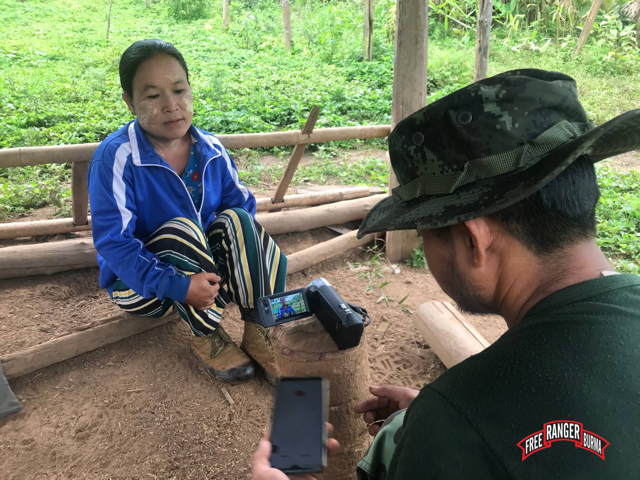 Interviewing a 43-year-old mother who ran from the village with her family.
29 June 2021, GPS N 19.29'.409'' E 097.28'554'' near Daw Kra Aung Village, Shawdaw Township, Karenni State. 40 IDP families have run away from their villages and come to Daw Kra Aung to stay with other villagers. Taw Meh, age 43, from Nwar Leh Bo Village, in northern Loikaw District, walked with two other families for one week to escape from the Burma Army. "The Burma Army camp is very close to our village; they often shell mortars into the village at any moment. All villagers there are now hiding in the forest; no one stays behind. And it is really difficult for us to go back and get the food. Burma Army patrol into the village and will shoot you if they see you. All civilians dare not go back to their homes. We have no food to eat, we don't know what do to next."
Another family arriving at Daw Kra Aung Village said, "Burma Army is shooting mortars into our village. Food prices are rising day by day, we cannot afford the food. We needed to move to a place that was safer and where we can survive."
On 30 June 2021, in northern Shawdaw Township, 80 Burma Army troops moved from Loikaw to Shawdaw. The Burma Army are patrolling and scouting along the road and trails off the road. They are carrying 60mm, 81mm, MA1, and other small arms.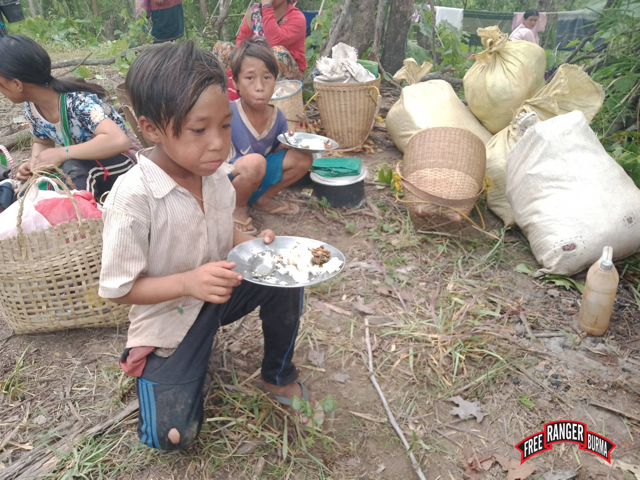 IDP children eating in the jungle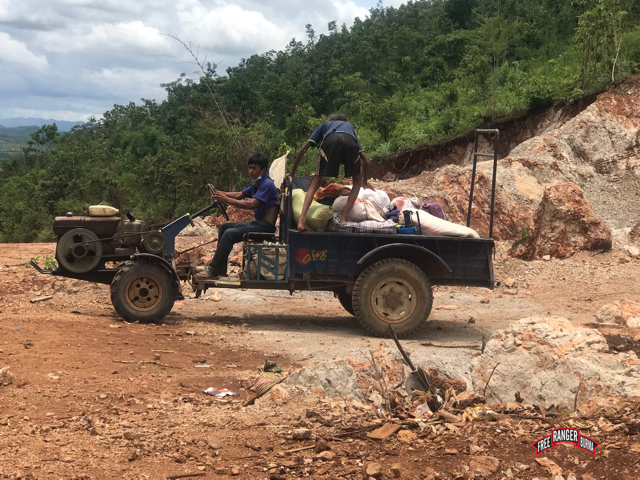 Rangers loading food to deliver to IDPs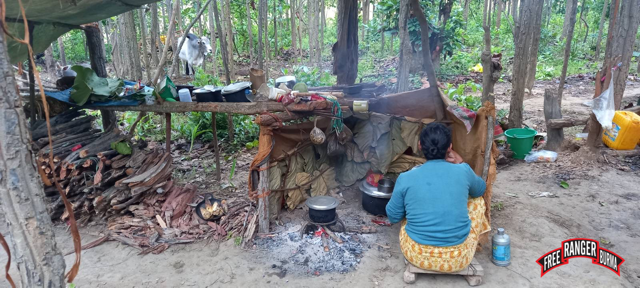 IDPs cooking in a hide site
1 July 2021, GPS N 19.32'479, E 097.15'743'', Demoso Township, Karenni State. 480 IDP families hide in the jungle after fleeing from Burma Army attacks in their villages. Free Burma Ranger teams performed medical clinics and gave tarps and mosquito nets to the IDPs. They treated 52 patients, including 10 toddlers, 17 under 18 years old, and 31 adults. Many patients are suffering from pneumonia and respiratory infections due to living in the cold and rain in their temporary shelters. Other common problems are UTI and dysentery because they have no proper toilets. The FBR Karenni team built toilets to support these IDPs and their health.
3 July 2021, 13:00 – 15:00hrs, GPS N 19.46'48.6'', E 097.19'29.0'', Loikaw Township, Karenni State. For two hours, the Burma Army attempted to shell the IDP camp, firing more than 30 rounds towards where the newly displaced IDPs are hiding. Members of the Karenni National Progressive Party (KNPP) and People's Defense Force (PDF) attempted to fight back and a small-arms battle took place, trying to hold a line protecting the IDPs. The IDPs all began packing their belongings from their temporary shelters and running into the jungle to escape. Burma Army now is blocking all roads around the camp making it impossible to get food to the IDPs. The camp, called Sein Pyu Camp, has 595 families staying in it, over 3000 people.
4 July 2021, GPS 19.47'11'' N 97.18'0.1.7'' E, near Kayan Taya village, Loikaw Township, Karenni State. "The water smells bad and tastes like mud, and we have to walk 45 minutes each way to get water and carry it back," one villager said as they hid in their IDP shelter. Heavy rains come most afternoons, which allows the IDPs to collect water off the roof of their shelter, but they are still living in fear of the Burma Army who forced them to run from their homes. "We heard the Burma Army will come and attack the IDP hiding place, we don't know where to go," said the villager.
Below: Villagers get water for eating, cooking and cleaning.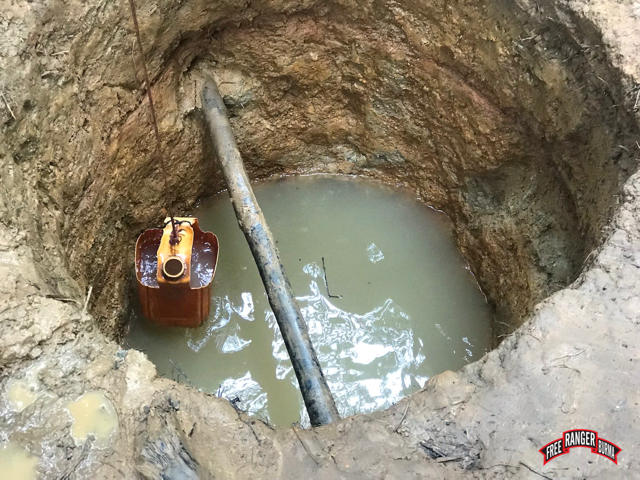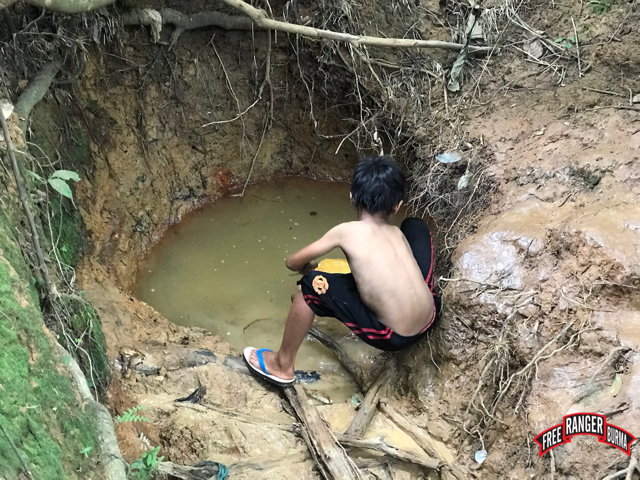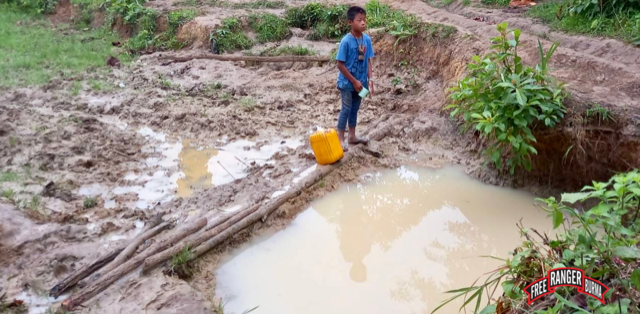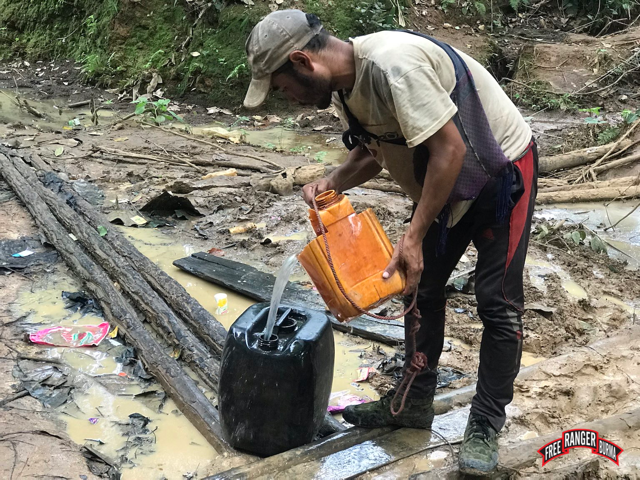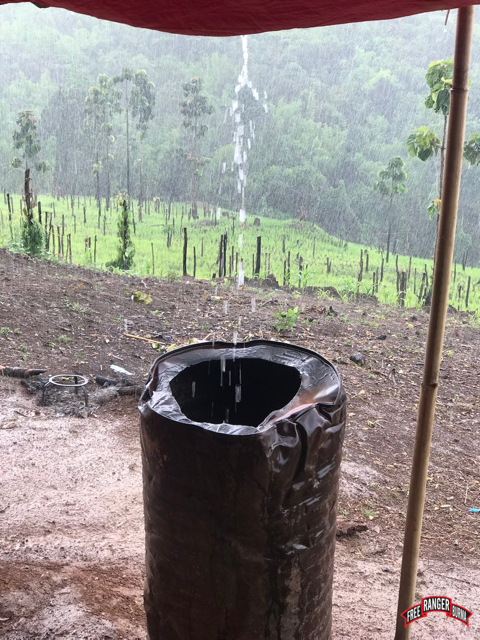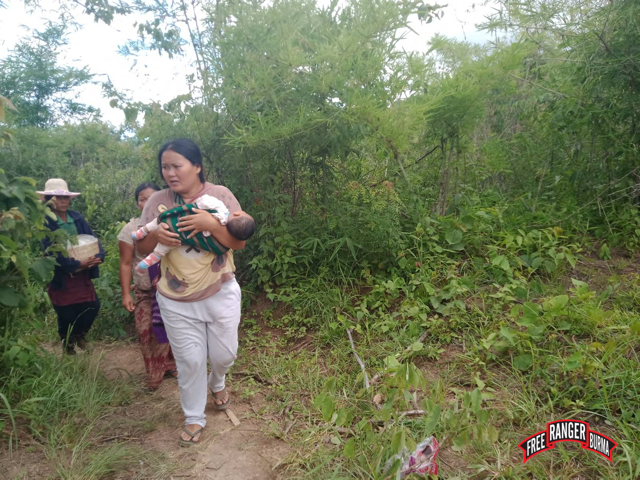 IDPS fleeing Burma Army shelling, on the way to a hidesite.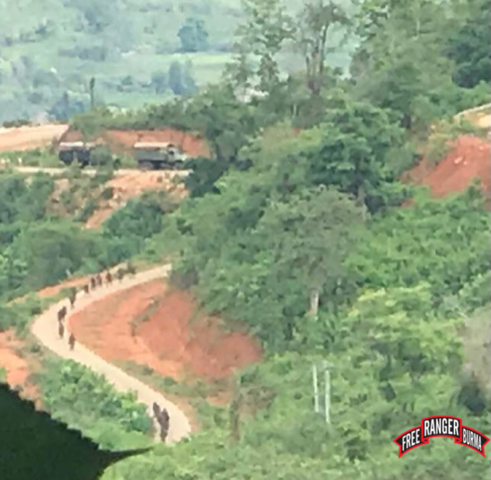 Burma Army soldiers on the move, 30 June, from Loikaw to Shawdaw, Karenni State.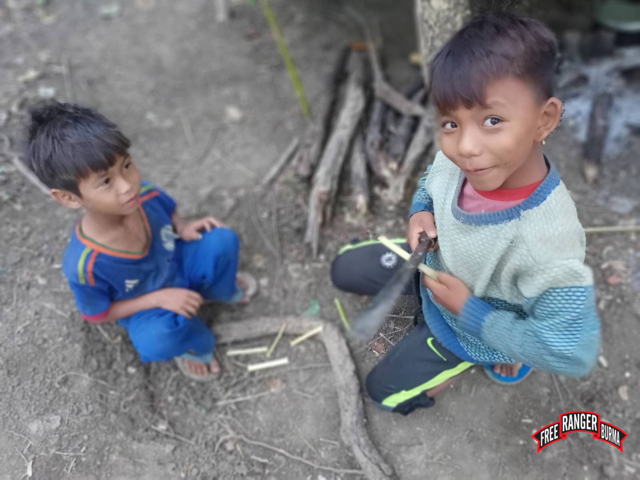 Displaced kids, hiding from Burma Army attacks on their homes.