Villager Killed, Schools and Homes Destroyed, as Burma Military Continues Its Attacks
3 April, 2021
Karen State, Burma
Burma military airstrikes continue, and schools and homes are being destroyed as Burma soldiers shoot villagers in northern Karen State, with over 25,000 people in hiding. One villager, Saw Paw Chit, 40 yrs, was shot to death on 29 April by Burma Army soldiers from Light Infantry Battalion (LIB) 407, Military Operations Command (MOC) 8, commanded by Maung Kyaw Sein Lin, in Ku Chi Village, south of Papun. Deadly airstrikes using rockets, bombs and strafing cannon began in Karen State on 27 March 2021 and continued to 1 April and then started again on 27 April to now, 3 May 2021.
We walked to the hiding places of the villagers who fled the first strike and met Naw Mu Wah Paw carrying her son in the jungle. He had been wounded by shrapnel to his face and neck on 27 March as he sat on his father's lap when the first rockets and bombs came. His father was killed and his mother carried him to our medics, who treated him and removed most of the shrapnel.
His mother told the story: "The airstrikes came in at night. There were rockets and bombs. I was outside the house and my son was sitting on my husband's lap inside the house. There was a huge explosion and I ran to the house as bombs fell. My husband was covered in blood and staggered down the stairs holding our son. He handed our son to me and then fell down and died. Now I am hiding in the jungle here with his father, mother and sister. I miss my husband so much and the airstrikes keep coming to now," said Naw Mu Wah Paw. We prayed with her husband's parents as his sister wept silently under a tarp.
Map includes some Burma Army airstrikes, artillery strikes and troop movements from 27 March to 3 May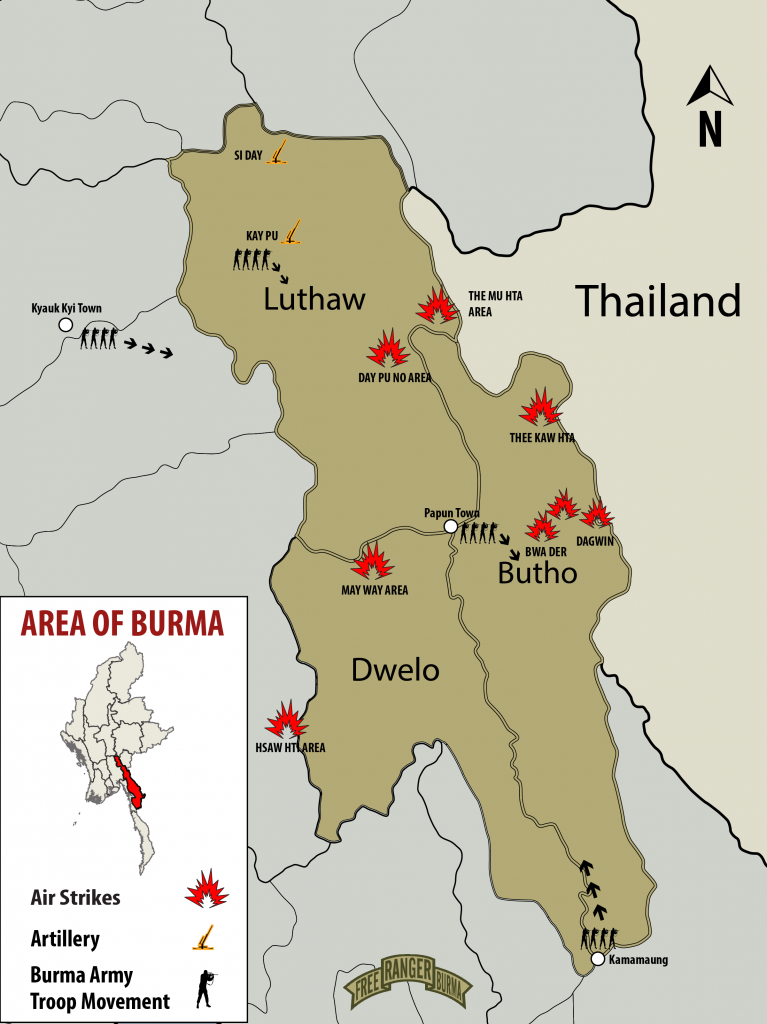 Naw Mu Wah Paw, her wounded son and in-laws in their hiding place near Day Pu No, Papun District, Karen State, 3 May 2021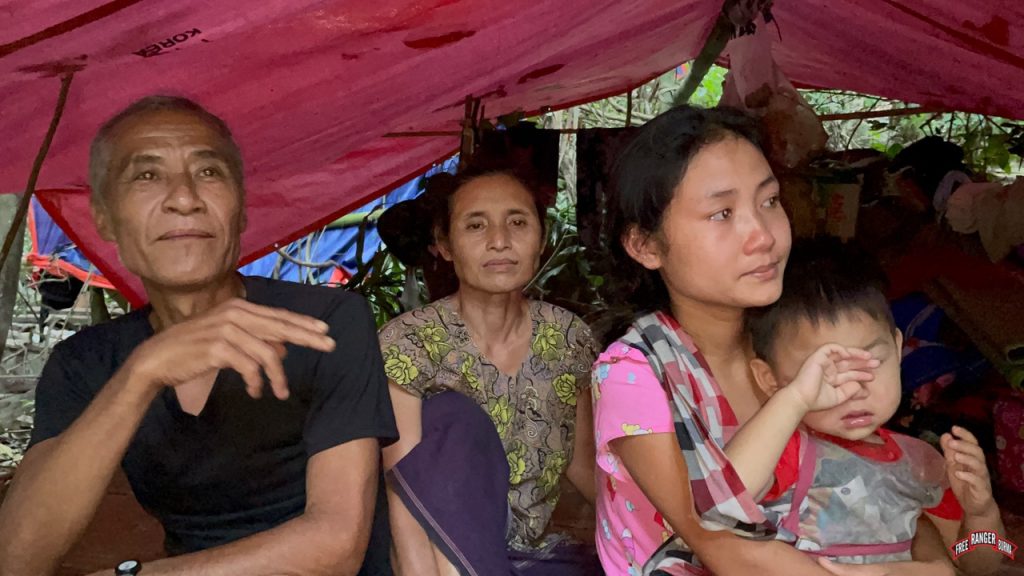 Rocket fragments that killed Naw Mu Wah Paw's husband, Day Pu No Village, 1 May 2021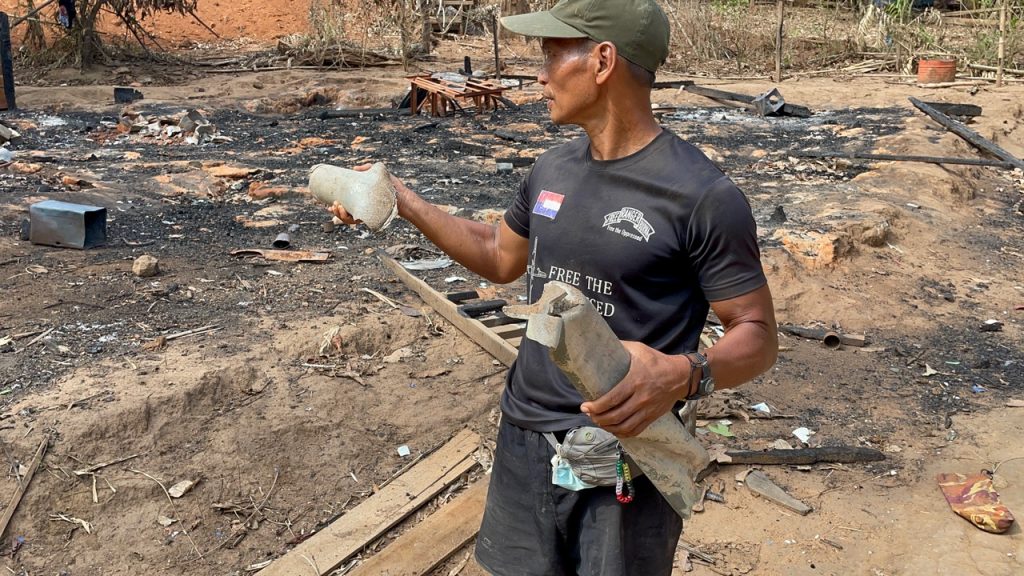 Blood on the floor where her husband carried their son to safety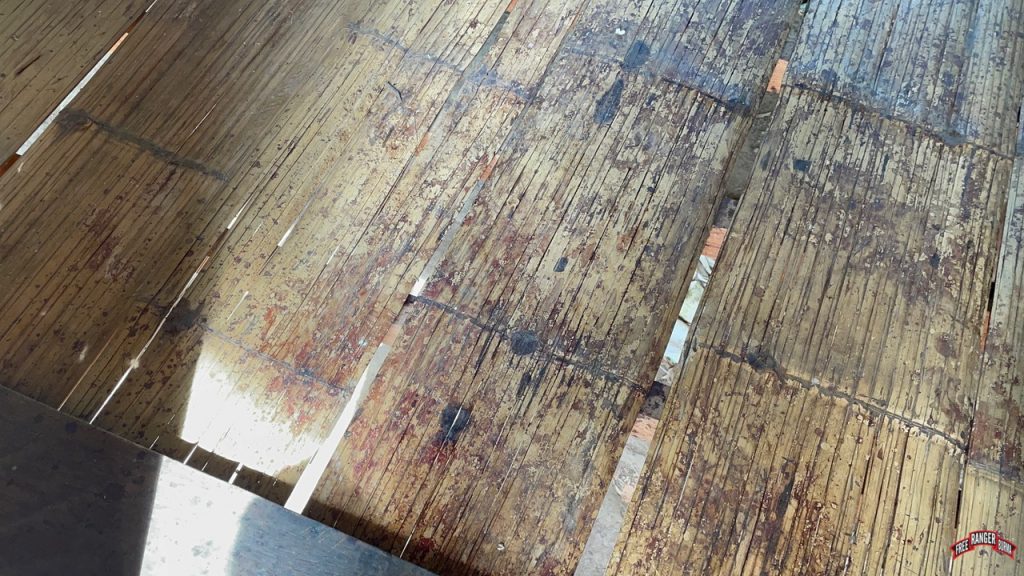 Naw My Wah Paw's son's face wound is healed but he still has shrapnel in his neck, 3 May 2021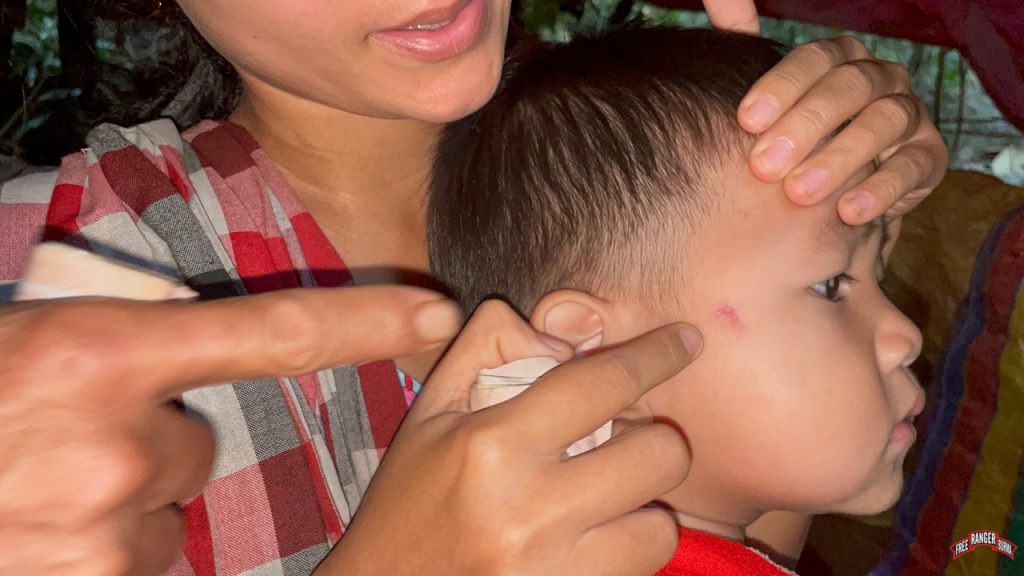 Naw My Wah Paw's sister-in-law crying for her brother, 3 May 2021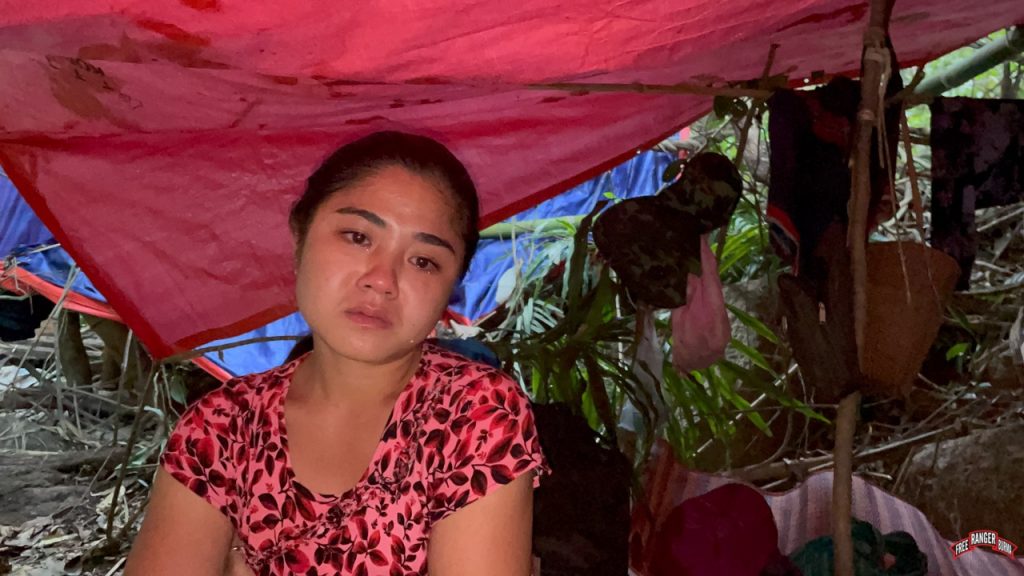 "The airstrikes are a sign of the desperation of the regime. They kill and destroy our people but they will not win. I am staying right here where the bombs hit as an example to our people not to be afraid," said a Karen leader who lives close to the bomb crater below.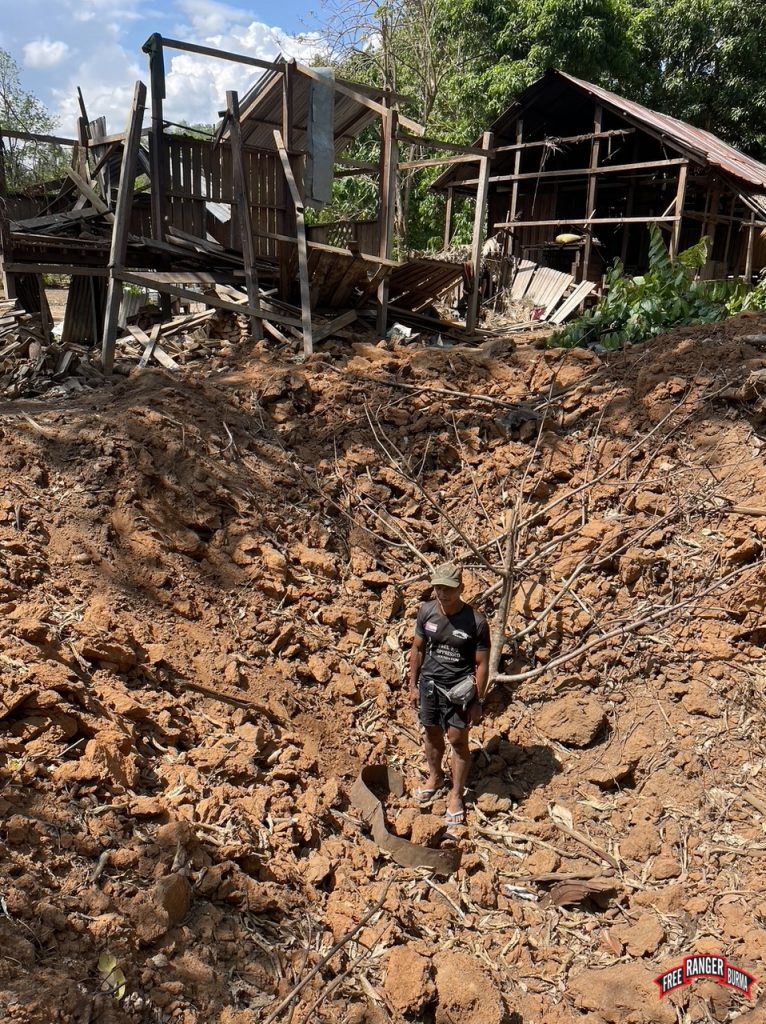 Day Pu No High School, destroyed by bombs on 27 March 2021, photo 1 May 2021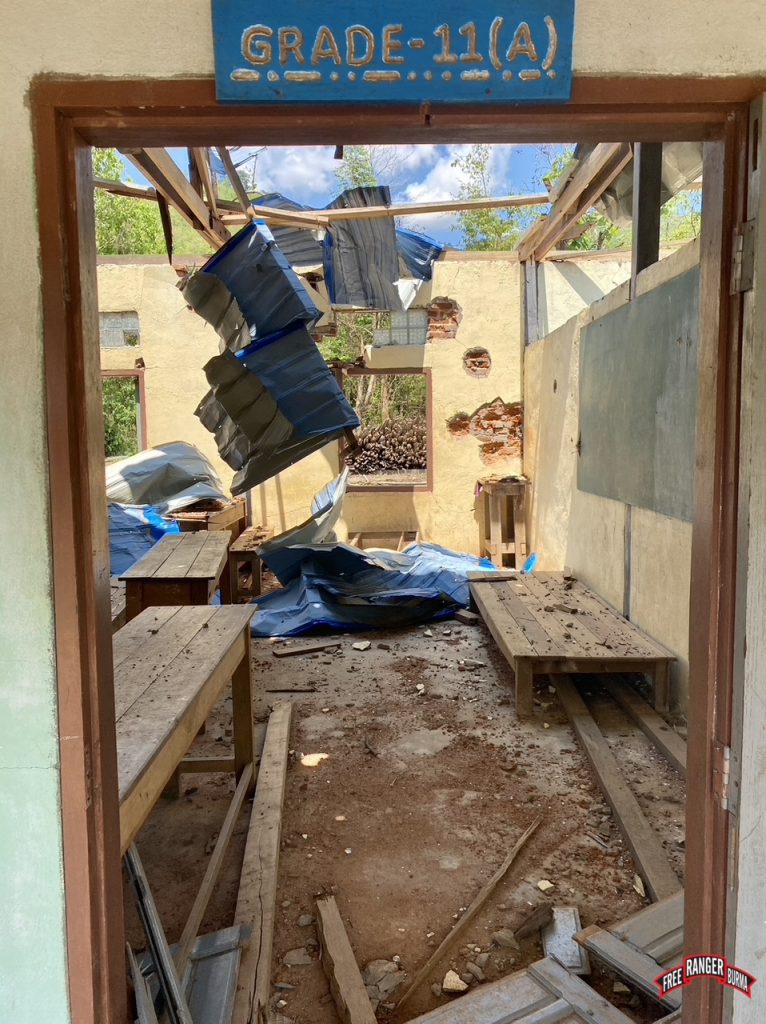 FBR team leader describes the attack on the school; photo 1 May 2021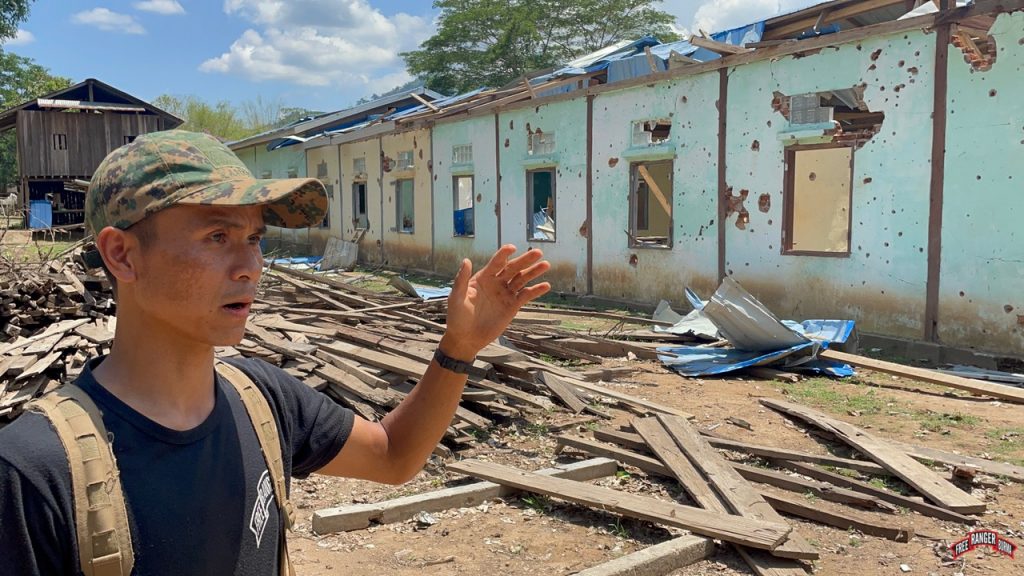 Destroyed classroom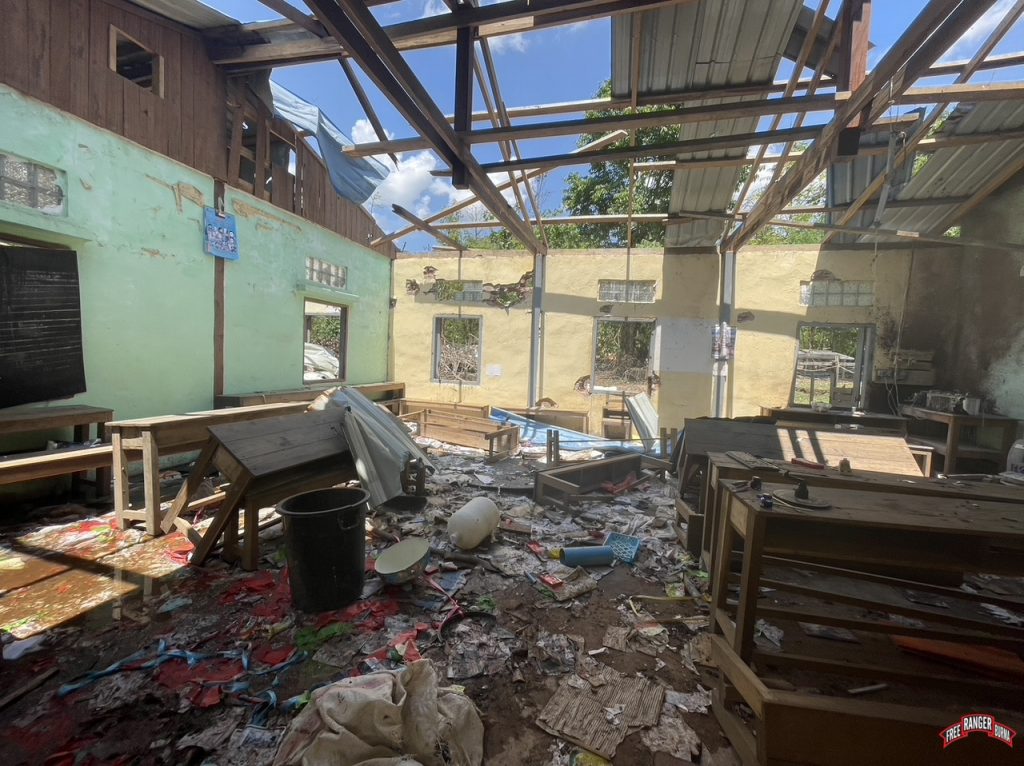 Day Pu No villager wounded in the face, losing three teeth and also hit in his legs and arms in the 27 March airstrike, photo 3 May 2021