Burma Army Continues to Kill Daily Across Burma
21 April, 2021
Karen State Burma
The Burma Army continues its attacks in Karen State against innocent civilians and villagers — In addition to over 700 killed in the cities, people and property in the ethnic areas of Burma are being violently killed and destroyed. The Burma Army has forced over 24,000 people in Karen State to take shelter in the jungle and every day Free Burma Rangers teams gather information of new attacks. The following report outlines attacks in Papun District over the past few days, including the violent and brutal killings of 32-year-old Saw Pah Deh Bow, who was tortured, beaten, and killed by the Burma Army; Saw Pah Mae Pa, 37, who was shot to death; and Saw Maw Bo, 44, also shot to death earlier on 11 April.
**Warning: graphic images below.
Dwelo Township, Papun District, Karen State
12 April 2021
At 09:00 local time, in Baw Kyo Leh Village, Burma Army Military Operations Command (MOC) 8, Light Infantry Battalion (LIB) 408 shot and killed Saw Pah Mae Pa. He was 37 years old and was on his way to send money to his father-in-law. Burma Army soldiers killed him, stole his money (1,000,000 kyat = approx. $800USD), and stole his motorcycle. He was killed on the road near Noh Keh Kee Village. He leaves behind a wife and five-year-old daughter.
At 10:00 local time, at Noh Paw Htee Village, Burma Army MOC 8, LIB 407, under command of Zaw Kyaw Zin Lay, killed 32-year-old Saw Pah Deh Bow. The Burma Army then warned the villagers that if they saw any villager outside of the village they would shoot them.
13 April 2021
Burma Army LIB 434 patrolled around He Poe Der Village and laid landmines. Later that day two buffalo triggered the mines and were killed.
At 10:30 local time, soldiers at the Burma Army base in Kler Si Kyo shot four mortar rounds and machine guns into He Poe Der Village. The mortar impact and bullets hit the house of Saw Pah Mer and Poh Kyi Chay, killing two cats and one dog and causing damage to their homes.
14 April 2021
At 09:00 local time, Burma Army patrolled along the road and set out security near He Poe Der Village while they tried to transport food resupply. They opened fire with machine guns at He Poe Der Village. They came to the house of Naw Ker Leh and shot at it, then broke into the house and stole goods, including one Free Burma Rangers t-shirt.
17 April 2021
At 07:40 local time, Burma Army LIB 434 mortared into He Poe Der Village. The rounds impacted on Saw Hsa Ri's house, and subsequently the house burned down.
Burma Army LIB 434 has set up patrols and security in Kler Si Kyo and Naw Kyo Koh villages. Villagers from five nearby villages have fled out of fear of the Burma Army attacks and aggression.
Luthaw Township, Papun District, Karen State
17 April 2021
At 17:35 local time, Burma Army LIB 20 mortared nine rounds into farm lands where villagers plant rice crops in Wa Klay Tu Village. Burma Army jets also flew over the villages, raising fear and sending villagers running to bunkers and trenches in case they bombed again. Saw Ker Kler Moo, a local villager said, "We dare not to sleep, we live in fear."
18 April 2021
Burma Army fighter jets flew over Pah Nay Pah Kho Village start at 20:50 to 22:30; they flew over the village 18 times.
Saw Maw Bo, 44 and father of five, was killed by Burma Army on April 11, 2021.
Below two pictures: the bodies of two villagers killed by Burma Army.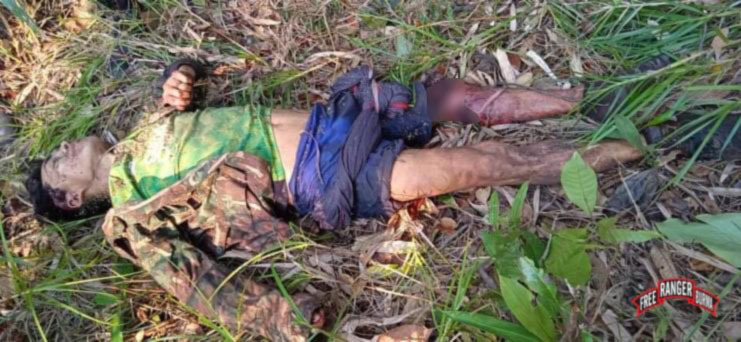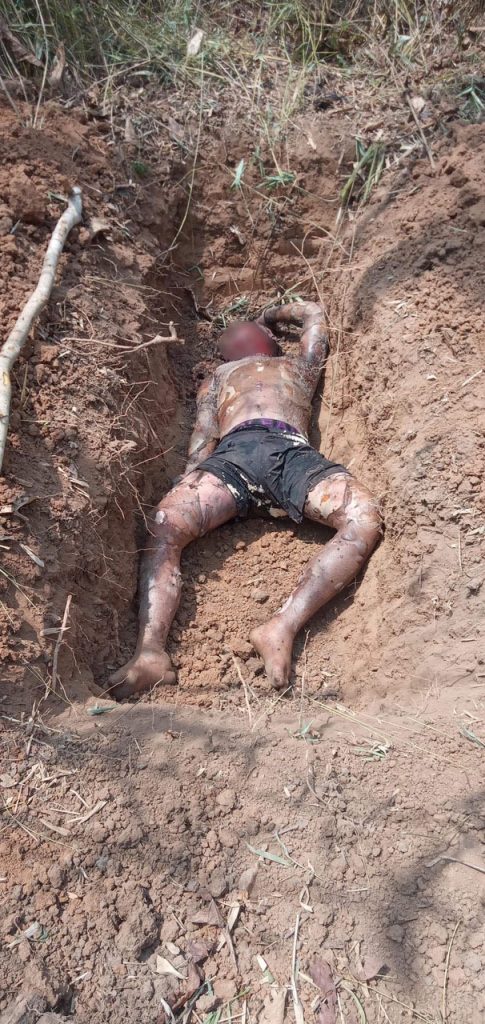 Damage from a bullet in the side of a boat delivering supplies along the Salween River.