From Karen State to Chiang Mai and Back Again: Two Patient Care Stories
8 May 2020
Karen State, Burma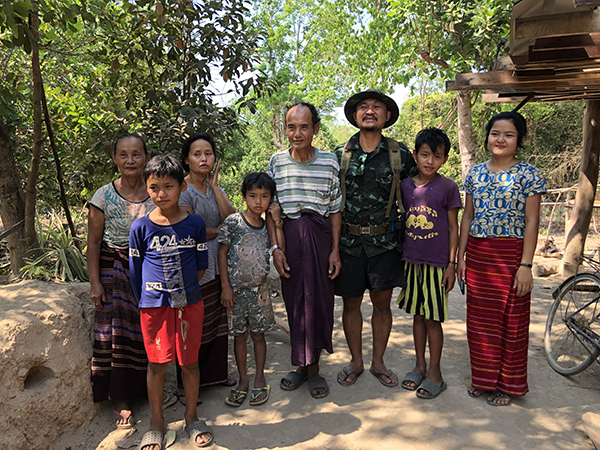 Dear friends,
During our recent mission to Dwelo Township, Karen State, I had the opportunity to visit two patients and their families who used to be with us in Chiang Mai because they had serious medical problems that needed treatment at a full-care hospital.
Finding Naw Tu
A couple years ago, Naw Tu came to us with a large mass on her neck. Testing revealed that the mass was cancer, and it was growing rapidly. She had surgery to remove it and radiation to make sure it was all gone, and then extensive wound care. Later, the doctor found that her cancer had spread to her lungs in three spots. She has seven children so we wanted to help her live longer for her family. The doctor said she should have chemotherapy but her kidneys weren't working well enough for chemotherapy so we made a decision to send her back home. She was given three to six months to live.
Since sending her home a year ago, we haven't heard much about her but had heard she was still alive. We passed near her village on a recent mission and I decided to go visit. As I arrived, I saw her working in field. She is very strong now and so we praised the Lord and had a good time worshipping together.
She said she would like to contact people in Chiang Mai and tell about God's grace but she didn't know how to contact people and share it or give her testimony. But, when I was there with her, she shared it and said:
It is really a miracle for me to be better and [I'm] feeling very healthy now. I am so happy. I would like to thank everyone who supported me and helped me. I would like to thank the Free Burma Rangers, and all the leaders, doctors and staffs who are helping me. Actually, I would like to say many things. I am feeling so happy [that] Kaw Say came and visited [because] I never thought that he would be here. I never thought that FBR people would be here because it is so far from Chiang Mai to here.
I also would like to thank the Karen church and pastor in Chiang Mai for praying for and encouraging me. I am feeling so happy and I can't stop crying. I [want] to give my testimony to everyone about what God has done for me. I also am planning to send my oldest daughter to Bible school this coming year. 
May God bless you all.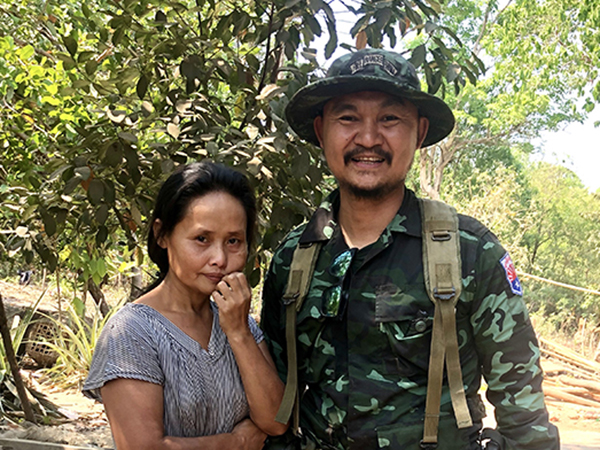 Meeting Eh Tha Blay's Family
After the last day of our mission we came back to Karen National Liberation Army Battalion 102 camp. I heard that another of our patients, Eh Tha Blay, was from a village nearby so I asked people there and one of the KNLA captains took me to the village. By the grace of God we arrived at the village by motorbike and I got to meet Eh Tha Blay's family. I found out that the village had been attacked and burned down by Burma Army a few times.
Eh Tha Blay has two older sisters and two younger brothers and has been with us since he was three years old. After many tests, he was diagnosed with Juvenile Idiopathic Arthritis. He needed constant checkups and was on medicine for most of his life. Recently, he had a couple of months between appointments, so he and his father (who always accompanied him on his trips to Chiang Mai) returned home. A couple weeks later I found out that Eh Tha Blay had died suddenly soon after they arrived.
During his time in the hospital in Chiang Mai, we used to take him to church and he always talked about Jesus, even as a small boy. One day we went to a church that had a big cross. Eh Tha Blay said the cross was too big for Jesus Christ and very heavy. His father also told me he was just like an angel, always reminding his dad to carry his Bible and go to church every Sunday.
I spent the night of March 30 with Eh Tha Blay's family and gave an encouragement service with the family and relatives. The next morning I went to see his grave with some of his friends and his father. This is what his father told me:
Everything happens in God's time. Even though our family was sad [when Eh Tha Blay died], we thank God for his mercy and thank God for FBR and doctors and everyone who helped him. I know that it cost a lot of money for medication so I am praying that God will bless FBR more and fulfill more blessings. 
When my son and I arrived home after his last appointment in Chiang Mai it was the 25th of January. That night he was saying that he had chest pain but we just thought he was tired from the long travel home. It grew worse and worse and finally he died after a few hours. It was so fast that we were not able to take him to any clinic near our village.
I thank God for my son and how he was been with us around eight years. I tried my best to take care of him but now it is time for him to be with Jesus so I am happy for that. I would like to thank everyone who supported, prayed and helped us. May God be with you all.
Thank you and God bless you,
Kawsay
Patient Care Director