Iraq Reflections 2017; Why We Are Here
27 April, 2017
Iraq
Dear friends,
I was asked to write up some reflections on our time in Iraq. The main purpose of this is to give our perspective on ISIS, the fight against them and the situation of Iraqi people. This is a war none of us have chosen but it has come to us with a will and ferocity that spans the globe. We are new here and have much to learn ut want to share what we have seen.
During the battle for Tel Keppe, north of Mosul, in January, I was with the brigade medical officer, Maj. Naseem, as we advanced against ISIS. Major Naseem is tall, strong, good looking, has multiple advanced degrees and is newly married with a child on the way. I was struck by the contrast of this kind, talented man putting his life on the line against a brutal and barbaric foe. Thinking of this commitment, I was reminded of the last words in the U.S. Declaration of Independence: "…we mutually pledge to each other our lives, our fortunes and our sacred honor." When faced with evil that is what it takes: all of us and the best of us, fully committed.
I am a former US Army Ranger and Special Forces officer and the founder and director of the Free Burma Rangers, a humanitarian relief organization. We have been serving in Burma for over 20 years and have 70 multi ethnic relief teams there. We have been providing humanitarian assistance in Iraq since February 2015, working first with the Kurds and then into Syria and, starting in November of 2016, with Iraqis in East Mosul. We bring ethnic teams of medics from Burma to help at the front lines and my family and other volunteers come to help with the civilians fleeing ISIS or in areas that have just been liberated. We distribute food, water, hygiene materials, shoes, clothes and medical supplies as well as try to give love and tell the story of the people here. In Iraq we divide our team into two groups: My wife, children and volunteers do family programs and provide medical help at casualty collection points (CCP), while our Burma medics, other volunteers and I accompany the Iraqi Army to the front to give immediate medical care and help however we can.
This essay is divided into seven sections:
ISIS
US and Coalition Actions
Iraqi Military
Iraqi Popular Mobilization Units (PMU)
Iraqi People
Faith
Future
ISIS:
ISIS has been a formidable, cunning and inventive foe. We have faced them in the cities, deserts and mountains. We have been as close as two meters from them in close combat and watched our friends get killed by snipers over a kilometer away. We have treated casualties hit by ISIS chemical shells. We have seen ISIS blow themselves up when wounded or trapped in tunnels. We have seen them come right at us in seemingly unstoppable vehicle-borne improvised Explosive Devices (VBED). These are usually heavily armored trucks filled with up to 2,000 lbs of high explosives. They are hiding in buildings or down alleys, waiting till they have an opportunity to surprise and attack the advancing Iraqi forces. The drivers often handcuff themselves to the steering wheels and race from their hiding places with engines roaring and drive full speed at us. Small arms cannot stop them and usually they come so fast that anti-tank systems and armored vehicles cannot engage in time. They ram into vehicles or buildings, killing anyone not under good cover or in a heavy armored vehicle. Armored Humvees and lesser trucks are shredded and buildings collapse. We have lost many of our friends and I myself have only survived because either the suicide vehicle went right by me to another target or because I was able to jump behind a tank or heavy tracked vehicle as it exploded. In addition to these kinds of attacks, ISIS sends waves of drones armed with small 40mm bombs that have killed and wounded over 50 Iraqi soldiers in our unit alone. And in one 24-hour period, ISIS drone attacks in a newly liberated neighborhood in Mosul killed 6 children and wounded 26 adults and children.
In all cases ISIS has been a dedicated and vicious enemy. They are also an enemy that oppresses and torments its own population while enslaving and murdering anyone they hold as inferior to them. Tenacious fighting from laboriously prepared positions and tunnels, suicide bombers led by drones and drones dropping bombs have inflicted thousands of casualties and slowed the defeat of ISIS. But even though ISIS still holds the northwest side of Mosul and many towns and the city of Tel Afar west of Mosul, they are losing and we see a shift. In February we saw ISIS run for the first time. We were with the Iraqi Army and the Iraqi militia (Abbass PMU) on an attack to drive ISIS out of Tel Kaysuma and Sahaji towns west of Mosul. As the might of the Iraqi armor and waves of PMU volunteers swept towards them, I saw ISIS break and run. Some did stay to fight and were killed, and some launched suicide attacks in vehicles (VBEDs), but others ran. "This is the beginning of the end of ISIS," I thought. ISIS still has fight in them but they are mortal and they are tired, under-supplied and increasingly demoralized. Many of their leaders and bravest fighters are dead and they are unraveling. Many civilians want to escape but need help. There will still be difficult and deadly fighting but if pressure is kept on ISIS, and the Iraqi forces, with coalition support, drive at them relentlessly, they will be defeated. People will be set free. There is another kind of pressure too and that is prayer. ISIS is made up of human beings who joined for different reasons and can change. As we move to liberate the people, we offer love and forgiveness and pray for a change in ISIS hearts.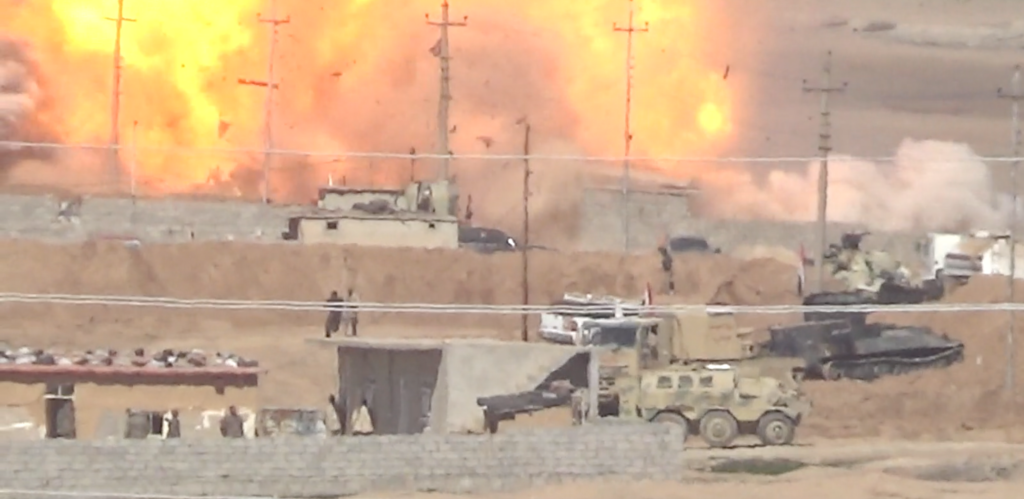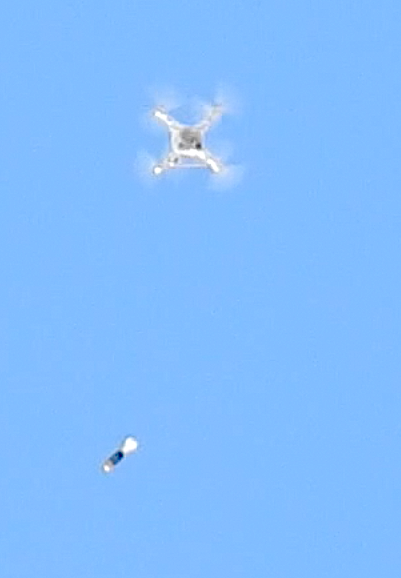 US and Coalition Actions:
The US and coalition forces are doing a tremendous job of supporting the Iraqi government and military, defeating ISIS and helping to liberate people here. While there have been tragic civilian casualties, US airstrikes have overall been very precise and restrained. I have witnessed many airstrikes called off when there was a possibility of civilian casualties. Advanced targeting systems, expertise, years of experience, close coordination with Iraq forces and most of all the character of the coalition forces means civilians being killed or injured during operations to root out and destroy ISIS has been minimized. Many cases of civilian casualties are when ISIS forces families into a building without the coalition or Iraqis seeing them and then attack the advancing Iraqi forces from these buildings. In the ensuing fight civilians are sometimes unknowingly killed. This is an evil tactic but the Iraqi Army and the coalition are aware of these methods and are careful to take measures to minimize casualties. The US commanders I know are husbands and fathers themselves and take great care to prevent the death of civilians. Each civilian death is a heart wound to them and I have never seen such care and caution in the use of firepower.
The US and coalition forces need more support and more freedom of movement to help the Iraqis, as well as our allies next door, in Syria, defeat ISIS. We have done three missions to Syria and saw first-hand the life saving effectiveness of US military, medical, humanitarian and direct combat support in taking care of people and defeating ISIS. I am grateful for everything America and the coalition is doing to help. Our U.S. troops and their leadership here are outstanding in helping to defeat ISIS and heal many old wounds. Tactically they need more support to complete the defeat of ISIS sooner; the slower the advance the longer people suffer under ISIS rule and the more ISIS can improve their defenses. Strategically, speeding up the collapse of ISIS denies their ability to resupply and rebuild their forces and logistical infrastructure. Geopolitically, prolonging the defeat of ISIS gains ISIS more perceived legitimacy and recruits. The U.S. cannot do everything, but we can stop ISIS and rescue people in captivity. This will reduce our enemies and make more friends.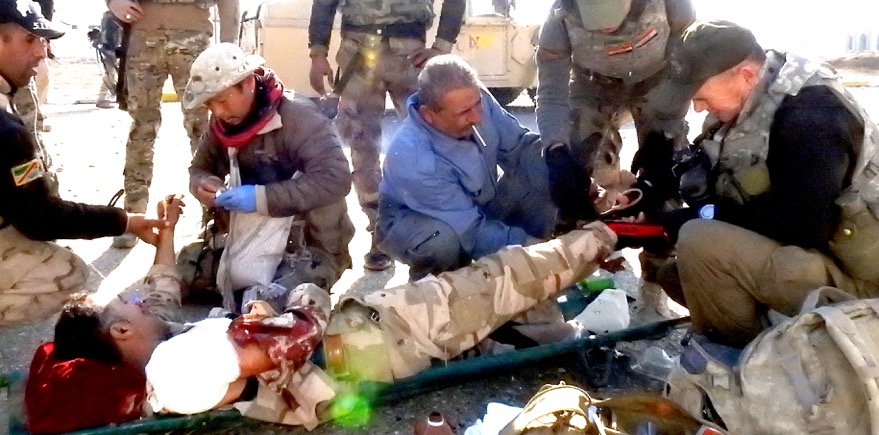 Iraqi Military:
We were with the Kurds when they drove ISIS out of Kurdistan in late 2016 and after that prayed to God what we should do. The same day we prayed, we were invited to deliver food to Mosul as it was considered too dangerous by the organizations who normally deliver relief supplies. On our way into Mosul that first day we were attacked by ISIS but were able to get through and start delivery of relief supplies to people in need. General Mustafa, the 36th Brigade Iraqi commander in this sector was surprised to see us and after we got to know him he opened his heart to share with us the suffering of his people at Saddam's and now ISIS's hands. During the American occupation his people suffered from mistakes we made. I apologized for the wrong things America had done to his people and told him many Americans do care about the Iraqis and do not want to help them solely for their oil or for our own security. Many Americans died for freedom for Iraqi people and deeply care about them. He softened and day by day we became closer. At first when I prayed with him he laughed but soon he joined me and if I forgot to pray he would remind me and ask me to pray. We have many cultural differences but we choose to focus on what is good and find solutions together.
We work with General Mustafa, his troops and the local civilians leaders to give out food, blankets, water, kerosene and medicine. We were surprised by the number of civilians who remained in a city under fire but when we asked them why they stayed they replied, "If we go our homes will be looted and maybe destroyed, we do not know when we could come back and our men would be in danger of arbitrary arrest as ISIS suspects in the refugee camps." During the past six months of relief missions and front line medical support for the Iraqi Army, from east to west Mosul, I have learned two things about the Iraqi Army. The first is how brave they are and second, how much they care about their people.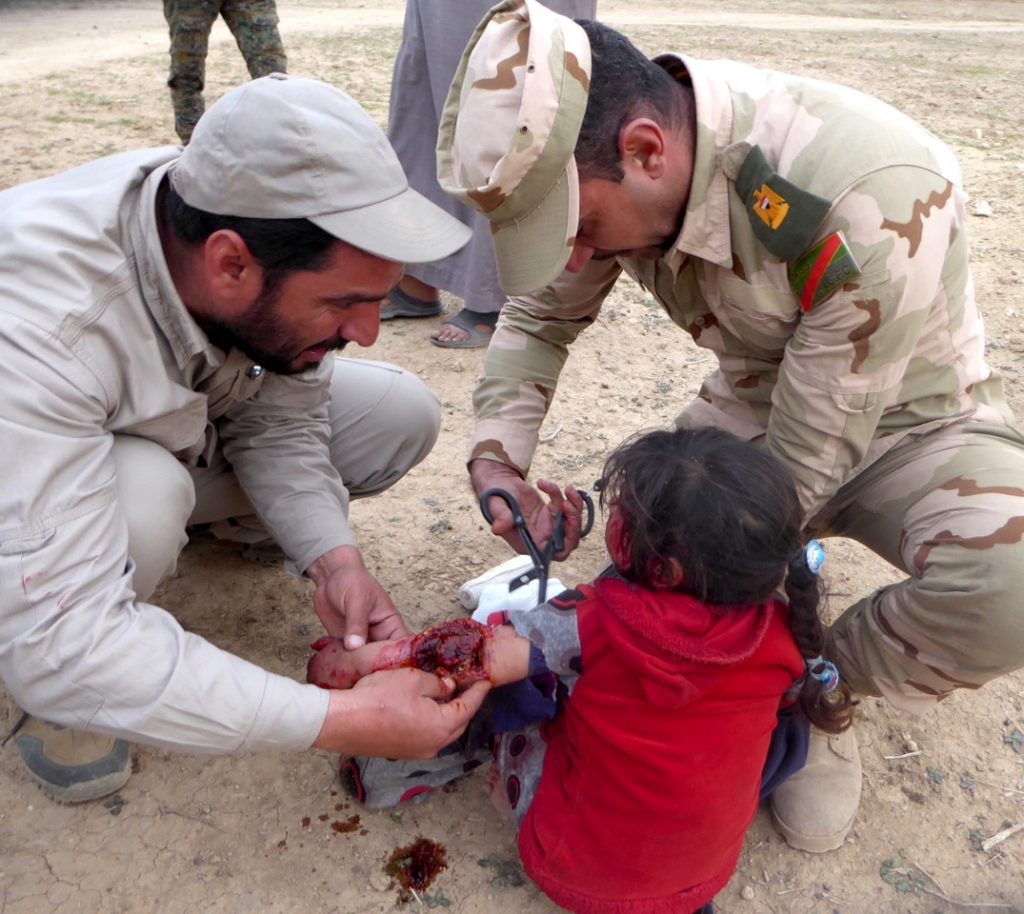 On my first night with the Iraqi Army in southeast Mosul, I experienced first-hand their bravery and care. An Iraqi Army resupply truck had driven into a ISIS ambush on the same route we had used earlier and the four crew members were wounded and calling for help. The Iraqi troops we were with responded immediately and drove straight to the ambush site two kilometers away. We went with our headlights on as the troops did not have night vision and also so that the wounded troops could see them. As we got close to the ambush site, we began taking fire from a group of ISIS which had a heavy machine-gun set up 700 meters away on our left. Another ISIS force with a light machine gun fired on us from 300 yards to our front while yet another group of ISIS with assault rifles advanced on our right to a berm 50 meters away. The wounded Iraqi troops were hiding in a ditch just below this berm and fighting for their lives. We drove straight up to the ditch with bullets bouncing off the Humvees and rescued the four Iraqi soldiers. All were wounded multiple times and one ran to the vehicle bloody, wild eyed, and carrying two M16s. Both his arms were broken but he managed somehow to hold on to both his and his badly wounded buddy's rifles whle shooting one of them at ISIS. Once all four were in the Humvees, we raced out in a hail of bullets.
I was impressed with how fast the Iraqi army reacted and how they put their own lives on the line to save their friends. I was reminded of Jesus' words, "Greater love has no man than this, that he lay down his life for his friends." The Iraqi Army demonstrated this and has done so again and again as we have been with them from east to west Mosul.
A few days later with these same troops we went deeper into Mosul to distribute food to people in desperate need. Some of these people had been ISIS supporters but the Iraqi Army treated them with care and respect. As we gave out food ISIS attacked us with mortars, machine-guns and rifles. They also sent drones to attack us. As bullets flew and shells landed, the Iraqi Army counter attacked and pushed ISIS back. Once it was safe, the distribution continued. Were were attacked on seven of the 10 food distributions we did in east Mosul between 20 Nov- 6 Dec, but the Iraqi Army stood firm and completed all distributions. Later on as ISIS was pushed further back, we were able to give out food and not be attacked. But there were still challenges.
After one distribution when a woman was caught trying to cheat and take two sets of rations, she became angry and told the Iraqi officer, Col. Ali, "ISIS is better than you!"
Even though Col. Ali had lost over 50 men to ISIS and risked his life for two years in fighting them, he showed great restraint and answered calmly, "If you want to go to ISIS you are welcome, they are just over there less than 1,000 meters away." This same Iraqi commander took us to meet a bed-bound widow and asked us to help her. We prayed with her and our Karen medic Joseph treated her the best he could. Later on, his boss, General Mustafa, helped to arrange the construction of a playground in this area that Reload Love helped us build.
During the siege of Al Salam Hospital General Mustafa and part of his 36th Brigade was surrounded for two days and nights by ISIS. They withstood human wave attacks, suicide bombers, hundreds of RPGs, VBEDS (Vehicle Borne Explosive Devices- armored suicide cars with 2,000 lbs of explosives each), mortars and rockets. They were trapped. We went to try to help but we became separated. Our vehicle was shot up and we found ourselves surrounded in a small house with 10 Iraqi soldiers about 1,000 meters from the hospital. At night we listened to the eery sound of ISIS mullahs chanting and calling, "All faithful to come and slaughter the infidels…We will make this a second Black Hawk Down, a second Mogadishu," they cried. More ISIS fighters poured in from other parts of Mosul in response to the mullahs' calls. They shot at our position with machine-guns and mortars but mostly bypassed us in their primary focus to destroy the Iraqi force at the hospital. The call for help went out to all Iraqi units and they came. They came in Humvees, tanks, armored cars and bulldozers, many of them destroyed on the way in ambushes ISIS set or by land mines and VBEDs. Still the Iraqi army pressed forward until they rescued their brothers. Coalition aircraft also came to help with air power destroying and suppressing ISIS and the Iraqi relief convoy blasted their way through to rescue the men in the hospital. There were over 70 wounded and 11 killed but no man was left behind and none were captured.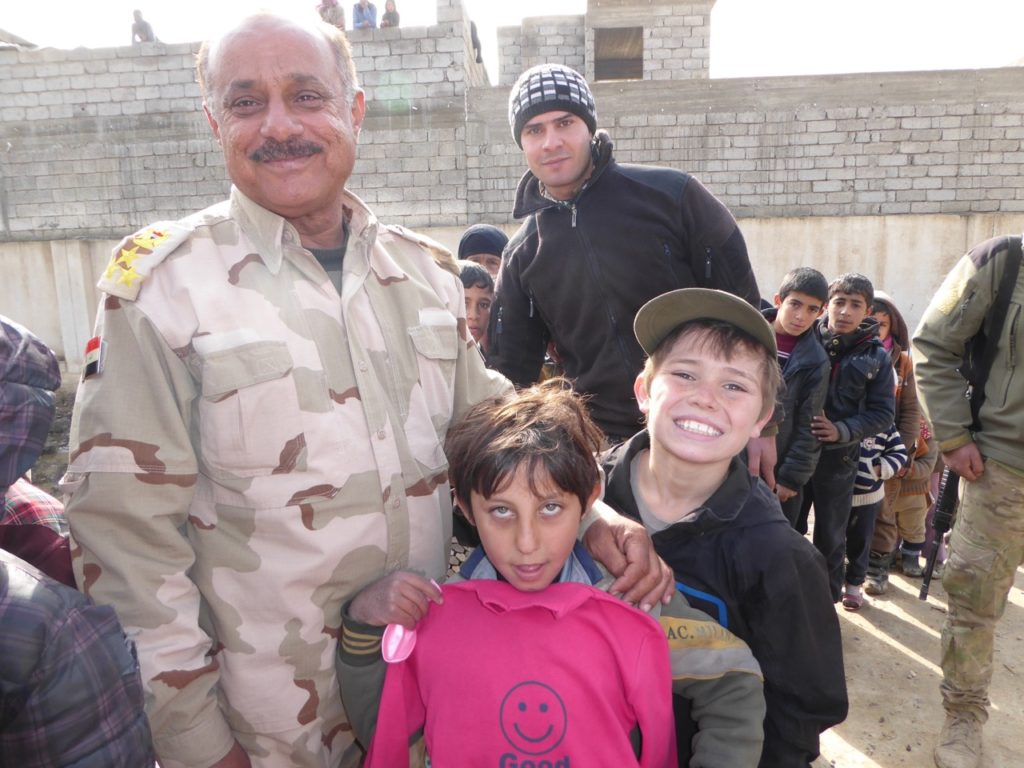 My wife Karen had this to share about the Iraqi soldiers, "At that first children's program in Mosul, an Iraqi soldier helped us lead songs and made the children laugh. He actually made the kids listen to him instead of me, which was wonderful. Then when ISIS attacked us, he and the other the Iraqi soldiers helped us get all the kids out. Then at the program in Al Rashidia, another soldier-comedian again stole the show with funny faces and made all kinds of sound effects that the kids enjoyed. The soldiers loved giving of themselves to the kids. They had genuine, vivacious spirits for the kids, despite being also the ones who had to clear out the enemy. And the soldiers were genuinely interested in the kids Bible materials I had available as gifts for their own kids. They have open hearts."
Our three children have also been blessed by the Iraqi soldiers, who find them horses to ride whenever possible, but one of the most significant was when they were given a starving Saluki dog rescued from ISIS. Nineveh, as our kids named her, was found starving in a neighborhood ISIS controlled. She was very thin, did not want to stand, and trembled when anyone approached. There was a lot of fighting, bombing, machine-gun and tank fire and all the noise and violent death of a full Iraqi armored assault against a dug-in and murderous ISIS. There were dead bodies in the streets and who knows what Nineveh had seen. My children hugged her and loved her, feeding her by hand. Someone said she may have been held by an ISIS emir who took her from a villager – but now all in the area were gone or dead. No one knew anything more than that. We found her in the same area wher we accompanied the Iraqi Army as they rescued a Yizidi boy earlier and General Mustafa asked our children if they wanted the dog. "Oh yes, we love her," they said as they hugged her neck and stroked her gently. Our kids covered her in love and day by day she grew more lively and happy. She went with us on the advance across the Tigris to West Mosul as my family and our team helped IDPs. She is back in our home in Thailand now.
While the culture of the Iraqi military is different than our military culture, we have seen bravery and care at many levels and a commitment to defeat ISIS and set people free.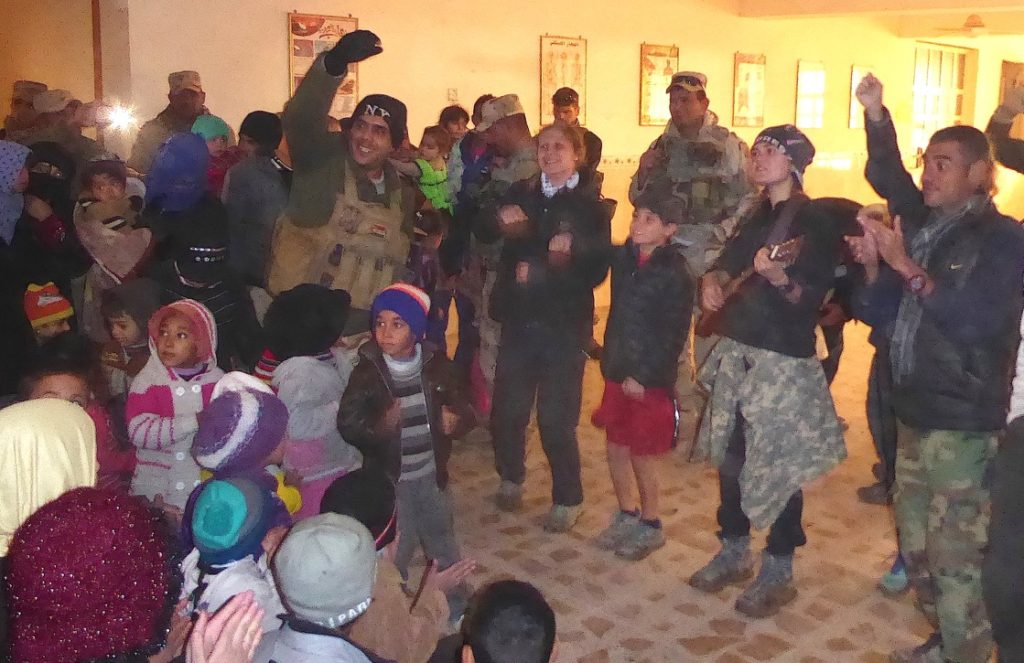 Iraqi Popular Mobilization Units (PMU):
These are Iraqi militia formed to drive out ISIS. They operate under the Iraqi Prime Minister's office in Baghdad. Some are closely tied to Iran and are anti American but the four different PMU units we have met and worked with in Mosul and areas north and west of Mosul have been very friendly to us and work well with the Iraqi Army. They not only are a force multiplier in taking the fight to ISIS, they have been one of the main providers of humanitarian assistance to displaced people in and around Mosul. When we first met them early this year I was warned that some of them may be anti American. We were out in the desert west of Mosul and in a joint operation were clearing the hills of ISIS strong points and tunnels.
When we linked up with the Abbas PMU in the desert I approached the leader and introduced myself and told him I was thankful I could be in his country as a guest. I also told him that I was sorry for the wrong my country had done to his country. I also told him many Americans cared for Iraqis and were doing their best to support the liberation of Iraq in as humane a way as possible. He smiled and said, "Thank you for saying you are sorry, we need to hear that. It is ok, you are forgiven and are welcome and needed in our country. We like America."
I thanked him and told him it was God who brought us here and asked if I could pray with him. He looked surprised and pleased and said yes, so I raised my hands towards heaven and asked God to lead, help, forgive, purify and bless us all.
Just a few hours later were moving with this PMU unit and the Iraqi Army to provide close medical support as they tried to defeat ISIS in the town of Sahaji. As we advanced into the ISIS controlled town, we were hit by ISIS fire and then a suicide truck raced around a corner and blew itself up in front of us. A PMU soldier directly in front of me had his arm shattered while one to my right was killed instantly. The PMU leader I had been talking with earlier was a little ahead and was blown apart. I was slightly injured and spun around by a piece of the truck that went through the others. There were a total of four dead and eight wounded and I called for Eliya our medic. I helped the man with the shattered arm back to our medical Humvee. We did our best to treat the badly wounded men and move them out. 30 minutes later we had them all evacuated and another PMU leader came up to us. "You really care about us Iraqis. Thank you. You are one of us."
After this we accompanied the joint Iraqi – PMU forces as they pushed ISIS out of the hills and advanced across the plains west of Mosul. Here again we saw the effectiveness of US and coalition air and artillery support that helped the Iraqi Army advance. Soon Iraqi families were breaking free of ISIS and a flood of desperate people began walking over the hills to escape. We worked closely with the PMU and Iraqi Army to transport and feed them. It was a real team effort and the bonds of mutual respect, partnership and love grew.
While there are some PMU units who have declared they are enemies of the US, we have not met them yet and have only had good experiences and good working relationships with PMUs we have met. I would like to encourage the coalition to find those PMUs they can work with and develop friendships and closer partnerships. This is critical for the battle to defeat ISIS and help civilians and is needed for the future of Iraq.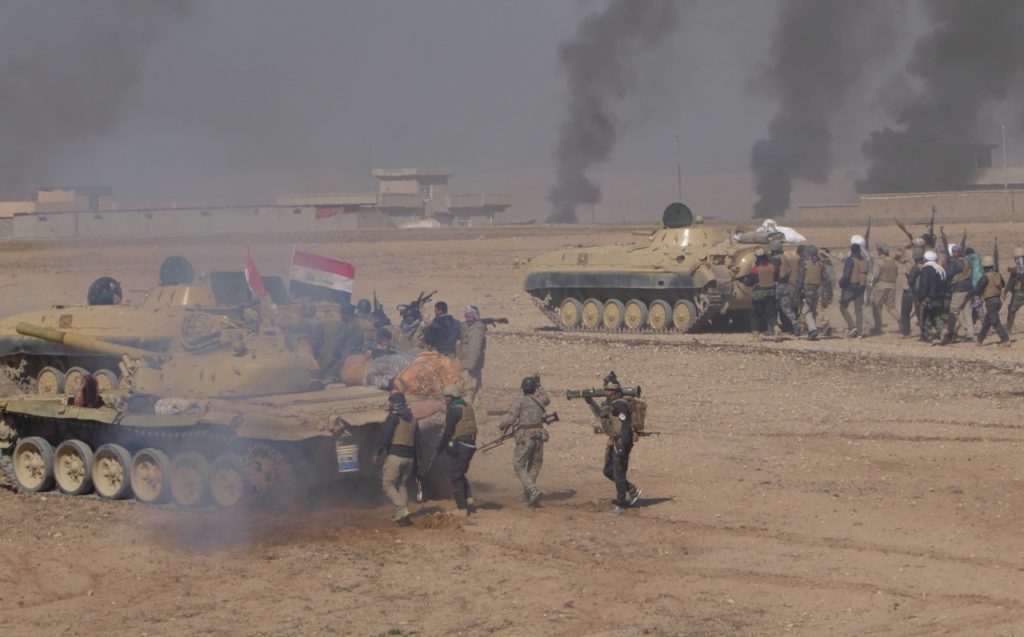 Iraqi people:
With the help of the Iraqi Army and many humanitarian groups we are able to help feed people as they flee or are liberated from ISIS. We meet people hiding in blown up neighborhoods, emerging from liberated villages and on the run. As we meet them we become friends. In a little time a bond of love grows between us. The dignity in their eyes, the humble gratitude they express in their thanks moves our hearts. Helping people is one of the blessed times in our lives. It makes us feel useful and good. And it makes me grateful to God and to all of you who enable us to help. While most Iraqis are Muslim, we have been welcomed as followers of Jesus because we, like them, believe in God, we show that we care for them, we share danger with them and because their hearts are open.
Now on the campaign against ISIS, the Iraqi Army has liberated eastern Mosul and has over half of western Mosul. Mosul is a city of over one million people that stretches from the plains of Ninevah to the east across the Tigris River to the low hills in the west. The eastern side of the city is relatively modern but densely packed with two to three story concrete buildings. Across the Tigris to the west is the old city of even more densely packed buildings of concrete and mud with a twisting labyrinth of streets and alleys. This is the first major city that ISIS took during their conquest of parts of Iraq and Syria in 2014. The people are predominately Sunni and many supported ISIS in the face of the injustice they felt from the Shia in Iraq. In Mosul our team, including our ethnic medics and cameramen from Burma, as well as two Yazidis and a Kurd, are taking in baby formula, food and medicine and distributing it in areas recently liberated from ISIS. Earlier, as ISIS was being pushed out of the eastern neighborhoods and we were delivering aid, ISIS was often only one building or one block away from the Iraqi forces and our distribution. Many times as we began to hand out the food, ISIS attacked us with rifles, machine-guns and mortars. The Iraqi Army held them off. As bullets flew over our heads and smacked into walls we continued to pray with people and give out food. Families would dash from their houses, get the food and medical care and then run back inside. Many have decided to stay in this war zone because they are afraid of what will happen to them if they flee to a refugee camp. They are also afraid they will lose their homes and possessions if they leave.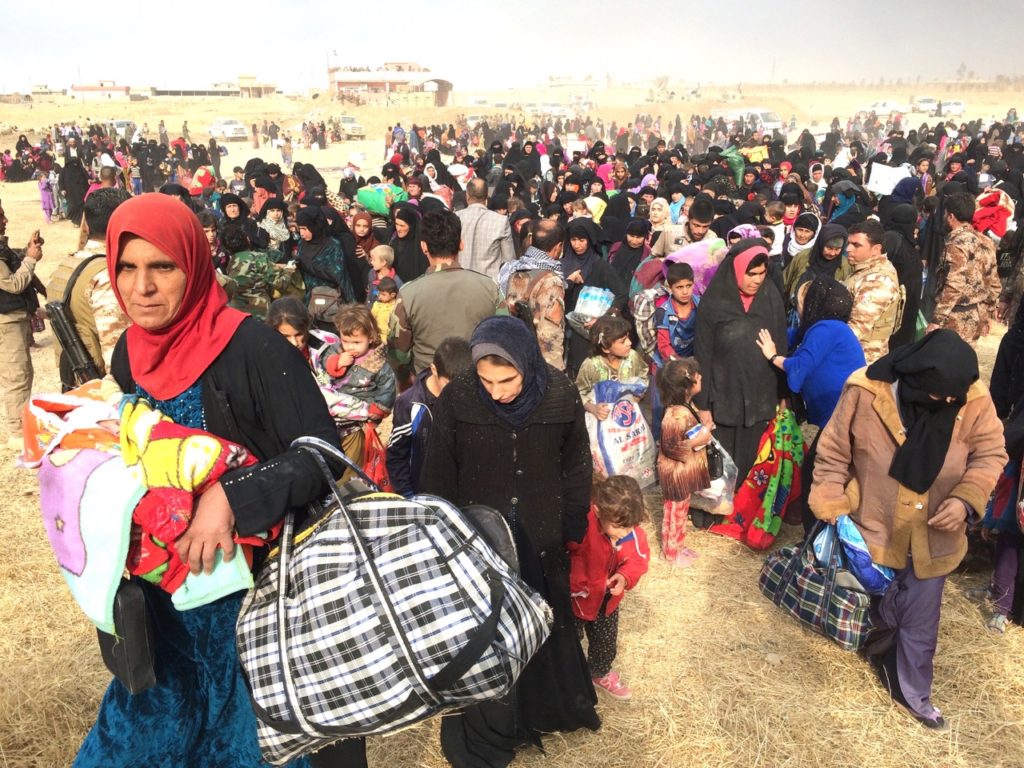 The Iraqi Army is pushing ISIS back block by block in bloody street battles using tanks, armored cars, Humvees and coalition air support. But the Iraqi Army's main weapon are brave men who risk their lives daily to fight for the liberation of Mosul and take care of each other and the population. This is not just a sacrifice for Iraq but for the whole world. During ISIS attacks Iraqi soldiers shielded the civilians and exposed themselves to direct fire as they attempted to stop the ISIS attack. ISIS launches their attacks from a network of tunnels, rat holes, suicide vehicles and IED's. They continue to attack day and night with heavily armored trucks full of explosives, which they detonate into Iraqi positions and into civilians. ISIS fighters attacks on foot through doors, windows and alley-ways, pouring down fire on the Iraqi soldiers, those distributing food and the civilians receiving it. In many of the distributions we have done we came under direct attack from ISIS who killed and wounded civilians. Yet people kept coming for food because they needed to eat and there was no other way of getting it. The Iraqi soldiers have done a courageous job of holding back ISIS and taking care of the civilians. This has been wonderful to watch since many of the Iraqi Army are Shia and most of the population is Sunni, many of whom support ISIS. It is my estimation that about 10% of the population of Mosul give direct support to ISIS, 20% to 30% are sympathetic towards ISIS, and the remaining 50% to 60% don't like ISIS but do not trust the government in Bagdad or are too afraid to resist ISIS. All we meet were grateful for our food and help but we know that some of them still support ISIS and that many of them still don't trust us. On some occasions after receiving their rations, the small group of civilians who support ISIS would call them from their phones so ISIS would know where we were and attack us. One time two men placed a land mine on the road we used in order to kill us on our way out after a distribution. The Iraqi Army caught them in the act and stopped the attack. We knew this going in, but prayed and felt this was the door God wanted us to go through to share his love in their time of need and to develop new relationships.
Towards the end of one distribution, while we were under fire, I gave a Jesus film in Arabic to one of the men. I said, "This is a film about my leader Jesus, but if you don't like it you can throw it away." He looked at the cover and said, "Jesus. We need Jesus because Jesus brings love, forgiveness and truth; we need him. Thank you for loving us and sharing about Jesus." I prayed with this man that he would survive the war and that freedom and peace would come to his land. He told us his name was Haman and he would help us any way he could. His face was radiant and warm as he said thank you and goodbye. He became a friend and volunteer translator and on the next food distribution he helped as we came under ISIS fire. One of the people in line for food was shot in the leg and called for help but refused to get out of line. His family put him in a cart and one of our Burma medics, Joseph treated him on the cart. We brought a month of food supply to him, piling it up beside him in the cart. Such was the desperation for food in Mosul.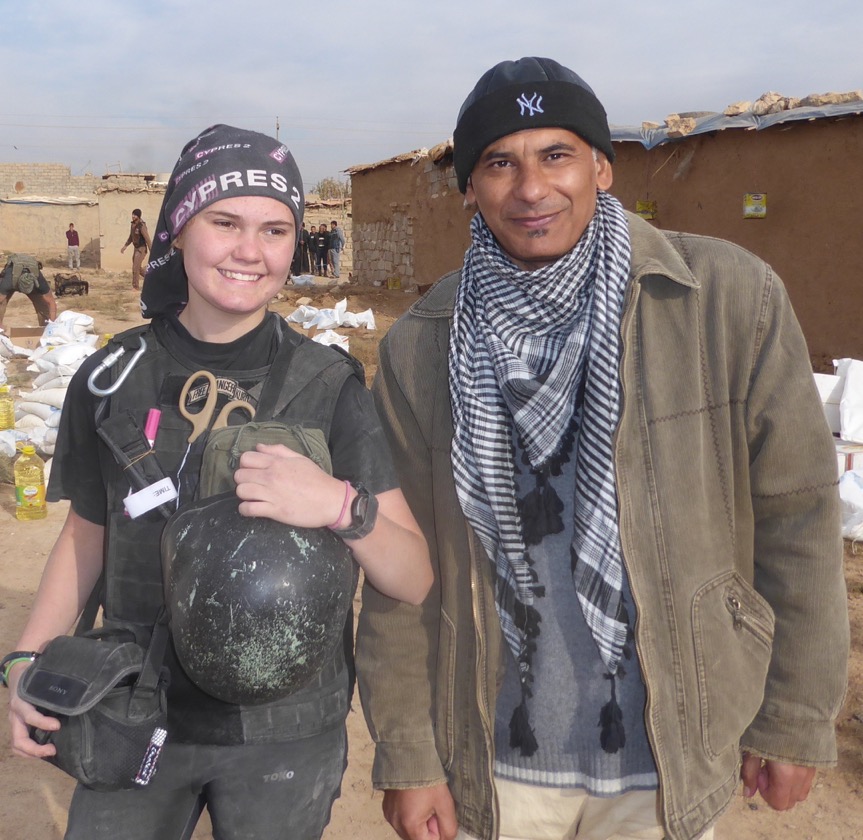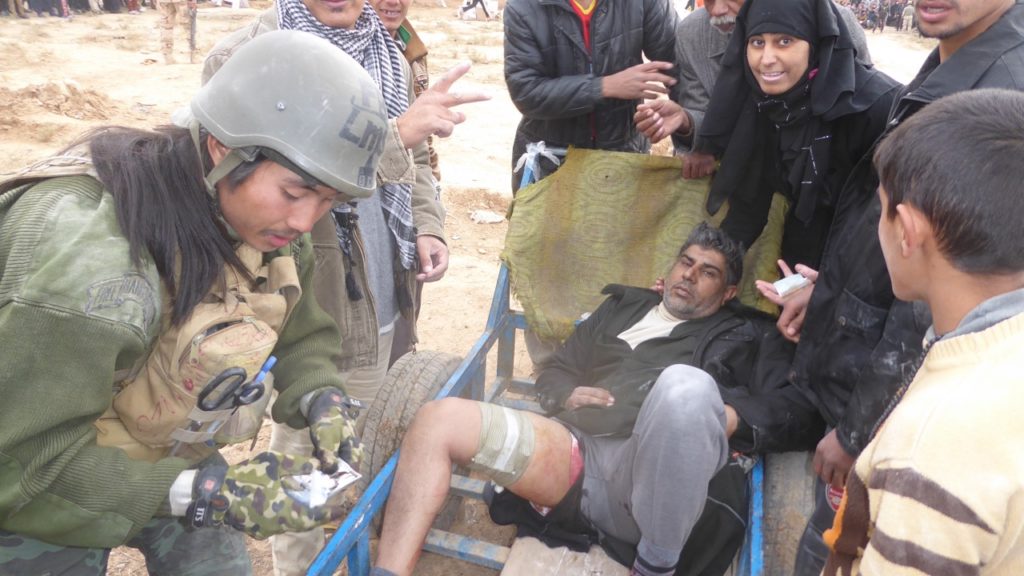 "The Good Samaritan Story"
We did a Good Life Club children's program in an abandoned school in southeast Mosul. Iraqi soldiers provided security for our program and invited the families of the neighborhood to come. Our team taught English songs, gave bracelets symbolizing God's love, gave Good Life club T-shirts and lastly performed a play about the Good Samaritan. They acted out Jesus' story about a Jew who was robbed and left for dead, ignored by his own people but then rescued by a Samaritan, an outcast by the Jews. This story is about love, risk, and forgiveness that crosses religious and ethnic lines. During the play ISIS attacked with mortars, RPGs then began an assault on our building with rifles and machine guns. The Iraqi Army asked us to finish the program quickly as booms reverberated through the building and machine gun fire went back and forth. We ended the program with a prayer and handed out all our shirts. As a man was leaving with his children he thanked me profusely saying, "That was the most wonderful play because it describes our people. We should be like that Samaritan." Then under cover of Iraqi Army fire we escorted the kids out of the school to a street out of the direct line of bullets so that they could get home safely. We thanked the soldiers and one of them said, "Thank you. We love helping the children."
"A Meeting with the Shia Militia, PMU"
While the Iraqi Army is leading the fight against ISIS an assortment of Shia militia, the PMU as detailed above, have also taken an important role. On our way out of Mosul one day we ran into a Shia militia checkpoint. They had their own assortment of red, black, and green flags and looked at me with suspicion when I approached them. "Why are you coming this way?" they asked, as we were on a route we usually did not take out of Mosul. I told them that two weeks earlier I had been on a rescue of Iraqi soldiers who were moving relief supplies and were ambushed by ISIS at that very spot. Their vehicle had been destroyed by an RPG and they'd all been shot, but escaped into the ditch where they fought back and called for help as ISIS approached. We got there in time to hold off the ISIS attack and rescue them. I said I wanted to see what that place looked like in daylight. ISIS had been driven out of the area a week earlier so now I had an opportunity to see it. The Shia militia said, "You didn't know it, but the night you rescued the soldiers, we attacked ISIS from behind to help you." As I went back to my truck I felt what I can only describe as God encouraging me to give them a Jesus film. I hesitated because I didn't want them to think I was some kind of fanatic, so I prayed, "Really, God, I don't want to be afraid of man, but I want to be respectful and loving." I then felt assurance to give them the video. I walked back to the militia commander and said, "I want to give you a film about my leader, Jesus. If you don't like it you can throw it away." The soldier said, "No, no. I love Jesus." Then he kissed the DVD and placed it on his eyes and said, "He is my eyes" and then on his head and said, "He is my head. Thank you for this!"
Like this militia leader, the Iraqi people we have met have been warm, loving and grateful. They face challenges between Sunni and Shia but we support what we see is a new commitment to understanding and living together.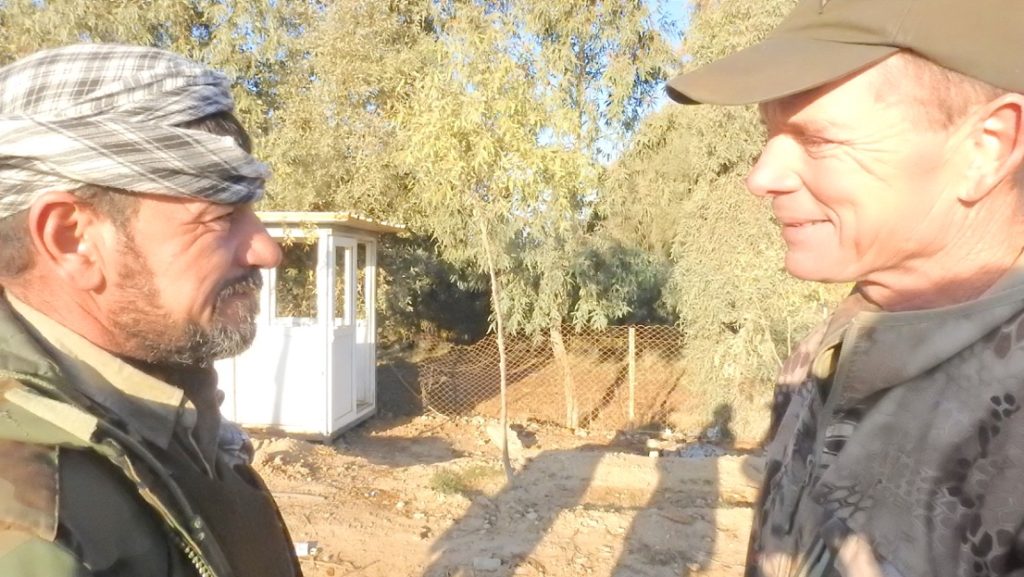 Faith:
FBR as an organizations is made up of people of many faiths: Christian, Buddhist, Animist, and Muslim. But for me and the leadership of FBR, Jesus is our guide and we want to be His ambassadors here. "God sent you when we needed more help," said General Mustafa of the 36th Iraqi Armored Brigade. He told one of the leaders of the PMU, "David is good and we can trust him because he follows and honors God." We feel God sent us to help, not on our terms but to serve the needs of the Kurd, Iraqi and Syrian people.
We have grown close both to the Iraq soldiers we work with but also civilians in areas that are being liberated and IDPS who are fleeing ISIS. While we were working with the Kurds and before we were invited to help bring food for people in Mosul we were told, "You Free Burma Rangers may be able to work in Kurdistan and pray with people there but in Mosul its completely different. There is no place for Jesus stuff in Mosul because God is not there. It is a violent, extremist place, it is not your place." We believe God led us to Mosul and further into Iraq and our prayer is to be His ambassadors. In spite of our own weaknesses and sins, we see Jesus there and see the hunger of people for love and care.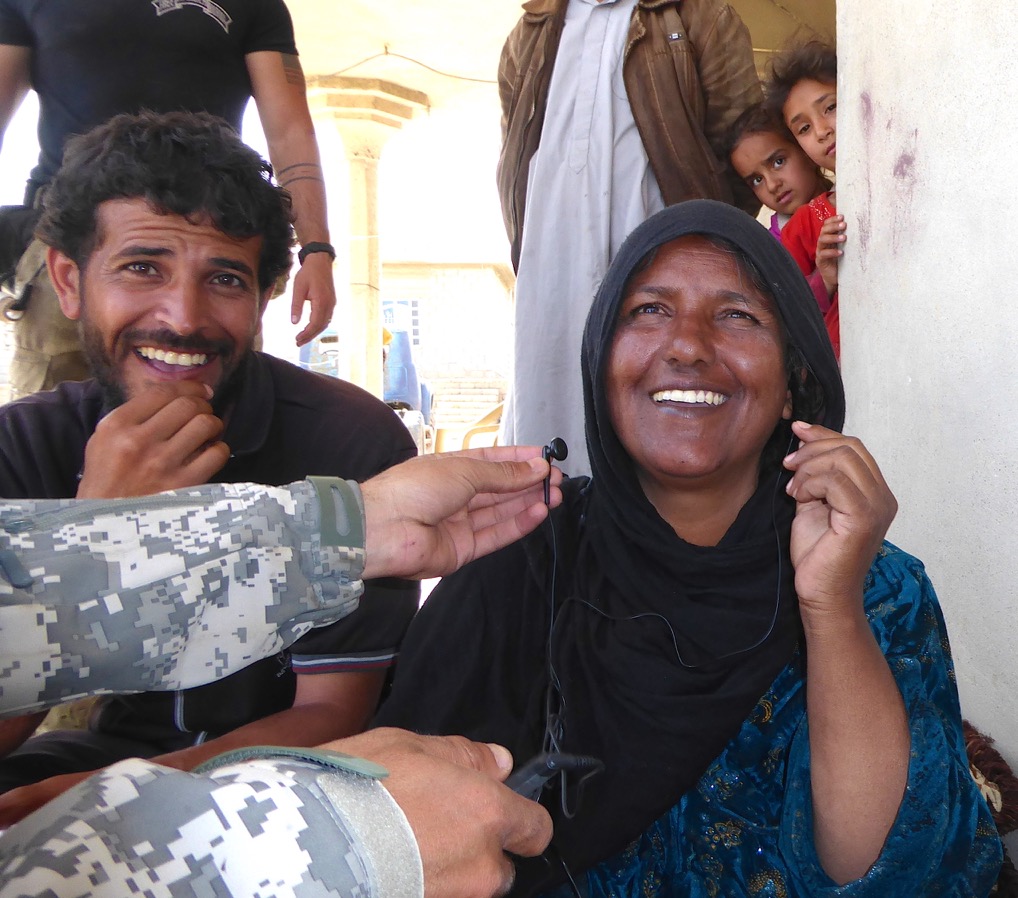 Future:
We were doing a Good Life Club children's program in a liberated village last week. As we were sizing shoes for the children I looked up and saw Iraqi soldiers from our detachment running through the village. Soon they came back holding on to two men. One turned out to be a mid-level ISIS leader and the other was the man who sheltered him. Both were on the Iraqi ISIS list. As they were driven away I thought, "The villagers knew they were here all along but said nothing." We had been here for three weeks and only now someone had informed General Mustafa that there was ISIS here. Why did they do that?
I think it was for two reasons. First, they saw the Iraq Army had won and were here to stay. Second, they saw that the Iraqi Army and their friends (us), were here to help them. We had given all the families here over one month's supply of food, shoes, milk, diapers, hygiene supplies, clothes and now a full childrens program with them led by our team with my wife and children. Our three children played with their children and rode one of their horses all over. We shared love and lived amongst them. Trust was built. This is why they informed on ISIS and enabled the Iraqi Army to capture them. As I look at the future of Iraq I see two things are needed: One, strong military and police action to root out ISIS. Two, love and help for all Iraqis and a commitment to stand with them all the way in every way we can.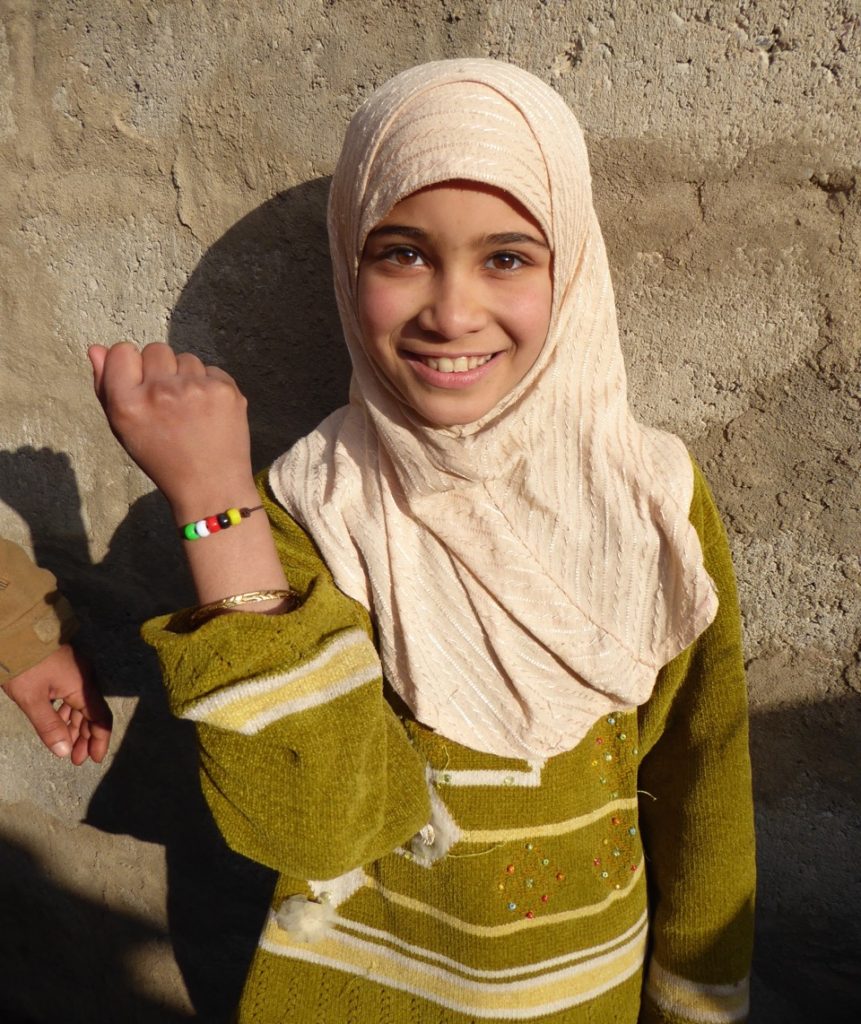 Dear reader, I want you to know that though these people are different in culture and religion than many of us, they have welcomed us and taught us much about love and courage. We have seen how much they care for us others, even those who were their enemies. My prayer is that we will do all we can to help for the sake of the Iraqis and the world.
Thank you and God bless you, Dave, family and teams