Update and Map on the Current Situation in Kachin State
9 May, 2016, Kachin State, Northern Burma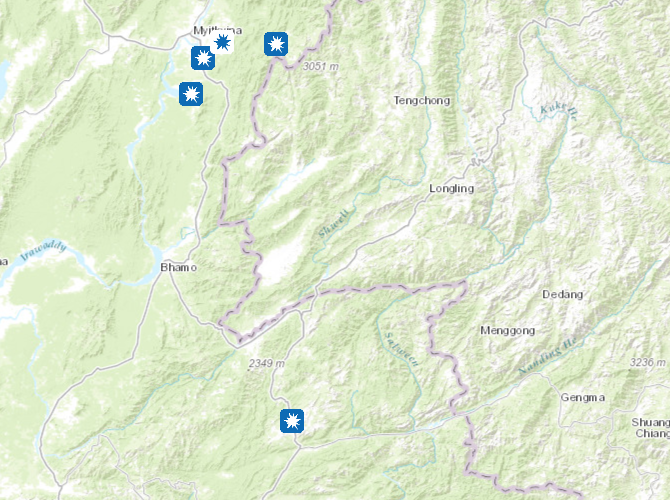 30 April 2300: An estimated 40 Burma Army soldiers from Nmawk, entered into Namsai, Wa Baw village, and took away four civilians; Maran La Seng, Maran Naw, Hpauswi Brang Nan and Hpauswi Naw San. They then advanced toward KIA militia's Chyaut Dung Ji Post (LG 323 734) and attacked. Fighting occured and KIA militia decamped from the post, moving to Mansi township in an area of KIA No.1 Battalion under No.3 Brigade.
1 May 0900: Ten Burma Army soldiers from 36th Infantry Battalion were struck by 3 remote-mines detonated by KIA soldiers as they were traveling  between Ban Dawng and Edin, an area of KIA No.18 Battalion under No.5 Brigade, Nam San Yang Sub-township.
1 May Between 0920-1300 : TNLA troops and RCSS/SSA troops clashed at Sai Lin, Pang Hka, Loi Hawm, at 1015 hours. TNLA troops and Burma Army troops under LID (33) clashed at Win Man in Manton township in an area of KIA No.8 Battalion under No.4 Brigade, northern Shan State.
27 April: unknown battalion of Burmese troops under Light Infantry Division (99) based at Hpawng Seng, fired a 60mm shell toward between Nawng Jang and Nawng Hpai in an area of KIA No.38 Battalion under No.6 Brigade, northern Shan State. At 1600, they re-fired one shell.
(a) 29 April 1005: the troops from KIA No.17 Battalion and an unknown battalion of Burma Army troops under the command of Light Infantry Division (77) clashed at Man Kang (old village) near Ji Lai Pa village in Kuthkai township.
(b) 30 April Between 1200-1220: fighting occurred when the troops from KIA No.17 Battalion defended an advance of an estimated 120 Burma Army troops of unknown battalion under LID (77). The village mayor and secretary from Ji Lai Pa village were later beaten by Burma Army troops and taken prisoner.
27 April 0910: Hpumlum Yang IDP Camp caught fire. Casualties and damage unknown.
26 April 0730: Three teenage boys named David Nhku Naw Naw (19), Lasu Naw San (17) and Brang Mun (17) were slashed by an unknown group consisting of eight people who were identified as Burmese. The three boys were slashed as they were coming out of Tsan Lun Church, Quarter (7). On the same day, a Shan boy (unknown name) was also slashed by an unknown group of Burmese, in Lashio township, northern Shan State.
Between 25-28 April:  the Mali Hka river and Mogoung river flooded, causing the damage to 2250 acres of crops; ground nut farms, maize farms, pulse farms belonging to civilians from Ta Padawng, Ta Hu Na, Wai Lung villages.
29 April: The homes of Mr. Chyo Lin, Pa Hkawng Roi, and Ms. Lama Roi, as well as four houses of KIA militia members in the Lai Nawng village and Sut Ing village were damaged by heavy storm, in Hpakant township. And the gale also damaged 46 houses in Nam Maw village and 54 houses in Sabaw village. A 13-year-old boy Maung Toe Win and an 11-year-old girl Ma Tin Moe from Nam Maw village, and Ma Toe Toe from Kawng San village were injured.