FBR REPORT: Fighting in Kachin State ends 17-year cease-fire; 10,000 people displaced
Kachin State, Burma
4 July, 2011
---
Fighting between the Kachin Independence Army (KIA) and the Burma Army broke out on 9 June 2011, ending a 17-year cease-fire agreement between the two groups. As many as 10,000 people have been displaced by the fighting in Southeastern Kachin State, according to Democratic Voice of Burma. A Kachin women's organization has reported that at least eighteen Kachin women were gang-raped by Burma Army soldiers. The fighting was sparked by a dispute over control of the area surrounding the Chinese-run Taping hydropower projects. Currently the fighting has not escalated, but no new cease-fire agreement has been reached.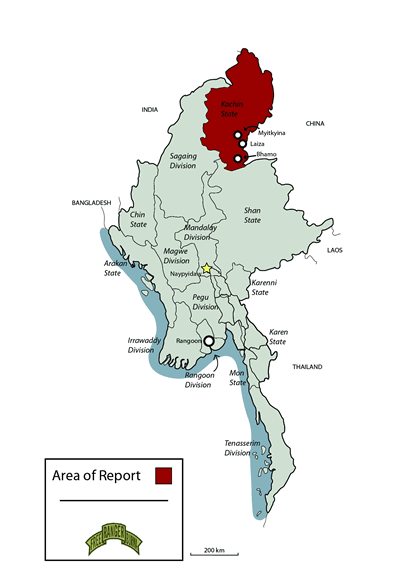 Map showing area of report
The Kachin Independence Organization (KIO), which controls the KIA, and the Burmese regime signed a cease-fire in 1994, which ended fighting in the area and gave the KIO some governing authority over a substantial part of Kachin State. In 2008, the China Datang Corporation and the regime began work on two dam projects along the Taping River in Bhamo District of Kachin State, the Taping No. 1 and Taping No. 2 hydropower projects. Relations between the KIO and Burma Army have worsened as the KIO rejected demands to become a Border Guard Force (BGF) under tighter Burma Army control, and the Burma Army refused to allow some Kachin parties to contest the November 2010 elections. On 19 May, the KIA demanded that all Burma Army troops near KIA camps should withdraw from their positions by 25 May, which included the Taping project area. The Burma Army did not withdraw. Small-scale clashes ensued and people were arrested by both sides. On 8 June, members of Light Infantry Battalion (LIB) 437, responsible for security at the Taping project, approached the KIA Battalion 15 camp and were detained. Burma Army Northern Command demanded their release, and the KIO responded with an offer to exchange them for KIO prisoners being held by the Burma Army. At 7 am on 9 June, Burma Army LIBs 437 and 348 began shelling KIA troops at Bumsen near Sang Gang, and the KIA fired back. An agreement was reached to exchange prisoners and the KIA returned six soldiers, while the Burma Army returned the dead body of Lance Corporal Sau Ying, who appeared to have been tortured.
Further fighting occurred on 11 June while local people fled toward the Chinese border. A reported 10,000 people have been displaced, and 215 Chinese workers evacuated the dam project to return to China. The Kachin Women's Association Thailand (KWAT) reported that they had confirmed eighteen cases of gang-rape by Burma Army soldiers between 10 and 18 June, which are detailed on their website. They also reported that in Je Sawn Village, Man Si Township, a 7-year-old girl was killed by Burma Army soldiers, who then gang-raped and killed her grandmother. KWAT said Burma Army Battalions 237, 141, 142, 139 and 437 were responsible for these rape cases. Christian Solidarity Worldwide reports that people in the area have been forced to carry weapons and ammunition for Burma Army troops, and that private vehicles have been commandeered by the Burma Army.
The Irrawaddy reported that the KIO received a letter from Thein Zaw, a Kachin member of the newly elected national parliament, claiming the Burma Army had ceased fire and the KIA should also do so. However, the KIO has demanded evidence that senior Burma Army officials will honor a cease-fire agreement. Small-scale fighting has continued but has not intensified as attempts to establish another cease-fire continue.
There are three Kachin Free Burma Rangers serving their people in Burma, however none of these teams are in this immediate area of this report. This report is drawn from the sources mentioned above and direct reports from the KIO.
God bless you,
Kachin FBR teams