FBR REPORT: Shan Team Member Gives His Life for Love and for Freedom
Shan State, Burma
29 September, 2010
---
Dear Friends,
The Burma Army killed one of our Shan relief team members on September 14th 2010 as he was giving humanitarian assistance to people in need in Shan State, Burma. While on a relief mission Sai Yod (name changed to protect his family) was shot in the back and killed by Burma Army troops from IB 99, MOC 17, commanded by Aung Than Tai. Sai Yod was the team camera man as well as one of the Good Life Club team members who focused on helping children. He was a kind and smiling man who loved to help others, endured hardship without complaint and loved children. He was a hard worker, tough, and never surrendered. The people he helped had a funeral service for Sai Yod and the team is continuing the relief mission. We will do our best to help his family and are grateful for your prayers.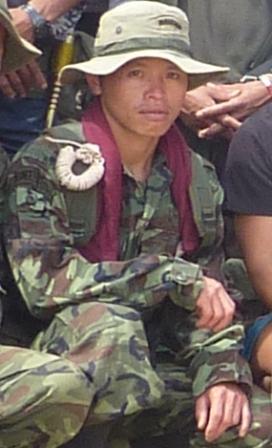 Sai Yod, Shan FBR Team Member, killed by Burma Army 14 Sep 2010
We miss Sai Yod but believe that we will see him again in the place where all tears are wiped away.
"Greater love has no man than this that he lay down his life for his friends" –John 15:13
Thank you and God bless you,
Shan Free Burma Rangers