FBR REPORT: The Death of Shining Moon, A Karen Relief Team Leader
Karen State, Burma
22 May, 2008
---
Shining Moon, an ethnic Karen Free Burma Ranger team leader, died last night on 20 May 2008 from complications of acute malaria. He was 26 years old and was a team leader, district coordinator, Good Life Club counselor, member of the Karen National Union, and the Karen Youth Organization. He was single and his family live in a forced relocation site in Burma.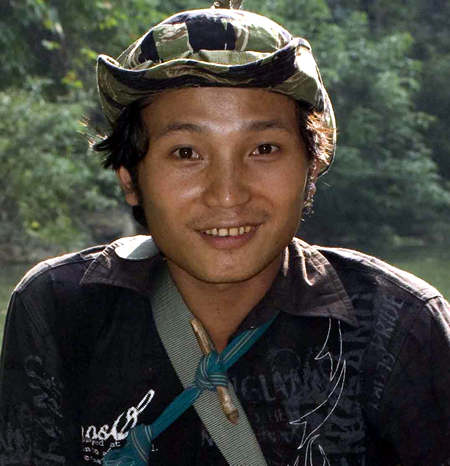 Shining Moon on his last mission in Karen State. April 2008
Shining Moon was the leader of the three Toungoo District Free Burma Ranger teams, in Northern Karen State, Burma. He coordinated and led these teams in helping to bring help, hope and love to people under attack in this, one of the most oppressed areas in Burma.
Shining Moon was one of the first to regularly infiltrate into Burma Army held areas and to send out high quality images and reports of human right abuses by the dictators. His images and reports have been broadcast all over the world. He was a fearless leader and was always at the front line helping people under attack.
Shining Moon also worked in areas and cities under complete Burma Army control and carried out missions to gather information, put a light on the situation and to build relationships and hope among people under oppression. Along with being an outstanding leader, Shining Moon was a man of compassion and selfless service who spent most of the time living with people displaced by the Burma Army.
He was wonderful with children and my own three children have lost a favorite uncle. Last month at the wedding of two of our medics Shining Moon ran through a refugee camp with our two-year-old son laughing and shouting on his shoulder. Last night when my five-year-old daughter learned that Shining Moon had died, she cried for him, saying, "Oh Shining Moon, oh Shining Moon, I miss you."
We all miss him terribly and are grieving his loss.
Shining Moon was a Christian and believed his eternal home is in heaven. We believe that too and look forward to seeing him there. That hope and all the good memories and lessons we learned from him are a consolation for us.
As I reflect on what his loss means to us in every way; personal and professional, I am convicted to be more careful about my time, to try to put people before programs or 'to-do' lists, to listen better, to wait longer, to take time to help and to take the time to rest and play.
To Shining Moon I want to say, "I am so sad my brother that you are gone. I know you are in a better place and that I will see you again because of God's love. I want to say I am sorry for not spending more personal time with you. At the same time I want to thank you for sharing your life with us and for all the miles we walked together, the dangers we faced, the joys we shared and the lessons of humility, cheerfulness, toughness, and that smiling 'can-do' spirit that you gave me and all those around you. We will go on for the cause of love and freedom and we will try to do it like you did, in the way of love, justice and truth. Thank for your example and how you lifted us all up. It is your country and we are only guests, yet you were as a servant to us. I love you Shining Moon and miss you so much."
"And dear God, thank you for the gift of Shining Moon in our lives and that all that is truly precious is safe in your hands. Thank you that although this life is fatal, it is not final. Thank you for Shining Moon, and as we miss him, help us to live up to who he was and what he lived for. I say this in gratitude to Shining Moon and to you God, I say this in your sons name, Jesus. Amen".
Thank you and God bless you,
A Relief Team Leader
Free Burma Rangers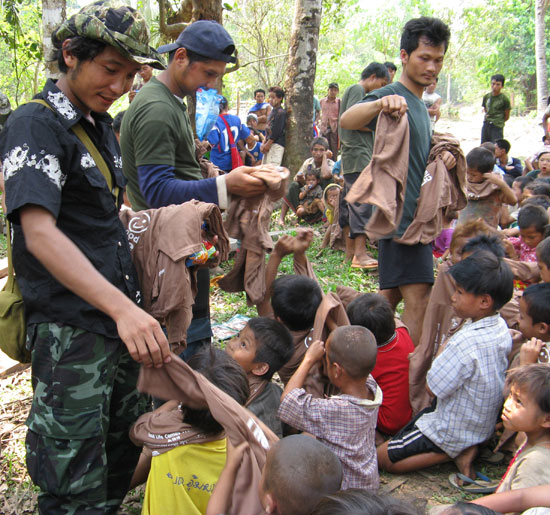 Shining Moon (far left) and Good Life Club program. April 2008.