FBR REPORT: Children on the Move, the Cost of Oppression
Karen State, Burma
18 February 2008
(Report sent directly from the field.)
Dear friends,
We are sending this out from Karen State where we are on a relief mission.
Here are some photographs that illustrate the ongoing cost of the oppression to the people of Burma by the Dictators. The first three photos we took here yesterday in Papun District and are of families fleeing the Burma Army. We had met these families back in December, where they were hiding after being chased out of their village by Burma Army troops. We gave them some assistance then and they participated in the GLC program for mothers and children. Some of us also photographed and reported on the two new Burma Army camps that were built above their abandoned village. From these camps the Burma Army shells down into the surrounding rice fields (in November killing one of the villagers from this group now with us). Also from these camps come patrols that shoot on site anyone they find. In the fields around this village 11 people were wounded and 2 killed and a mother and daughter captured in November 2007 alone.
In December, when we first met these people, they said they were trying to stay close to their farms. Now in February, they said they could not take it anymore and with the help of the Karen resistance (Karen National Union – a pro-democracy ethnic organization) they are trying to find a safer place to live. As we were talking with them and giving some help, the people put down their loads and some began to smile and talk. However, one young 20 year old woman only looked down and seemed very sad.(She is pictured in a pink sweater with a group sitting by a rock). I asked her what she was feeling and she said she was so sad to leave her home, she did not want to leave her farm and that she was born there. It is the home she knows and loves and she doesn't want to leave it at all. We tried to comfort her and prayed with the group. We gave them some small help for food, treated one of he children who was hurt and they continued on their way.
The last photo is of a man who was captured and forced to porter loads for the Burma Army. He escaped from them and ran into the jungle only to step on a landmine. He was found by the local Karen resistance (KNU) and treated by medics. This photo was sent to us by one of our relief teams in Toungoo District.
We were planning to send out a message today about the wedding of one of our team leaders but when these families came through and when we received the photo and story of the landmine victim we wanted to send this out first.
We will be sending the good news of a wedding in the midst of the oppression, and want you all to know there is hope here still, good organizations that help and that joy is found and life goes on. We are grateful to be with these people and thank all who help.
Thank you and God bless you,
A relief Team Leader
Karen State, Burma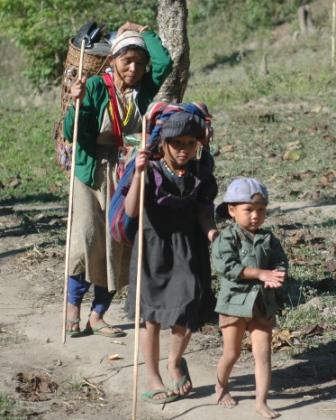 Children flee with Grandmother 17 Feb 08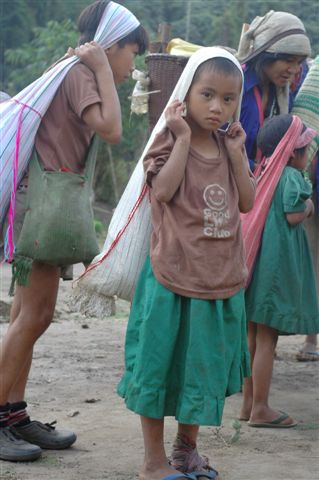 Children on the move 17 Feb 08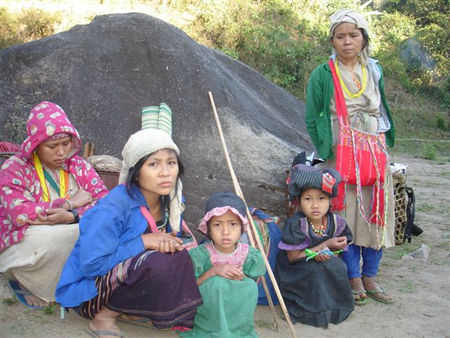 Sad girl and family resting 17 Feb 08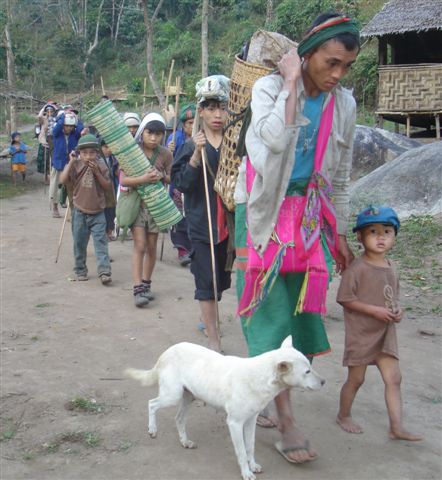 Families fleeing to new site 17 Feb 08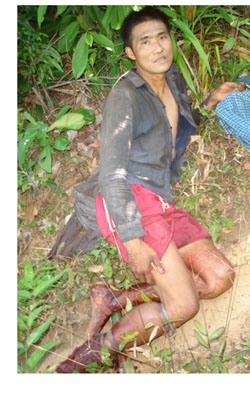 Escaped porter who stepped on a landmine