FBR REPORT: Five Villagers Killed and Three Wounded in Continuing Burma Army Attacks
Karen State, Burma
Report Date: 2 November 2006
The Burma Army's attacks against the people of the Northern Karen State is on a large scale, 20,000 in hiding, but people die individually. This week two boys and three men were shot to death, two more villagers were shot and are still missing and one villager stepped on a Burma Army landmine. The people under attack have been continuously shot at and chased since February this year.
The immediate needs of these people are security and protection from the Burma Army, food, medicine and shelter. The following report is being sent from two other FBR teams helping at the township level. (We are investigating the report of the execution of 42 porters by the Burma Army-not yet confirmed).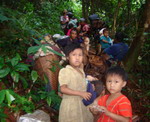 These people are fleeing the Burma Army attacks on their villages in Mone Township. 29 October 2006.


This is the picture of a 76-year-old woman fleeing into the jungle to find a safe place to hide from the Burma Army attack on her village, Nwa Lay Ko, on 28 October 2006.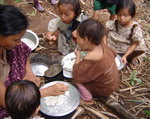 This is the picture of a displaced mother feeding her children in Mone Township on the run, after the Burma Army attacked their village on 28 October 2006.


A Yu Lo villager stands in the charred remains of his home that the Burma Army burned down.
Toungoo District: Northwestern Karen State:
Three villagers from Malagone were shot and killed, and one wounded by Burma Army IB 37 troops, led by Aung Ka, on 25 October 2006. The 3 villagers who died were Saw Mg Mg, age 40, Saw Chit Chit, age 16 and Saw Ah Cho Moo, age 15. The person who was wounded is Saw Kwa La Moo, 15 years old. Villagers are allowed to travel between 6 a.m. and 4 p.m. each day by the Burma Army. The troops shot and killed the villagers at 3 p.m. in their farm huts.
One Yu Lo villager stepped on a Burma Army landmine on 22 October 2006 and was sent to Tha Pyi Nyut.
From 10 to 31 October 2006: 25 porters (prisoners) arrived in frontline areas in Toungoo District. Over 50 porters were reportedly killed by the Burma Army during the operation. One porter interviewed said he saw 42 porters beaten, shot and killed by the Burma Army troops at the Nya Kya and Busakee road because the porters could not walk properly. Later the troops sent 21 porters home from the front lines.
Note: All of the troops mentioned above are from Division 66. Burma Army Division 99 then replaced Division 66's position at Paletwa. Division 66 has moved to along the Toungoo to Mawchi car road to continue construction on the road.
On 27 October 2006, one of the Division 99 commanders told the surrounding villagers that all the villagers and Karen National Union (KNU) have to surrender to them. If not, they will gather all Division 99 troops and "clean up", by destroying all the villages and KNU positions.
Burma Army IB 35 Column #1 left Naw So camp and went to Klay Hta village, Daw Pa Ko Township, Toungoo District Karen State. They shot machineguns and mortars into the village on 1 November 2006, at 5:10 p.m.. They shot for 6 minutes and then burned down the village at 5:30 p.m.. All the villagers ran away. One of the villagers, named Saw Ay Pweet, was killed and two villagers, named Saw Baw Thoo and Naw Heh Ku Mo, were
wounded and are still missing. The Burma Army IB 35's commander is Soe Tun and the deputy commander is Saw Nay Myo.
IB 11 came from Tha Aye Hta camp, went through Thay Ku Der and will patrol in the Ho Kee area and they are ordered to burn down all the villages in their way. The Burma Army IB 11's commander is Han Moo Aung and the deputy commander is Aung Than Htway.
Western Karen State: Mon Township, Nyaunglebin District:
Burma Army troops shot and killed one villager in Htee Ko Village, Ler Kla Village Tract.
Burma Army troops burned down 13 houses and one school in Taw Po Hta Village, Kwee Deh Kaw Village Tract at 11:00a.m. on 28 October 2006.
Over 1,450 people from one valley area alone are now fleeing as the Burma Army attacks their village and machineguns hiding places of the displaced in Southern Mon Township, Nyaunglebin District, western Karen State. This message is being relayed out from a team leader on the ground with the people under attack. This is part of an ongoing offensive that has displaced over 20,000 people and shows no sign of relenting.
The villagers on the run now come from 32 villages (listed are the Village Tract name and the number of villages in the village tract in parentheses); Ler Kla Village Tract (8 villages), Saw Ka Der (3 villages), Htee Ler Baw Hta (4 villages), Kwee Dee Kaw (6 villages), Kyauk Phya (3 villages), Thet Baw Der (4 villages), Saw Tay Der (2 villages), Kwey Po Der (1 village) and Yaw Kee (1 village). These villagers have all now fled into the jungle.
The Burma Army continues attacks and patrols, causing those in their path to run for their lives. Burma Army LIB 242 left their Htee Lu Baw Hta camp on 20 October 2006, on their way to Ler Taw Dor Village, Ler Klar Village Tract.
On 22 October 2006 the Burma Army shot one villager in Hoe Pu Village. They continued their attacks in Ler Kla Village Tract and destroyed the villagers' emergency food stores they hid in the jungle, the villagers' belongings left in the village when they ran from the troops, and the villagers' farms and crops in their fields.
On 24 October 2006, Burma Army LIB 241 were staying in Kyaut Phya Village Tract, the Htee War Bgay Kee and Maung Taw Doh areas. That day, those Burma Army troops left and patrolled in Kwee Deh Kaw, Kyauk Phya, Thet Baw Der areas, causing an exodus of all the villagers in their expected path and surrounding areas. In this area, the Burma Army troops destroyed the villagers' farms, the belongings they left in the village when they fled and anything else left in the village.
At the same time, Burma Army from Kalawa Lu camp divided into two patrolling groups and went to Htee Ler Baw Hta Village Tract, Thay Ke Lu, Nwa Kee, Tai Mu Kee, Nwa Hta and Htee Taw Kee village and remain in that area. The people from those villages and surrounding villages are in hiding and have insufficient food, medicine and shelter (it is still raining there).
The FBR relief team leaders with these displaced people reported the situation as very difficult and asked especially for medicine and prayer.
ENDS