FBR REPORT: Burma Army Captures 800 Civilians and Forces 1,000 Prisoners to Porter for Their Offensive
Karen State, Burma
3 June, 2006
 

| | |
| --- | --- |
|   | |
|   | According to escaped porters, Burma Army MOC 15 captured 800 civilians and took 1,000 prisoners and forced them all to porter. |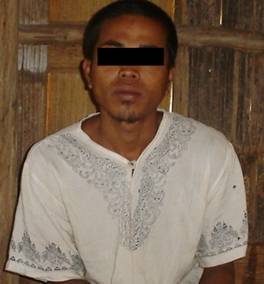 Escaped Burman Porter, June 1, '06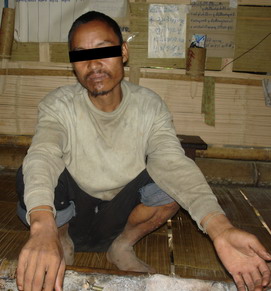 Escaped Lahu Porter, May 26, '06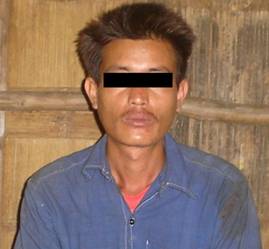 Escaped Chinese Porter, June 1, 2006
According to escaped porters, Burma Army MOC 15 captured 800 civilians and took 1,000 prisoners and forced them all to porter. MOC 15 is attacking with seven battalions and their troop strength is between 1,200-1,300 soldiers.
A relief team met with three porters who escaped from the Burma Army in Muthraw District, northern Karen State during this recent offensive and interviewed them. Two of the three reported seeing the Burma Army soldiers beat and kill some of the porters. The Burma Army captured a 26-year-old civilian earlier this year and forced him to be a porter and work for the soldiers, carrying ammunition, food and other military supplies.
At the height of the offensive, when these porters were used, 18,000 people were displaced and now the total number of IDPs in Nyaunglebin, Toungoo and Muthraw Districts is now over 15,000.
*Names changed for the security of those interviewed and their families.
1) Burma Army Captures Civilian and Forces Him to Porter for the Army:
Interview Date: 1 June 2006
Name: Min Ko*, 26 years old.
His father is Karen and his mother is Burman.
His father's name is Saw Han* and his mother's name is Daw Daw*. He is from the Irrawaddy Division, Yeggyi Township, Thabaun Village. He was a boat driver. He is Buddhist.
Min Ko was captured on his way to his friend's house after they watched a movie in Pyu Town. His friend, Win Win*, was also captured.
Min Ko arrived in Pyu at 7:30 p.m. and instead of going to his friend's house, they went to see a movie. The movie finished at 11 p.m. On their way home a military truck stopped near them; the soldiers beat them and threw them into the truck.
He was sent to Kyauk Kyi Thanbo Military prison (Burma Army IB 60). He was told that he had to help the Burma Army, but if he made it to Muthey army camp he would be released. When he arrived in Muthey, he was told by the Burma Army that he would be released after one year.
He was forced to work for Burma Army LIB 552, Company #4, Captain Ne Lin Oo (22 years old). He cooked and cleaned for the officers. He carried six RPG rounds, three containers of rice, and 1,000 rounds of MA1 ammunition from Baw Soe Ko to Maw Law army camp.
He overheard Captain Ne Lin Oo talking to one of his officers after the Captain had recently returned from a meeting with other army leaders. The Captain commented to his officer that this operation was very difficult because they were required to shoot anything they saw- including civilians, small children and the resistance.
He helped move all Burma Army supplies including food and ammunition from Baw Soe Ko to Baw Kwaw. He thinks that in the summer (March-May) the troops he was with were planning to attack Ler Wah (or Lay Wah- he was uncertain of the exact name) and that the length of the current operation would be one year.
He said Burma Army MOC 15 have seven battalions and their troop strength is between 1,200-1,300 soldiers. They captured civilians (800 people) and took people from prison (1,000 people) and forced them to porter.
The Burma Army soldiers caught eight porters trying to escape and beat them. The soldiers then gathered the porters in one place and hung the three porters from a tree and beat them again, making them an example of what would happen to anyone who tried to escape. Then the Burma Army shot and killed those three porters.
He escaped and is now being taken care of in a Karen community in Muthraw District, Karen State, Burma.
2) Prisoner used as Porter for the Burma Army.
Interview Date: 1 June 2006
Name: Han*, 32 years old, ethnic Chinese.
His father's name is Maung Maung* and his mother's name is San Show*. He is from Na Moh Village in Lashio Town and was a taxi driver. His religion is Animism.
He said was taken from Toungoo Prison on 6 February 2006, along with 800 other prisoners. He reported that among the 800 prisoners, he estimates only 200 are still alive. He said that 600 have died, and he thinks 300 of those were killed by the Burma Army and 300 died of sickness. The people were killed because they couldn't continue walking, were beaten and left to die. Others were shot and killed.
He was an eye-witness to 7 or 8 people being killed by the Burma Army soldiers. One person was killed at Mwey Bwey Gone, two at Ying Kwey Thaun and two at Pyat Daw. They were killed and thrown beside the trail.
One time, he saw the Burma Army mortar a farm house because they saw smoke coming from the house. A young girl died as a result. and he saw her body. He said LIB 362 went into one village near the Yunzalin River and LIB 363 was on the hilltop nearby. LIB 362 burned over 50 houses in the village. They shot the animals in the village and they brought some of the animals back to the hilltop.
3) LAHU man from Shan State used as porter in Karen State.
Interview date: 26 May, 2006
Name: Hkya*, 40 years old, of the Lahu ethnic group.
The Burma Army took him from prison after he had already served the majority of his prison sentence and made him carry rice and ammunition and help carry a landmine victim. He escaped and is being taken care of by a Karen community in Muthraw District.
He has four children and is from Kyain Ton Township, Bakyaw Village, Shan State, Burma. He is a farmer and has three acres of rice fields.
**Note on Burma Army organization: Division= 10 battalions MOC= Military Operations Command (7 battalions, 2 TOC. 3 Battalions per TOC and 1 HQ battalion). TOC=Tactical Operations Command (3 battalions) IB= Infantry Battalion LIB= Light Infantry Battalion
ENDS