FBR REPORT: IDPs Face Food Shortages as Farming Yields Fail in Western Karen State, Burma
Karen State, Burma
10 Oct 2005

KEY DEVELOPMENTS
IDPs face food shortages as farming yields fail
Mother and son die in jungle fleeing the junta
Junta operates repeated extortion rackets
744 IDPs given crucial medical care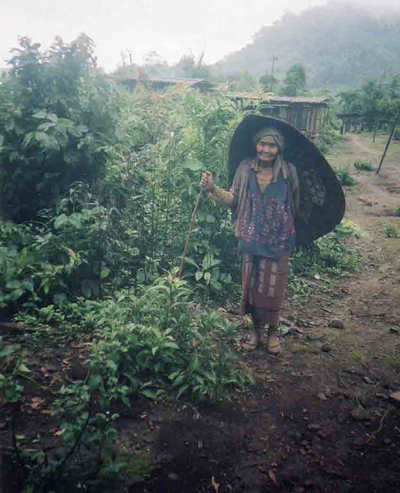 Food shortages for the elderly to work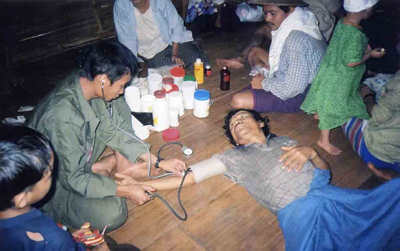 Medics carry out critical medical care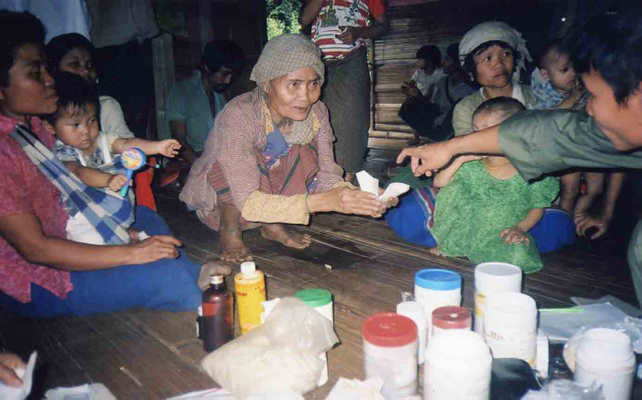 Medical distribution to IDPs
 
CONTENTS
Critical Information

Trip Summary

Human Rights Abuses

Interviews

Relief Distribution

Conclusion
1. Critical Information
Mission Dates: 18 June 05 to 11 July 05
Prepared by FBR team leader in Nyaunglebin (Kler Lwe Htu) District
Mission area: Ler Klah, Yaw Kee and Htee Ler Baw Hta Village Tracts.
 2. Summary
This mission inside Karen State confirmed that Burmese military action is resulting in food shortages, insufficient medicine and school supplies for IDP communities. The villagers live in fear of further attacks and the repeated displacement prevents them from being able to yield sufficient food year by year.  Already destitute villagers are being forced to hand over thousands of Kyat, food items and livestock to Burmese soldiers as they exploit their control over the IDP villages.
The team carried out qualitative interviews and distributed much needed medicine and school supplies to the four villages outlined above.
3. Human Rights Violations
Below is a selection from 20 separate accounts of human rights abuses carried out by the Burma Army within the dates of the mission.
a) On 7 May 2005, TOC Colonel Soe Twain forced five villagers to become porters to Tha Byin Nyunt military camp. The villagers* names are, Saw Say Say, Saw Ku, Saw San, Saw Kay, Saw Poh Poh. The Tha Byin Nyunt headman also demanded 40,000 Kyat from Yu Lo Village to repair an office.
b) On 22 May 2005, Lieutenant Maung Maung Htay led an operation to shell Malah Long Village, injuring a three members of a family* – Saw Poh(11), his father Saw Sar and mother Naw Me Me.
c) On 26 May 2005, Sergeant Major Maung Nyut entered into Kyaw Bya and Maw Lay districts. On 27 May, he called the headman and demanded that Ter Poh Village hand over 40 sacks of rice. 30 sacks of rice  were taken from Poe Thaung Sue Village, 40 sacks of rice from Lu Eh Village, 40 from Wae Gyi and 10 sacks from Khu Ler Taw. A bag of rice costs 5000 Kyat, costing the villages a total of 800,000 Kyat.
d) Len par military camp LIB (351) led by sergeant Kyaw Shwe demanded that villages, TâPoh, Myet Yen, Thei Char Sein and Haw Ko Gaw villagers to pay porter fees. Each village had to pay 5000 Kyat.
 *Names have been changed for the security of the villagers. The real names are on record.
4. Interview
Name   –           Saw Ler Lah*
Age     –           45
Father –            Saw Soe*
Mother            Naw Beh*
Place                XX XX* Tract, Mone Township
Occupation      Farmer
Children          Two sons
Religion           Traditional beliefs (Animist)
Nationality      Karen
Saw Ler Lah is a village tract leader (chief). He was asked about his experiences and he said that in his village the Burma Army soldiers often came and ate villagers' animals and took other things belonging to villagers.
He said that he faced many problems because the Burma Army troops burnt down several houses in the village. He also said that while he and his family fled to the jungle, his wife and one of his sons died as a result of wasp bites.  Saw Ler Lah reported that his village continues to live in fear because the Burma Army camp was only a one hour walk from his village.
 
*Names have been changed for the security of the villagers. The real names are on record.
5. Relief Distribution
The team distributed bibles, hymnals, children's gifts (Good Life Club), clothes and medicine during its mission.  The items were given to those considered most in need and an explanation was given as to why certain people received assistance.
a) Education – four schools were visited during the mission. School materials and supplies were given. However, it is clear that the schools do not have sport materials such as footballs, volleyballs and caneballs (Takraw). The four schools visited were the following; Ler Klar school which has 2 teachers and 18 students; Htee Ler Baw Hta school which has 3 teachers and 26 students; Nwa Kee school which has only 1 teacher and 17 students; Kaw Kee which has 2 teachers and 23 students.  All of the schools are primary schools and all need help to improve the education they are delivering.  
The children's future looks glum because parents cannot send their children to high school or higher education establishments. The majority of children will not go to school after primary school.
b) Health; the team treated a total of 744 people in all four of the villages.  The common diseases were malaria, diarrhea, dysentery, ARI (acute respiratory infections), UTI (urinary tract infections), worm skin infection, spleen, liver conditions, dizzy spells, eye problems, anaemia and many others.  The team also carried out vital health education programs; teaching IDPs to comprehend the effects of disease and how to prevent against contracting them.
ENDS