FBR REPORT: New Burma Army Attacks and Expansion of Operations Against Villagers and IDPs in Naunglybin District
Naunglybin District, Karen State, Burma
27 January, 2004
4,781 IDPs from earlier attack, 955 IDPs from the new attacks; total 5,736 IDPs from these two attacks. The new attacks are occurring 25 kilometers north of the first attacks, in Kyauk Kyi township.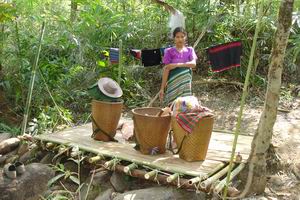 8 months pregnant women with all her belongings, in a hiding place, prepared to flee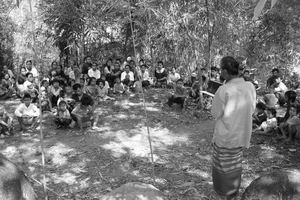 IDPs Christmas Service in hiding place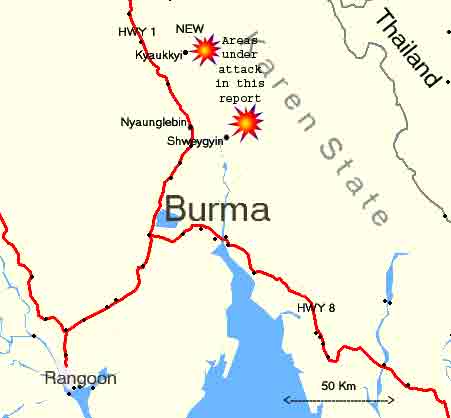 The SPDC's Burma Army is now expanding its operations in Naunglybin District, Karen State, Burma. In addition to the ongoing attack in Shweygyin Township in the Southern part of Naunglybin District, the building of three new forward camps and the extension of  the front there, the Burma Army has now launched an operation in Kyauk Kyi Township in the North-Central part of Naunglybin District. This is a smaller scale operation than the one in the south and involves two battalions LIB 382 and LIB 368.  These two battalions began their operations on 22 December, 2004 and have already displaced 955 people from 13 villages. Rice barns at Gwe Der, Du Baw Lu and Day Baw Kae have been destroyed. The villagers are in hiding now. Most of these villagers are actually IDPs who have had to flee their homes many times before. This year alone they had to flee the Burma Army twice, in June and September. This new area under attack is located about 25 kilometers East of Kyauk Kyi in the vicinity of N 18  17  E096  58.
The villages, families and numbers of people forced to flee are below:
Thauny Nye Der: 12 families, 65 people
Tha Kaw Du:  12 families, 122 people
Do Kae Kee:  12 families, 95 people
Kwe Du: 9 families, 65 people
Ko Lu: 10 families, 52 people
Kaw Hta: 6 families, 38 people
Ler Taw Lu: 9 families, 44 people
Day Baw Kae: 9 families, 64 people
Mukee: 30 families, 173 people
Tee Thaw Lo: 8 families, 40 people
Kaw Taw Hay Ko: 4 families, 29 people
Day Baw Lu: 9 families, 61 people
Mae Lae Kee: 15 families, 94 people
Total population fleeing now from this area: 955 people.
Update on the offensive and three new Burma Army camps:
Part I: Update on the offensive and three new Burma Army camps.
The Burma Army continues its operations against civilians in Naunglybin District, Western Karen State, Burma, 27 December 2004. They are building three new camps that when completed will further shrink the territory of the Karen National Union (KNU) in Western Karen State and force IDPs to flee further into the jungle. The Burma Army has completed a dry season only road from Shweygyn to the East to Kushaw Mountain N 17 56 00  E 097  07  45, on the Papun-Naunglybin District border. This road is now being improved with the use of Bulldozers. When asked why they thought the Burma Army was making this offensive now, IDPs and Karen soldiers answered that the area East of Shweygyn is rich in gold and timber. The SPDC desires to control this area and drive all IDPs out.
New Burma Army camps:
(Note: Each battalion has one section of a special "Guerilla Retaliation" unit attached.
These troops are specially trained in Toungoo (for operations in the Southern Command), and can function as regular combat troops or deploy in civilian dress to gain information or to launch surprise attacks against civilian targets. Known in Burmese as Dam Byan Byaut Kya or Bom Bi Doh.)
The Burma Army is building three new camps in the area they recently attacked, (14 Nov-15 Dec). These camps are in a line north to south forming a new eastern front, which penetrates deeper into Karen territory. They are built on what were Karen village areas. The 4,781 villagers displaced from these areas are still in hiding in the mountains and jungle near these areas and cannot go back to their homes. The Burma Army has placed landmines around the areas they attacked and burned, and patrol the surroundings.
Camp 1)       On 12 December a new camp was started on 12 December, 2004 at Su Mu Klo, on the South bank of the Bolo Chaung (river) at N 18 02 20, E 097 01  15,  approximately 20 kilometers North-East of Shweygyn city. The Burma Army drove out the villagers from this area burning their homes, rice barns and destroying their fields. These people are in hiding in the mountains and have very little to eat and only the clothes they escaped with to wear. The Burma Army Battalion LIB 589 continues to work on this new camp and has mined all approaches extensively. They have also mined all the old villages sites making it very dangerous for anyone to try and return.
Camp 2)      On 19 December a new camp was started at Wa Ko Law Thae , N 17 57  00   E 096 59 00, 15 kilometers East of Shweygyn, Burma Army Battalion IB20 is building a this new camp.
Camp 3)      On 21 December a new camp was started at Mae Tae Ta, on the Taungale River at N 17 50 30  E 096  58 15. This is 15 Kilometers East-South-East of Shweygyn. LIB 350 and LIB 598 are located here.
The seven Burma Army Battalions now engaged in the building of new camps and attacks on IDP sites are; LIB 350, LIB 589, LIB 20, LIB 349, LIB 598,
ENDS