Giving Birth on the Run: Kachin Flee as Burma Army Attacks
February 13, 2017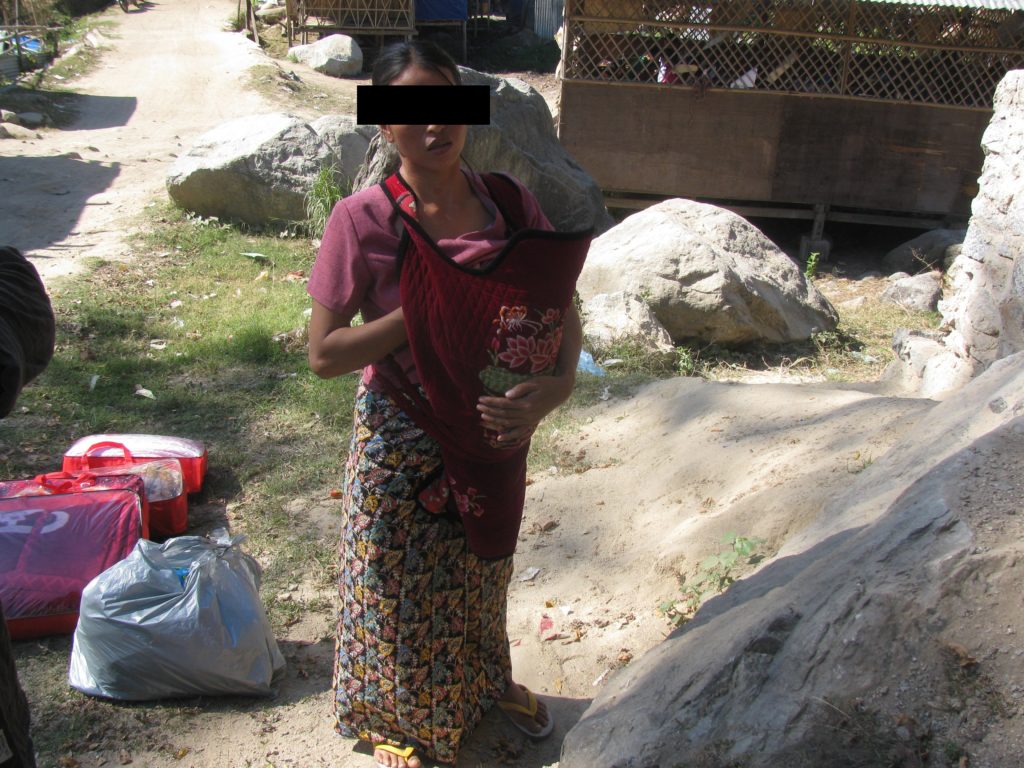 Thousands of Kachin, Shan, Lisu and Kokang citizens have recently fled heavy fighting in Northern Shan State, Burma along the Chinese border. Numerous war crimes committed by the Burma Army have been documented throughout this area which perpetuated these villagers fear and anxiety.
Among those who escaped was Maija (a pseudonym to protect her identity), a 34 year old Kachin mother of 6, from Hpunggan Village. She fled her family's home for the current safety of Je Yang IDP (Internally Displaced People) camp outside of Laiza in Kachin State, Burma. The Kachin Free Burma Rangers (FBR) recently interviewed Maija. The following is her story.
After receiving new warm blankets and sweatshirts from FBR for each of her eight family members, Maija, wife of Tang Seng, told us of her family's traumatic 6 week long ordeal to reach safety in Je Yang's Camp.  For the locals living in Maija's village, the fighting this past November suddenly became too close for them to endure any longer.  One particular airstrike by the Burma army dropped at least 2 bombs directly on two houses and destroyed them.  More than 50 villagers immediately fled across the border to take refuge in the Chinese village of Wandin.
After a week huddling in Wandin with little food, the Chinese forced the villagers back across the border to Hpunggan Village and other neighboring villages unless they could afford to pay 1000 Yuan ($143 USD) per person to apply for refugee status. Unable to pay such a large amount, these poor, frightened villagers returned home.
Maija's family returned to their village of Hpunggan, but December 2, 2016, the third day after returning from China, Burma Army soldiers entered the village and opened fire.  At least 10 families quickly fled in different directions.  Although 8-9 months pregnant at the time, Maija and her family had no choice but to flee along with 3 other families. Around 40 people ran together to the nearby jungle.  Later that evening at about 8:30 pm while experiencing "unbearable pain," Maija gave birth on the jungle floor to her 6th child, a girl named Lunu.
Because the four families ran so quickly to escape, they left all their belongings behind at home. The villagers became desperate to find warmth and food as night temperatures in the jungle dropped to about 40 degrees F. They found some blankets and rice at a nearby farm hut, but the food only lasted a few days or so.  While trekking for days through the jungle, they would periodically find a corn field to help them survive. As the days passed, Maija became worried about the health of her newly born daughter.
Despite a physically demanding, 27 day journey through the jungle with little food, water or warmth, the traumatic effect took a greater emotional toll on Maija. Her trauma became evident during our interview as fear gripped these families that the soldiers would find and kill them while escaping certain brutality. Fear is also woven throughout all four following stories told to FBR by Maija.
Shortly after Maija's group fled, they ran into 51 year old farmer Dashi Lawn on his way to attend a corn field.  They told him not to keep going because of the Burma Army. Dashi Lawn ignored their warnings and continued.  Maija's group kept traveling and before long they heard gun shots in the distance.  Dashi Lawn's deceased body was later found tortured, throat cut and badly burned.
As Maija and her group continued their journey to safety, other villagers passed on horrible news of Burma Army soldiers raping and killing civilians.  One 40 year old woman, Ah Sen, was ganged raped by 4 Burma army soldiers while walking home to her village with her young child.  After being hospitalized, Ah Sen moved in with her sister across the border in China who told villagers that Ah Sen is now mentally unstable.  In another instance, Maija's group heard that two Lisu girls, aged 12 and 14, were going back to a school to collect a couple of younger children abandoned as villagers fled.  Both young girls were accosted, brutally raped and killed by Burma soldiers.  Their bodies were found alongside the road between Bangsai and Hpunggan villages on December 19, 2016.  That same day the girls' younger brothers, Lisu boys aged 5 and 7, went missing in the same area and are presumed dead.  Maija shared one last account, that of a 30 year old woman from Dawng Waw village. She had been raped by Burma soldiers while her two mute brothers were shot and killed.
On Janurary 8th Maija's family finally reached relative safety as they entered Je Yang IDP camp.
While Maija recalled her traumatic experience she spoke rapidly, her voice cracked, her eyes watered and she constantly rocked from side to side as if she was ready to run at the first sound of rifle fire or a mortar round exploding.  I explained through my FBR interpreter that her trauma was obvious and told of my sorrow as she relived the pain by sharing her story.  She smiled, immediately burst into tears, and thanked me for understanding.  I wanted to reach out and hug both her and baby Lunu while giving reassurances, but that is not culturally appropriate.  When asked if her family finally felt safe and of her hopes for the future she said that they did feel safe in the IDP camp, but they are poor and she worries that her children will not have access to a higher education outside the basic schooling they will receive at the Je Yang IDP schools.
Maija is only one of 120,000 Kachin IDPs living in 100 separate IDP Camps throughout Kachin State. Each has a story to tell.